It's difficult to find any media source that would argue against the theory that mobile apps have become a force to be reckoned with. Likewise, with the onslaught of "big data," it has become easier to quantify the effect they're having on the media landscape. As such, I did some digging to find a few interesting and relevant statistics to illustrate this trend. Here are 8 statistics every business should know about mobile:
1. 56 % OF AMERICAN ADULTS ARE NOW SMARTPHONE OWNERS
Why this matters: More consumers in the marketplace have embraced mobile than those that haven't. Furthermore, the younger you look, the higher the adoption rate. This might not matter that much if your target audience trends toward the 55+, but if you are trying to attract consumers in the 18-54 range, mobile is poised to become the largest slice of the media pie in regards to time allocated within the consumer's day. Likewise, as more and more Gen-X workers ascend to management positions while college-educated millenials continue to enter the workforce in droves, mobile will only gain ground as the preferred media consumption channel. With that being the case, your company simply cannot afford to offer anything less than stellar mobile apps.(Source: AdMedia Partners, 2013)
2. MOBILE NOW ACCOUNTS FOR 12 PERCENT OF AMERICAN'S MEDIA CONSUMPTION TIME, TRIPLE ITS SHARE IN 2009
Why this matters: This illustrates the point that mobile is trending upward while legacy formats continue to cede market share in mobile's wake. In the course of four years, mobile media consumption has tripled. Furthermore, as hardware and data plans become more affordable, there's no reason to believe this trend won't continue for years to come. Which brings me to my next point…
(Source: Digiday 2013)
3. BY 2014, MOBILE INTERNET IS PREDICTED TO TAKE OVER DESKTOP INTERNET USAGE
Why this matters: An entire generation of consumers came of age using the Internet to connect with brands and make purchasing decisions. Those consumers are shifting both their allotted media consumption time as well as their buying habits to include mobile and tablet user experiences. By 2014, mobile platforms will generate more page views than desktop sources will. All of your marketing, IT, sales, and operations efforts need to incorporate some level of native support for this burgeoning traffic source.(Source: Microsoft Tag 2012)
4. MOBILE SEARCH WILL GENERATE 27.8 BILLION MORE QUERIES THAN DESKTOP SEARCH BY 2016
Why this matters: This is almost more a sub-point to number 3 above, but it does show the overall scope of growth in mobile search. This number helps contextualize the overall theme of this article—not only is mobile growing quickly, but it will soon dwarf all other search sources.(Source: BIA/Kelsey Report 2012)
5. 64% OF AFFLUENT APP USERS SAY THEY VIEW BRANDS WITH MOBILE APPS MORE FAVORABLY
Why this matters: This statistic mostly applies to enterprise clientele looking to enter the consumer-facing app landscape; it doesn't really apply to internal productivity or utility apps. That being said, making lasting connections with your current and/or potential consumers is the holy grail of marketing. Building brand loyalty and buy-in from your target audience is invaluable to the long-term health of your business. Developing a great mobile app can help facilitate and reaffirm that your brand represents quality and genuinely desires a relationship with its consumers.(Source: Luxury Institute 2012)
6. TIME SPENT WITH MOBILE APPS STARTING TO RIVAL TELEVISION
Why this matters: Mobile now represents the third largest source of media consumption within the United States. And, the year over year growth is impressive—up 35% from 94 minutes a day in the same time period last year. Television has been the quintessential media distribution network for over 50 years. For the first time in five decades, a new medium is challenging for the throne. While the time spent in front of a television has remained somewhat stagnant or even retreated, mobile continues to advance at a double-digit clip year-over-year. If your company cannot engage consumers or employees within this medium, you're missing out on the next big thing.
7. 25% OF INTERNATIONAL MEDIA AND MARKETING EXECUTIVES SEE MOBILE AS THE MOST DISRUPTIVE FORCE IN THEIR INDUSTRY
Why this matters: Based on statistic number 6 above, it should come as no surprise that 1 in 4 international marketing executives see mobile as the most disruptive force in their industry. By definition, mobile is both more personal and more personalized than any other media source in existence today. Consumers carry their device with them at all times and are constantly connected, whether via text, chat, voice, the web, or the ever-expanding app market. Consumers are much more receptive to custom ads responding to their current location as opposed to blanket branding messaging seen on TV. This medium enables marketers to speak directly to their target audience with an unprecedented amount of effectiveness. I would posit that the only reason this statistic isn't higher is that the great marketing executives have already embraced mobile and no longer see it as disruptive.(Source: AdMedia Partners, 2013)
8. ONLY 12% OF MOBILE TIME USAGE FALLS INTO THE CATEGORIES OF PRODUCTIVITY OR UTILITIES VS. 26% FOR SOCIAL NETWORKING, 10% FOR ENTERTAINMENT, OR 43% FOR GAMES.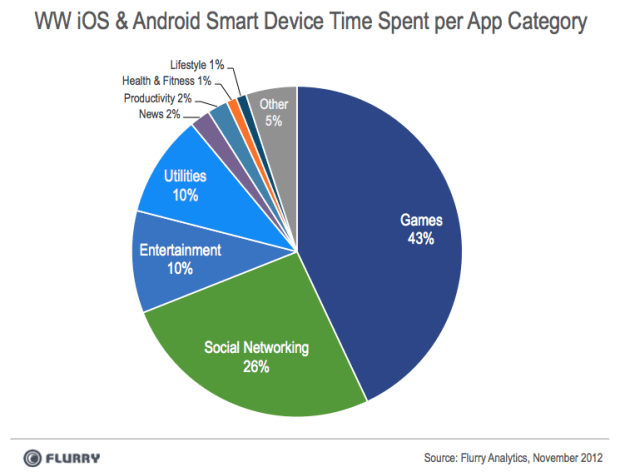 Why this matters: This statistic would seem to paint a grim portrait for enterprises looking to augment their productivity or grow revenues by developing a custom mobile app. Likewise, it seems that consumers only want to play games or socially network on their mobile devices. But, I think that ignores the current state of the mobile app world. In the beginning, independent developers saw the app store as a way to make a lot of money, all on their own. If you created the next Angry Birds or Words With Friends, you were home free as a development shop. Likewise, Facebook and Twitter embraced the disruptive force of mobile and launched top-notch apps into the space early on. My contention is that there is an ever-growing pie of time individuals are willing to spend on their mobile devices using apps. And, few enterprises have done a good job of tapping into that opportunity. Their apps are either clunky, don't work very well, or display weak or unattractive user experiences. This statistic should not dissuade your company from looking into the mobility space for revenue growth or cost saving, it should encourage it. There is a massive opportunity to capitalize on the mobile boom, if only enterprises knew how to do so effectively…