App Store Optimization, better known as ASO or App Store SEO, optimizes an application to maximize its online presence on different Search engines. It also includes increasing traffic to listing and improving conversion rates to generate the maximum organic download volume.
As businesses are constantly evolving, it becomes relevant to make apps visible in the Explore. However, app store optimization is not only about the search engine. It is about experimenting and learning. ASO is the lever we can use to conquer stores, beat competitors, and get more and more downloads. It's a holistic marketing discipline consisting of all aspects of the app store experience.
How does ASO work?
With an ocean of 2 million mobile apps in the app stores, getting your app discovered is a tedious task! It's essential to understand the various methods for marketing your app. Some known factors influence app optimization for iOS and Android applications.
The main factors or components that affect ASO are the title and keywords, whereas some secondary factors include the total number of downloads, ratings, and reviews.
According to research, apps with keywords in the title rank, on average, 10.3% higher than those without a keyword. The right way to improve your app's visibility and increase downloads requires a strategic approach. Let's break them down, one by one.
– Tips For App Store Optimization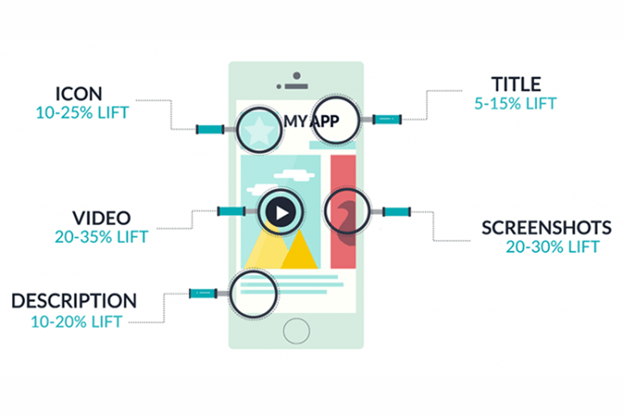 1. Start with a descriptive title
We believe in defying Shakespeare's notion, "What's in the name?" when it comes to apps! An excellent and descriptive name not only identifies what your app does to prospective users, but it can also improve your rankings. Including relevant keywords in your app's title can help you rank at least 10% higher. Both the Apple App Store and Google platforms handle titles and keywords differently. The way you approach your title should depend on the platform you're working for.
-Apple App Store: The Apple App store gives you a limit of 255 characters for your title. You must take the time to come up with a creative title that is unique, descriptive, and keyword-rich. Doing so well will help you establish market share and improve your app's ranking.
– Google Play Store: Titles are handled a bit differently when it comes to Google Play Store. You get a limit of 30 characters for your title, so you have to be extremely precise.
2. Use The Right Keywords
Keywords play an essential factor in ASO as well. With Apple, you only get 100 characters for all of your keywords, whereas, with Google Play, there is no specific keyword field. You'll want to put the most important keywords in your description five times for the best App Store Optimization. Also, you should not overdo it, as keyword stuffing will get your app penalized.
Doing some research before you publish your app will help you learn about the traffic, difficulty, and demand for those keywords. MobileDevHQ and TheTool are a couple of examples for App Optimization that help you find the best keywords. According to research, the simple step of researching keywords can potentially up your rankings anywhere from 80-100 positions and 10-20 positions, respectively.
–Try to put your top keywords in your app name- that improves your ranking by at least 10.3%
–Use words instead of phrases unless necessary.
–Try to avoid using conjunctions/prepositions as keywords.
–Use digits instead of spelling out numbers.
3. Describe Your App Well
Your app description works similarly to your website's landing page. If you've brought your potential lead this far, you should be able to close the deal by viewing the right description. You need to be in your customer's shoes and think like them.
Your app description should showcase the critical parts of your app, making it look approachable to encourage downloads and boost ranking.
4. Use High-Quality Screenshots of your app
People only spend about 7 seconds deciding if they're going to download an app. Therefore, how your app store page looks is a crucial factor in their decision, and high-quality app store screenshots will make a big difference. They're cited as the second most influential factor in convincing someone to download your app.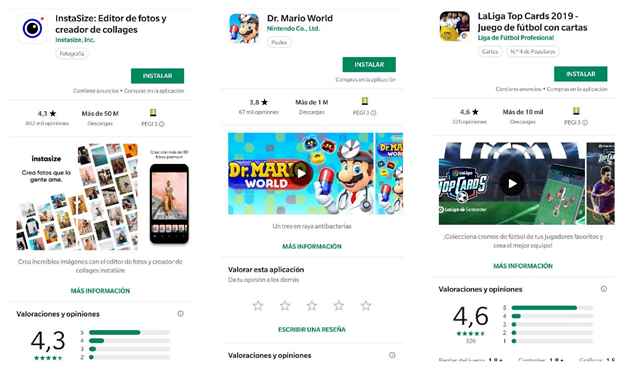 You should use your screenshots wisely and focus on your app's key benefits and most exciting parts. Some host of tools available for you are Figma, MockUPhone, and AppLaunchpad.
5. Add an App Preview Video
According to studies, 85% of the US internet audience prefers to watch videos, and over half the video content is consumed on their smartphones. App Previews show snippets of the app's features and benefits. You can display recordings of the in-app experience to attract potential leads.
6. Pick The Appropriate Category
Placing your app in the right category on app stores helps users browse better. In case your app fits more than one category, you can approach it in two ways. It's a good idea to check the number of apps in each of the categories. Choosing the least competitive category gives you a better chance of ranking better. Moreover, look at the estimated app worth (EAW) of the apps near the top of those categories. Place your app in one with the lower numbers may be to your advantage as well.
7. Focus on Icon Design
Designing an engaging app icon is very important, as well. You'll only get one image to show app store audiences why your app is worth their time for consideration, so choose carefully!
One tip from our side would be to test at least four different variants before launch. Be sure that your app icons are not too similar to other apps.
8. Encourage Positive Reviews
Positive ratings and reviews are suitable for your brand image. They have a significant impact on your App Optimization strategy. A way to get app store reviews may be to send a push notification to encourage users to review your app. Ensure that the notification to ask for user review appears after a few times the app has been opened.

9. Use App Store Analytics
Like Google Analytics, there are several powerful app store analytics tools designed to help your mobile marketing strategy. You should see where your app stands and boost your store ranking accordingly. Some examples of these tools are AppAnnie, Sensor Tower, Appfigures, etc.
10. Re-evaluate regularly
Towards the end, it's essential that you evaluate your app regularly. Make some assessments about your keywords, description, and icon design and refresh it based on reviews and ratings. You could avoid changing everything because doing that won't give you any idea of the initial problem.
To sum up, having a successful app requires you to pay close attention to your strategy. While Apple and Google do not share their exact methodology for establishing app rank, it's been established that there are certain things for a positive impact. Following these steps will have a good chance of improving the ASO of your app.