It's 2020, the year of revolutions and life-altering events. People are locked in, and businesses are adopting innovative ways to sustain the pressure. The era of digital transformation made it look easy for companies to find new ways of prospering. In the E-commerce world, Mobile Apps and E-commerce websites changed the game for how businesses were conducted. Unlike a few years ago, consumers can shop from brands across the globe without worrying about it being too expensive. E-commerce platforms also went the extra mile to ensure 'No-contact' deliveries, in concern of the pandemic we're all in.
Globally, E-commerce sales account for almost 10% of the products sold. That small percentage accounts for a whopping 2.3 trillion dollars. The E-commerce market share is expected to increase to 11.9% – up from 3.5% a decade ago! It became all the more imperative for businesses to capitalize on this trend.
The next important question was to choose between a Mobile App and a Website. Improving customers' shopping experience became one of the most critical deliverables for companies. In this blog article, we shall address the user preferences, retention rate, and conversion ratios for your E-commerce business.
Mobile Apps Vs. Websites
Research suggests that 70% of all Americans who own Smartphones are directly responsible for 71% of the country's digital traffic. In the last three years, the number of Smartphone users is projected to be more than 3 billion worldwide. This number is expected to shoot up by several hundred million in the next few years. Moreover, 90% of mobile time is spent on apps, and only 10% browsing the rest of the internet. In the E-commerce space, the contrast is even more glaring. Mobile app users spend an average of 2018 minutes per month shopping, compared to 10.9 minutes per month for website users.
It is likely to expect a further shrink in website usages as more E-commerce businesses move towards Mobile Apps. As technology evolves, so will the growth of E-commerce Apps. With companies trying to make their users' purchasing experience better by incorporating multiple payment methods and innovative technologies, it is all the more likely that Mobile Apps will grow further.
Let's compare the user preferences, retention rates, and conversion rates of M-commerce Apps and M-commerce websites.
User Preferences
Consumers prefer Apps on account of better user experience speed and convenience. Compared to other businesses, Mobile Apps within retail and E-commerce are launched the most after news-apps. When it comes to shopping online, more than 61% of millennials embrace in-app shopping, followed by moms and other multiculturalism sections.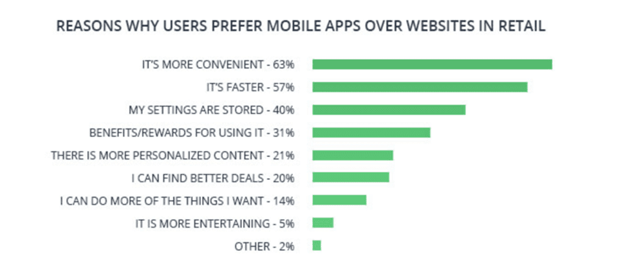 On the internet's 30 most-visited assets, apps have a slightly higher edge than mobile websites. This means that apps are as frequently used as websites. One probable reason for this trend could be that users start out using a brand's website and then switch to their app after engaging with it for a while. In other words, E-commerce websites are better suited for driving initial engagement. However, the latter stages of the consumer journey are best served by M-commerce Apps.
Conversion Rates
According to Criteo, Mobile Apps close the deal way better than M-commerce websites. People view products in apps 4.2 times more than they do in sites. Apps also push more people down the purchase funnel, with 3x higher conversion rates and 1.5 times more conversions per session.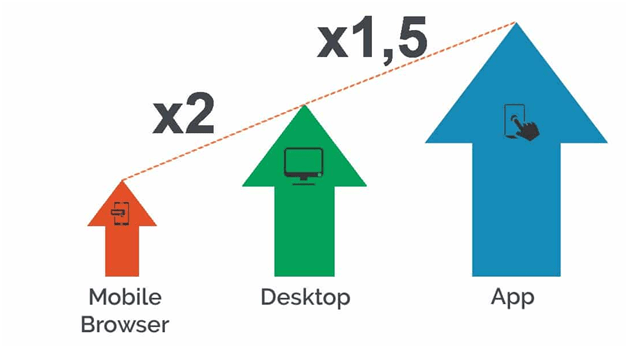 Another major factor determining an ideal customer experience is shopping cart abandonment. Purchasing via E-commerce sites can be painful if not done right. Shopping cart abandonment rates are way higher (about 73.4%) on desktops than on M-commerce Apps. One of the possible reasons for that is that customers are annoyed when given too much information to fill out during checkout. M-commerce Apps solve the problem by saving user data and enhancing their journey.
Retention Rate
M-commerce Apps have several advantages over the Websites. You can send push notifications and alerts personalized for your customers, driving more engagement. Apps icons are more visible when users explore their phones, keeping your brand awareness high. Also, apps can retain user data, enabling minimized load times and speedy checkouts.
According to research, 40.4% of all users buy more from a brand after downloading its application. 45.9% end up visiting their physical store more often. These numbers indicate why users choose apps over M-commerce Websites.
In all, it's too soon to declare the end of mobile-optimized E-commerce Websites. Customers still find some brand through their stores or word of mouth. This means that a Website would continue to be a crucial part of your business' success, even when apps dominate the market.