The competition in the automotive industry has increased in the last two decades, and companies fight to keep up with the rapidly changing trends. Like other industries, automotive companies have started to embrace digital transformation in user experience and comfort, data, and connectivity. Meeting customer demands and improving user experience has been the utmost priority for every industry that exists. Factors other than customer demand involve – product design, manufacturing, maintenance, operations, and sales & marketing.
Digital transformation automotive promises a strong position in the marketplace and being ahead in the competition. Many car manufacturers all around the world are equipping their cars with features like browsers, streaming services, and a car app that can control the cooling are integrated with automotive capabilities. Some basic features that strengthen the overall experience like
Assistive driving and parking
Customized navigation and media content
Connection to different applications and social media
Customers are looking for a better personalized and connected car-buying experience; it's no longer limited to an all-day affair at the dealership. Shoppers can now explore a wide range of models virtually and evaluate options. The role of digital transformation has shifted to a more advanced form of the digitized factory. This doesn't end here. Let's dive into the multiple aspects of the role of digital transformation in the automotive industry.
The role of digital transformation in the automotive Industry explained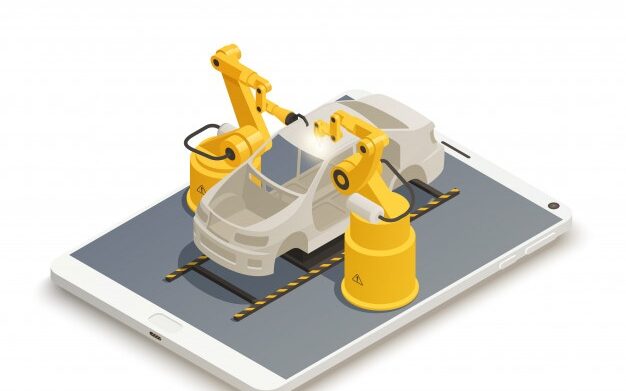 1. Digital assistance and buying process
Earlier, customers had limited options, ratings to compare before buying a vehicle. As a result, they often felt overwhelmed and ill-informed. Although there were some websites and online search capabilities for more information, buying a car was viewed as a high-pressure task rather than an exhilarated purchase experience.
With a wide array of digital resources, all pertinent buying information is available to the customer for detailed research. In addition, Digital marketplaces are now equipped with virtual reality capabilities allowing customers to sneak a 360-degree view inside and out.
2. ADAS – (Advanced Driver-Assistance System)
Self-driving cars became a reality thanks to the collaboration of several technologies like – GPS, cameras, assistive sensors, AI, IoT, and algorithms. Assisted driving is becoming more mainstream every day. Moreover, the ultimate goal is to make ADAS economical and available to a larger customer base. Self-driving vehicles are becoming more prevalent and driver's assistance is becoming more acceptable all around the world
For instance, Tesla is one of the most valuable car manufacturers since 2020 that shook the automotive industry with its self-driving and electric vehicles. With a market capitalization of over $660 billion as of May 2021, Tesla is on top of the game in digital transformation in Automotive.
3. Customer's Data Protection and Security
Many modern cars with connectivity to applications and social media save and collect data on navigation, traffic patterns, destination, etc. The data is helpful to engage and communicate with the driver to create a more personalized experience. However, this data also needs to be secured and encrypted from hacker's prying eyes. Therefore, manufacturers are constantly updating their security and protection to continue their digital revolution.
4. Predictive maintenance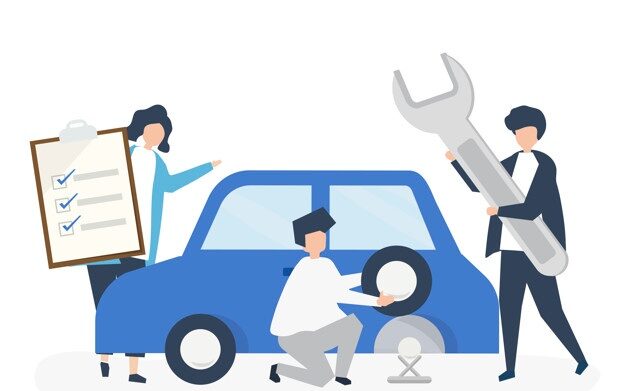 With data connectivity and digitization, intelligent components like sensors/self-diagnostic/on-board diagnostic systems gather data about the vehicle performance and send it to the cloud to:
Notify drivers of a potential incidents
Prevent mechanical failures
Proactive service of the vehicle
The expectation is that it will lower automotive accidents and vehicle breakdowns while giving peace of mind to customers and freedom to travel. With this, the servicing of a vehicle has also become digitized which includes maintenance, repair, and system updates
5. Sales
With emerging technologies in all spheres, automotive industries benefit significantly from using applications and software for mundane tasks. Recently, companies have started using "Chatbots" to answer common user questions and boost sales. This eliminates the need to hold on to customer care numbers and wait to get the doubts cleared.
Many manufacturers have endorsed different strategies for marketing and a unified digital experience. For example, they have developed digital showrooms where customers can configure a life-size car model using real-time 3D rendering technology. Such characteristics have piqued the customer's interests and continue to wow them.
The industry has learned the significance of a digitally enhanced experience while researching, purchasing, or operating a car. But, first, the manufacturers can improve their digital footprints and understand the underlying technologies to give their potential customers the information they need. Various technologies that enable this digitization are – Machine Learning (ML), task mining, robotic process automation (RPA), process mining, and deep learning algorithms.
In conclusion, the new automotive approach isn't without obstacles. Dealers and manufacturers need to get ahead among others and treat threats to develop forward-thinking solutions. Some still face the challenge of managing data and utilizing it to drive revenue, customer satisfaction, and growth. The demand for innovative technology is increasing, and it drastically reshapes how society interacts with vehicles. Automakers that evolve into embracing the digital opportunity are seizing the competitive edge. Recognized as the best app development company in Dallas by many. In case you want to know and get on more digital marketing opportunities in the automotive industry, feel free to get in touch with our experts.