The announcement of demonetization in India came in as a shock for everyone except the mobile wallets providers. Their business took a big jump making them a necessity for the common man. Soon, everyone everywhere was just talking about mobile wallets.
"A mobile wallet is a type of payment service through which businesses and individuals can receive and send money via mobile devices. It is a form of e-commerce model that is designed to be used with mobile devices due to their convenience and easy access. A mobile wallet is also known as mobile money or a mobile money transfer."
From a small corner shop to a branded showroom, everyone is accepting payments via mobile wallets. Anyone who doesn't have a mobile wallet would feel lost . Today, It is the only way you could avoid the long queues outside an ATM or bank branch making convenience and effortless behavior the key to everything.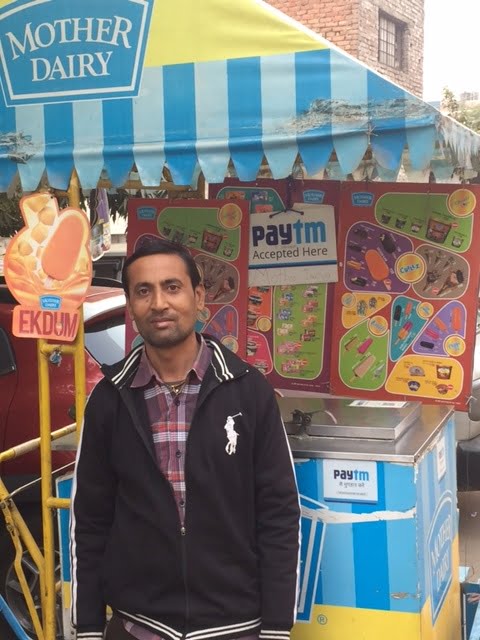 Ajit Jha, an ice cream vendor near sector-2 Noida (NCR). Ajit says, "Mobile wallets have come as a blessing in disguise after demonetization. I was scared that my sales would go down drastically but due to mobile wallets it has increased to a number even better than before demonetization."
Keeping in mind that people often go seeking for work that requires less or no efforts on their part, will mobile wallets survive in such a scenario or will it be replaced by 'frictionless payments in the future' said R Venkatachalam, managing director for India & South Asia at FIS Global, a global provider of financial services technology. It means any payment method that is effortless, without having to remember too many passwords, PINS et cetera have a better future. This means that UPI stands a better chance in the long term.
What is UPI?
Unified payment interface(UPI) is a payment system that allows you to transfer money between two parties like NEFT/ RTGS/IMPS in a well defined standardized manner which means you can initiate a transfer from anywhere with just a few clicks.
It allows you to pay directly from your bank account to your merchants without having to type the card number or the net banking/ wallet password.
Wallets will face a hurdle
The winner will be the one with less hurdles in the process of accessing your bank account. Mobile wallet – Paytm has 173 million users but they have limitations like 'they are not Interoperable'. For example- The sender and receiver should have the same company's account like transactions taking place between where in people can only transfer to someone who has an account in the same mobile wallet like Paytm to Paytm, Mobikwik to Mobikwik and Freecharge to Freecharge.
Another drawback is that the money transferred to a wallet does not earn interest. Apart from this, small merchants like a corner shop or a kinara store cannot withdraw more than Rs 25000 a month from their wallet. It sets a major limit to the cash flow of such merchants.
Thus, opening an opportunity for many to dive in and create or evolve the already existing wallets into something that is interoperable. In simple worlds, a system which should be able to make use of the information that has been exchanged. Another limitation with mobile wallets is that it can be used only by smartphone users.
UPI fills the void
Mobile wallets are facing problems leaving space for the next best options that are: credit and debit cards, however, debit cards are only used to withdraw cash from ATM and only 10% are credit card owners. Using a particular payment system largely depends on the merchants acceptability that is lacking in case of credit card, however, demonetization saw the transactions go up by 200 times accelerating the use of cards. At the same time, use of credit card also went up by 25%.
But, plastic money is very niche, not everyone owns a debit or credit card or have knowledge of the same. Making the future free of plastic money. Why would you use plastic money if you could transfer directly from your mobile. In many countries, plastic money is losing its gleam with the emergence of options like P2P in China and Europe, a fund transfer system that is as easy as sending a whatsapp message.
Unified Payments Interface (UPI) introduced by Reserve Bank of India in 2016 best suits the option for a frictionless transfer. It has therefore come down to a toss between mobile wallets and UPI. Mobile wallets have been around for more than five years having the first mover advantage. Today, digital wallets are popular. Tomorrow, direct payments system may be ahead in the race but it is yet to be seen.
The idea of a digital wallet is most likely to gain attention while plastic money will have a downfall. CopperMobile has the expertise & proven capabilities servicing Fortune 500 clients to build a functionally sound payment system with the features of your choice & easability for both sender and receiver.