With the pandemic continuing to spread throughout the globe, this year witnessed Apple's first-ever virtual World Wide Developer Conference (WWDC 2020). The online event entailed many software update announcements for iPhone, iPad, Mac, Apple Watch, and Apple TV. It was a jam-packed, all-online experience that featured commentary by Nilay Patel, Dieter Bohn, and Walt Mossberg, straight from Apple Park.
Here are all the exciting announcements that you want to know about, along with some surprises!
The first look at iOS 14 came out as one of the major announcements at the conference. The new update is supposed to come to iPhones later this year. Some of the exquisite updates in this version are in its widgets and app library. You can place the widgets on the home screen along with apps and choose among its multiple sizes and layouts. The app library is another significant change in the software, enabling you to arrange your apps into groups automatically. This means your screen looks richer in data and graphics!
Let's dive into each of the features, one by one.
1. App Library: Apple is coming out with a unique feature to arrange all your apps based on different functionalities automatically. 'App Library' facilitates more straightforward navigation among recently added apps, suggests apps based on usage, and creates a better look altogether.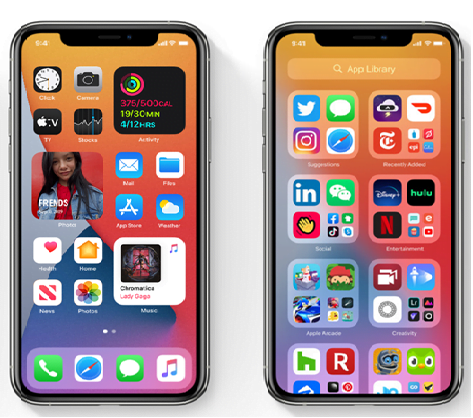 2. Widgets: One of the key features of iOS 14 is the new widgets coming in different shapes, sizes, and layouts. You can customize them as you need and switch between multiple widgets from the widget gallery.
Interestingly, your phone also predicts what widget you'd need at what hour of the day, and thereby makes your daily tasks easier. For instance, you'd find a news widget when you start your day, your meetings and scheduled events in the middle of the day, and your notes during the evenings. We mean, Woah!
3. Picture-in-picture: Another important feature of iOS 14 is the picture in picture (PiP) mode. You can now access apps while watching videos, navigate between multiple apps, and still watch the video. It is possible to float the video on your home screen and resize the screen as needed. While PiP is not exactly unique to Apple, iOS 14 enables you to use the entire screen for multiple things simultaneously by minimizing the video to a small button.
4. Major Update: Siri With 20x more facts, features to record audio messages, and a lot more upgrades, Siri is one of the major updates in iOS 14. The update also has an offline language translator app, working for 11 different languages.
5. Messages: iOS 14 brings in exciting new features in its Messages, like being able to pin important conversations to the top and customizing group chats. So cool! You can also mention people in group chats by typing their names, and you can receive notifications when someone mentions you!
Other aspects of the update are the beautiful new memojis Apple brought in. They have many more skin tones, professions, and personalities, making it so much more fun. Also, they brought in face cover memoji to make it more relatable for the users.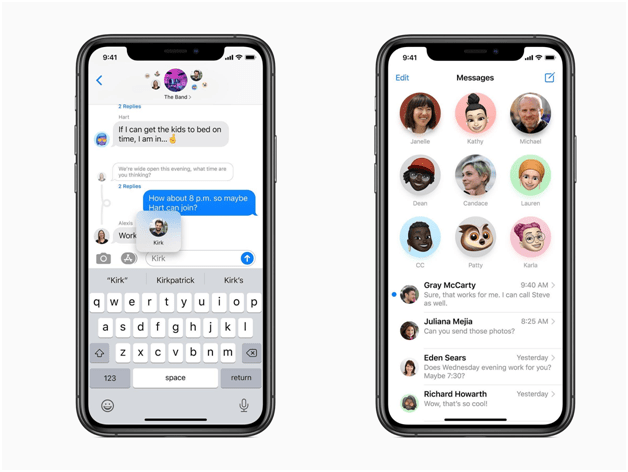 6. Maps: iOS 14 brings new navigations for three additional countries, the UK, Ireland, and Canada. The update also includes directions for cyclists, including stair signboards and warnings about steep areas. The map for cyclists is coming to New York, Los Angeles, San Francisco, Beijing, and Shanghai.
The next path-breaking feature in iOS 14 is the digital car keys. You can now unlock your car with your iPhone. Unfortunately, the only vehicle that supports the system is the latest BMW 5 series. You can store it on your device and also share it with someone if you want. Other features include EV routing that tells you the location of car chargers on your travel route.
7. App Clips: Next on the list, we have App Clips that are analogous to Instant Apps on Android. You don't have to download complete apps to gain access, and you will be able to make purchases through Apple Pay. Along with that, Apple also changed the way your screen looks while you get calls. You can continue using an app while ignoring the incoming calls if needed.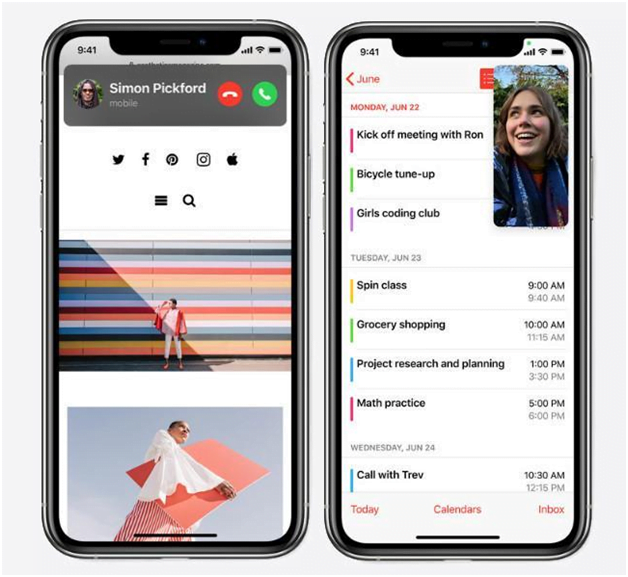 8. AirPods: Airpods just became cooler with the new update! You'll be able to connect with multiple devices automatically without losing your track. Also, the update has enhanced the audio quality in the earbuds.
9. Apple Watch: Apple announced a new feature called 'face swapping' that enables you to add a watch face to your Apple watch from the developer's website or even from social media. Along with that, the watch has a 'Wind Down' feature that tracks your sleep and analyzes your overall health.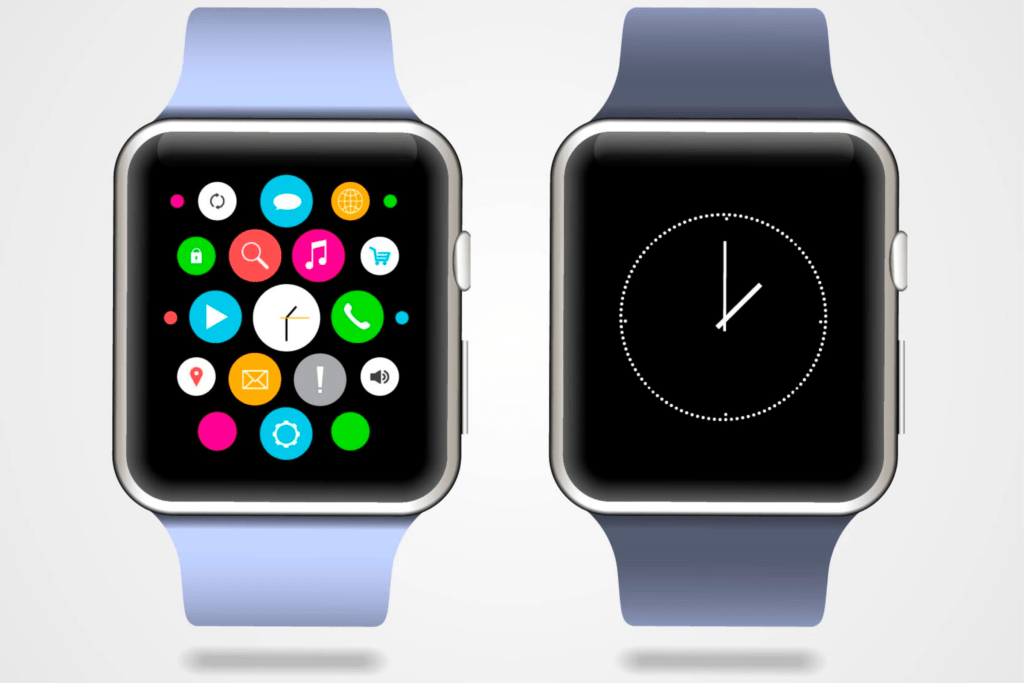 Another feature that is relevant in the current pandemic situation is the 'Handwashing tracker.' The app looks for appropriate motions using an accelerometer, and the microphone listens to sounds of scrubbing and water flowing. When the app detects you're scrubbing, it automatically starts a countdown timer to ensure you've completed the full twenty seconds of the 'handwashing' activity.
10. Privacy Changes: You can now ensure your privacy by switching to approximate location access to a few apps, instead of the precise spot. After the update, you will also be able to see an on-screen indicator when an app is accessing your microphone or camera. Additionally, app developers will have to provide 'highlights' of the data shared with third parties.
11. Homekit: Homekit brings in exclusive features like adaptive lighting, adjusting the temperature of your connected smart lights throughout the day, and so on. It also helps analyze the time to wind down in the evenings and controls the cooler lights accordingly.
Face recognition is another feature supported by doorbell cameras and makes it easier for you to track who's at the door via Homepod/Apple TV. You can also set alerts to specific sections of your video, which work on motion changes. For instance, you get alerted only when something enters your yard.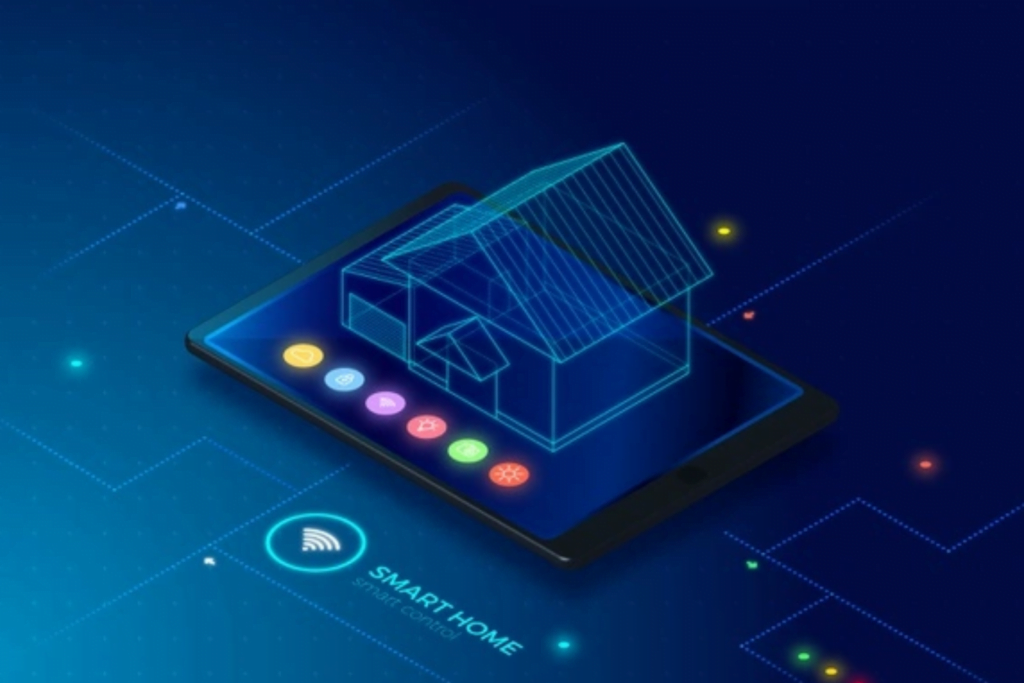 12. Apple TV is getting Multiuser Support for Apple Arcade: With the new update, you will be able to switch profiles easily on the Apple Arcade without losing any progress. iOS 14 also supports Xbox Elite 2 wireless controller and the Xbox Adaptive controller for an excellent gameplay experience!
13. Silicon For Its Future Computers: Apple finally announced a massive transition from Intel to custom ARM-based CPUs, which it is designing in-house. The company promises a whole new level of performance while using less power.
Apple has brought a significant change with all these features. We'll share more details about what WWDC 2020 has in store for developers soon!