It's no news that we are part of a digitally advanced era. Infact, enterprises have entered the age of ultra-modern technology, super fast networking, and connected customers and employees.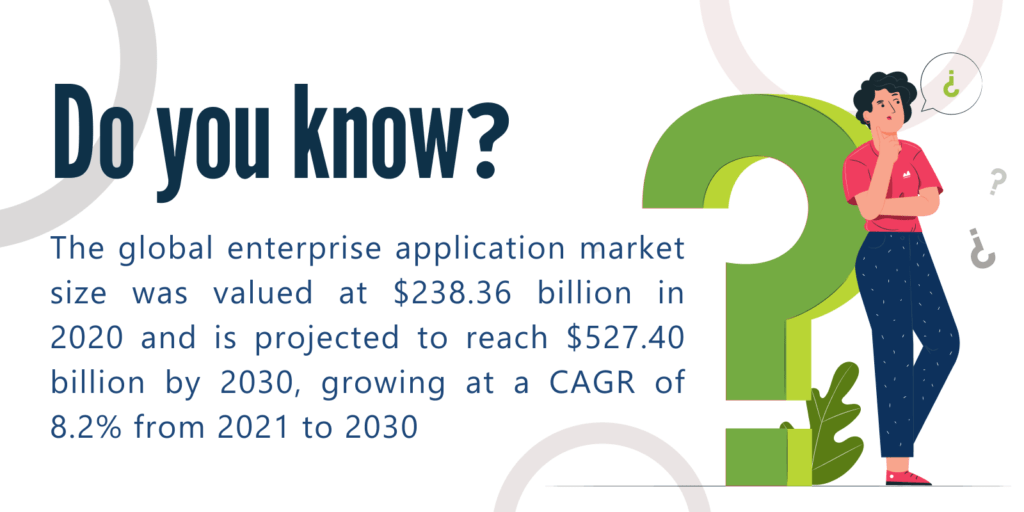 The above stats says it all. To thrive in competition, it has become imperative for business leaders to seek lightning-fast enterprise solutions. Moreover, with the rising hybrid work culture, use of cloud services to accomplish business tasks, and technologies like AR, VR, AI, ML & Big Data, etc., continuously influencing the course of mobile app development for businesses, there aren't any signs of enterprise mobile app development slowing down its pace.
Still, thinking about why business owners should invest in enterprise application solutions? This blog will discuss how empowering an enterprise application solution can be for businesses looking to pave the way for growth and success. Let's begin!
1. An Introduction to Enterprise Application Development
Enterprise Application Development refers to building and deploying modern yet scalable software solutions to help organizations optimize their time, streamline and simplify their operations, enhance productivity, and reduce costs through automation.
Let's discuss how digital transformation can accelerate growth for your business
Now, these software solutions can be leveraged both internally and externally. For example, business leaders can seek user-oriented software to communicate with clients, partners, and workers and, on the other hand, utilize the software for more effective internal communication and collaboration.
2. How can Enterprise Application Solutions Accelerate Growth for Businesses?
Nowadays, mobile is the key to success. At this point in the game, most influential enterprises and forward-thinking business leaders already have a technology roadmap capable of grabbing new opportunities and scaling business. Investing in customized, feature-rich enterprise application solutions can empower businesses planning to scale and grow, in numerous ways, right from automation to digitally transforming core processes.
Here are the top advantages of opting for enterprise application solutions:
One of the most significant advantages of enterprise application development is the seamless communication and collaboration between internal workers and external associates, resulting in an enhanced productivity level, mobility, enhancing team collaboration between various departments, and proffering workflow transparency.
Optimizes Business Processes
Modern businesses are continuously upscaling and augmenting their reach to global audiences. And while embracing globalization and driving growth, enterprises often seek solutions that help them amplify their business processes, streamline operations, focus on the core lines of business, and strategize a better organization for the future.
Seamless Resource Planning & Record Maintenance
Another reason behind the rising demand for Enterprise application solutions is the escape from manual record management processes. As businesses expand, there is a continuous increase in the data stored and managed. And to escape a loss of opportunity, it is essential to give equal attention, meticulously process the accurate data, and make informed decisions.
And in this case, being equipped with enterprise software can empower businesses with better insights by implementing a centralized enterprise suite to efficiently record, monitor, and utilize the data for all processes.
Another primary reason for businesses is the added layer of security they get by introducing an enterprise mobility solution. By incorporating modern technologies like AI and Blockchain, the enterprise apps can ensure excellent safety and security for the data stored in the cloud.
Improved Data Record Keeping, Sharing, & Management
Enterprise application solutions escalate the synergy between numerous departments of an organization. For example, an agile enterprise application solution can help your business with record-keeping, compliance, and processing of all the information compiled by business applications, eliminating data processing responsibilities and mitigating the risk of data loss or theft.
3. Enterprise App Development Examples
The accelerating demand for enterprise application solutions has led enterprise app development companies to innovate and build some of the most dynamic enterprise apps that can reciprocate numerous benefits for the organizations adopting them.
Here are some of the most common enterprise application examples that businesses generally choose when looking to create an enterprise application solution for business.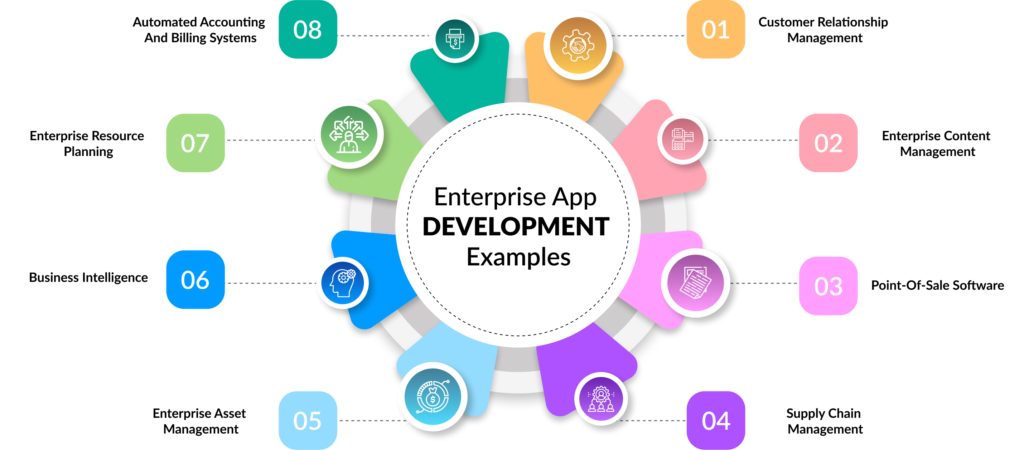 Automated Accounting and Billing Systems
Automated accounting & billing software enables seamless cash flow handling and helps keep track of enterprises' monetary value and budgets.
An integrated software platform that aims to define, combine, and aggregate large volumes of data to develop actionable insights, improve decision-making, and create predictive models.
Enterprise Content Management
Enterprise content management (ECM) software can store, manage, and distribute digital content across programmed platforms, from creation to deletion.
Customer Relationship Management
Customer relationship management (CRM) systems allow companies to collect and manage incoming client information to secure leads and retention.
Enterprise Resource Planning
Enterprise resource planning (ERP) solutions improve the company's internal resources by collaborating on all relevant data, including the finance, inventory, human resources, and marketing departments.
Point-of-sale (POS) software is what orchestrates and records customer transactions so businesses can monitor their income and front-end inventory.
Supply chain management solutions enable enterprises to handle internal processes and third-party partners throughout their supply chain while eliminating company miscommunication and improving supply chain visibility.
Enterprise Asset Management
Enterprise asset management software aims to collaborate and centralize internal processes, from management to administration practices, tracking each asset's lifecycle, from procurement and maintenance to replacement.
Now that we have detailed what enterprise application solutions entail for organizations let's quickly look into the key factors that business leaders need to consider when developing enterprise solutions.
4. Pivotal Factors to Consider when Developing Enterprise Application Solutions
When seeking enterprise app development solutions, connecting with an enterprise app development company is always the best to unfold the intricacies of enterprise solutions that best suit your business.
Also, Read – Considering Enterprise App Development? Read These Four Tips.
However, while an experienced team of enterprise app developers can assist in the effective development and integration of enterprise app development services, you should consider a few things before beginning enterprise app development.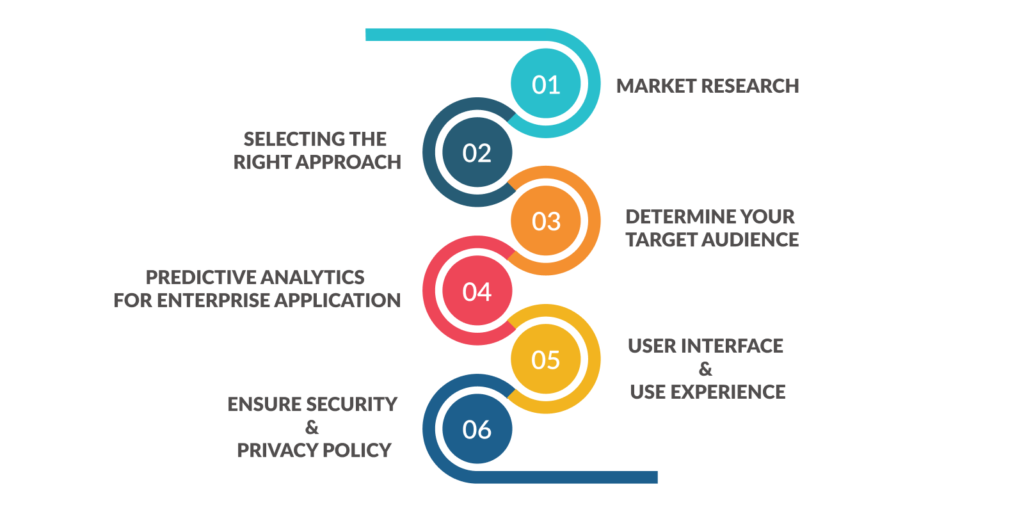 Before you plunge into the development process of your enterprise application, it is always good to look into the already existing enterprise application solutions to have a better understanding of what your business needs are, what your competitors already have, and how can you develop a solution that stands out in the market.
Selecting the Right Approach
The foremost thing business leaders need to decide upon is the most suitable enterprise app development approach and platform. As an approach and the app development platform will affect the entire application features and the scope of adaptability while maximizing flexibility, security, and impact.
Determine your Target Audience
Another imperative factor to consider is the target audience. Building a successful enterprise application solution is out of the question until an organization determines the needs and expectations of the target audience. Therefore, before beginning developing the application, ensure that you are in tune with the requirements of your end users, be it internal or external.
Predictive Analytics for Enterprise Application
Predictive analytics analyses historical and current data using statistical data techniques, algorithms, and ML to estimate the required capabilities and the features of your business's enterprise application that will impact end-user engagement and retention. Adopting predictive analytics can help reduce the development time and pave the way for better execution of development strategy.
User Interface & Use Experience
One of the most critical factors for any mobile application to succeed is its appeal to the end users. No matter how great your application is in features, functionality, and content, it's nothing but a sheer loss of opportunity if it doesn't attract and engage the target audience.
Also, Read – Importance of UI/UX Designing in Mobile App Development
Ensure Security & Privacy Policy
The security of your application is one of the critical factors that must be taken care of at the beginning of the development. And since your user's data is one of the vital assets for your business, keeping your user's data secure is also a sought-after requirement for any business creating an enterprise application solution. Thus, any enterprise must comply with security and privacy before introducing the application to the target audience.
Also, Read – Mobile App Security: A Comprehensive Guide To Secure Your Apps
Wrapping It Up!
With all that we read, we know that the enterprise mobility opportunities are enormous. A well-built enterprise application solution can empower businesses with enhanced operations, increased productivity, data security, reduced costs, and improved customer satisfaction.
And owing to the pandemic, it is the best time for businesses to leverage the most advanced technology and techniques and begin strategizing and developing their enterprise application solution.
As for businesses looking to partner with an enterprise application development agency to accelerate their growth with enterprise mobility solutions, our experts at Copper Mobile can help you build a future-proof enterprise application solution. Connect with us today!