Remember when the internet buzzed around Apple's 33rd annual developer conference – WWDC 2022?
During WWDC 2022, Apple made some significant announcements. Amongst all, one of the most looked forward to statements was the release of iOS 16. The primary iOS 16 preview depicted advanced features, including a revised lock screen with widgets, focus mode, notable Messages improvements, a shared photo library for families, more continuity capabilities, etc., to leverage from this operating system.
The first beta version was released immediately after the announcement at WWDC in June for developers. And less than a week later, the first public beta of iOS 16 was released. With the quick releases, seven beta versions are already out for the public to test and experience. However, the seventh release focused on fixing minor bugs and performance issues before the release of iOS 16's stable version.
And, since the launch of iOS 16 is not far away, here's a compilation of some of the most significant features and advancements of iOS 16 based on the preview and latest beta releases.
Ready to read? Here we go!
Let's discuss how digital transformation can accelerate growth for your business
Top iOS 16 Features
As read above, iOS 16 has introduced users to some of the most advanced and intuitive features for iPhones, including a customizable lock screen, a dynamic cropping feature, and the ability to unsend and edit text messages. Let's look at these in more detail:
PassKeys
One of the most unexpected features of iOS 16 is the advent of Passkeys. Apple Passkeys is primarily a new and more secure authentication mechanism intending to use AutoFill and Face ID or Touch ID for biometric verification; the transition to passkeys is valuable and seamless.
Passkeys are built with public key cryptography to ensure increased security while replacing a user's existing password with a unique end-to-end encrypted digital key tied to their Apple account.
In addition, since Passkeys adhere to FIDO Standard, these keys are well-equipped to function with non-Apple devices. For example, for Passkeys to work, Third-party devices will have to generate a QR code that users can read with their iOS device to scan & log in seamlessly.
The only limitation with this unparalleled update is that users might not be able to use these Passkeys right after the newest iOS launch, as most apps would need to update their tech architecture to add support and update their apps. However, since Apple users already have two-factor authentication, they might not feel the immediate need to revise for Passkeys. Still, the good thing is that Apple fans might expect an unexpected transition towards a passwordless future soon.
Bespoke Customizable Lock Screen
Another exceptional feature of iOS 16 is the visual overhaul of the iPhone lock screen. With the latest iOS update, Apple has empowered users with many elements that can help customize their entire lock screen enabling a more personalized look.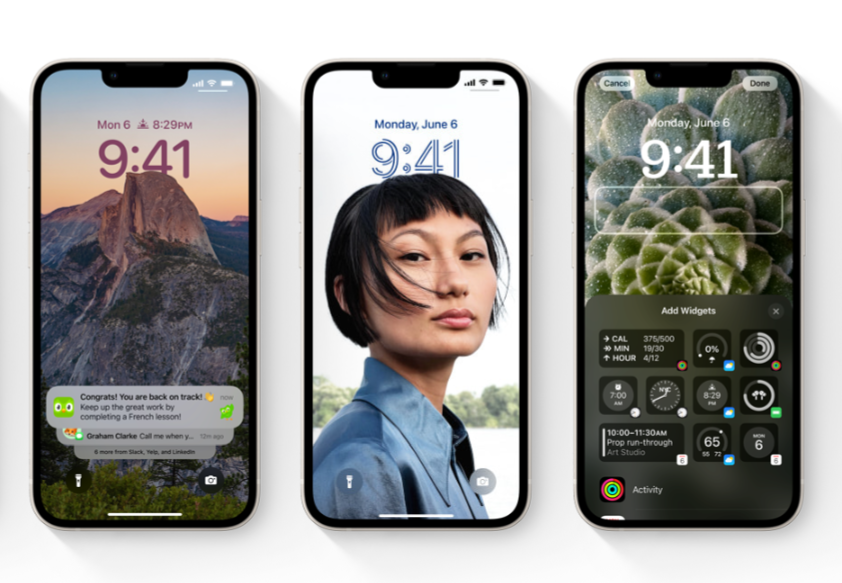 Previous to the latest update, all the lock screens only had wallpaper and a clock; however, with the new abilities, users can:
Create multiple customized Lock Screens and easily switch by swiping.
Play with multilayer effects
Stylize the view of the date & time
Customize the font, color, gradients, add emojis, photos
Add widgets like – weather, battery levels, upcoming calendar events, alarms, time zones, etc.
Alter the placement of the elements in just a swipe.
Track real-time activities and events from the screen while listening to music or exercising due to roll-up notifications.
Filter out apps at their convenience without hassle.
Refined Focus Modes
You might remember when Apple introduced Focus modes with iOS 15 in WWDC 2021.
The primarily launched focus modes enabled users to shift in multiple customizable ways, like work and life, with different widgets, backgrounds, and more.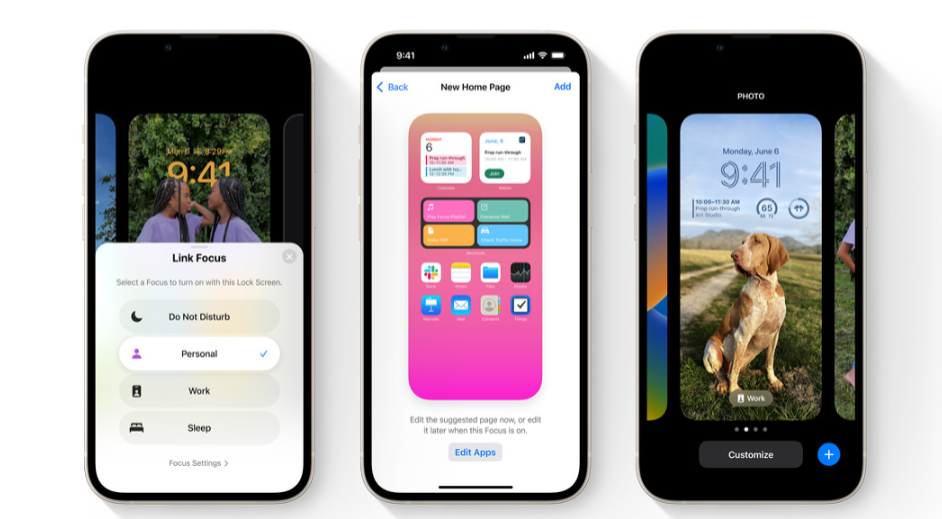 This year, Apple refined the focus mode capabilities for the new devices iOS 16, iPadOS 16, watchOS 9, and macOS Ventura. Complementing the iOS 16 lock screen customization, iPhone users can swipe and shift between the various Lock Screens to enable a corresponding Focus, in addition to the pre-existing Focus mode abilities.
iOS 16 has empowered users with the Home Screen and Lock Screen configuration with other relevant apps, elements like wallpapers, and widgets, enabling an improved personalized setup experience.
Further, with Focus filters, users can filter our content and determine apps like Calendar, Mail, Messages, and Safari to only display relevant content or notifications they want to access. In addition, the new Focus filter API enables the developers to build a functionality that can help change the content based on a user's current Focus.
Enhanced Camera Intelligence
With the advent of iOS 16, one of the most impressive advancements has been announced with the Camera & Photo app. With its latest iOS 16, Apple has established new levels of intelligence in the camera and the iCloud.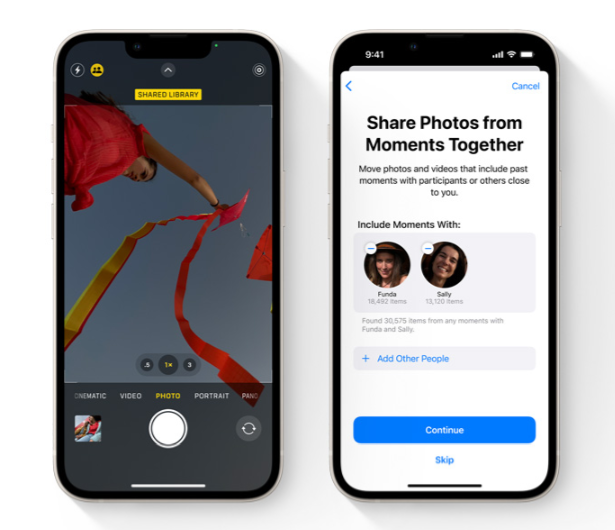 Expanded Live Text Ability & Visual Look Up

To enhance the Live Text & Visual Look Up, Apple's iOS 16 has leveled up the iPhone capabilities by equipping users to:

To enhance the Live Text & Visual Look Up, Apple's iOS 16 has leveled up the iPhone capabilities by equipping users to:
Recognize, copy, Paste & Translate text from images & videos.
Allows users to convert currency, translate text, and more quickly.
Tap and hold the subject in the image and then "lift" it and paste it into other apps like a sticker.
Recognize subjects like pets, people, birds, insects, and statues.
Lock their ‌Photos‌ app with Face ID or Touch ID.
Detect, delete or merge duplicate images in your ‌Photos‌ app.
Make edits to an image and then replicate those edits to multiple photos using the new copy and paste edits tools.
Sort photos by the name of the people
iCloud Family Sharing

The new iCloud family sharing feature has streamlined and eased sharing of images & videos with family and friends. With the new family sharing enhancement, users can set up a photo library to share photos instantly from the camera via a new toggle in the Camera app or the existing iPhone gallery.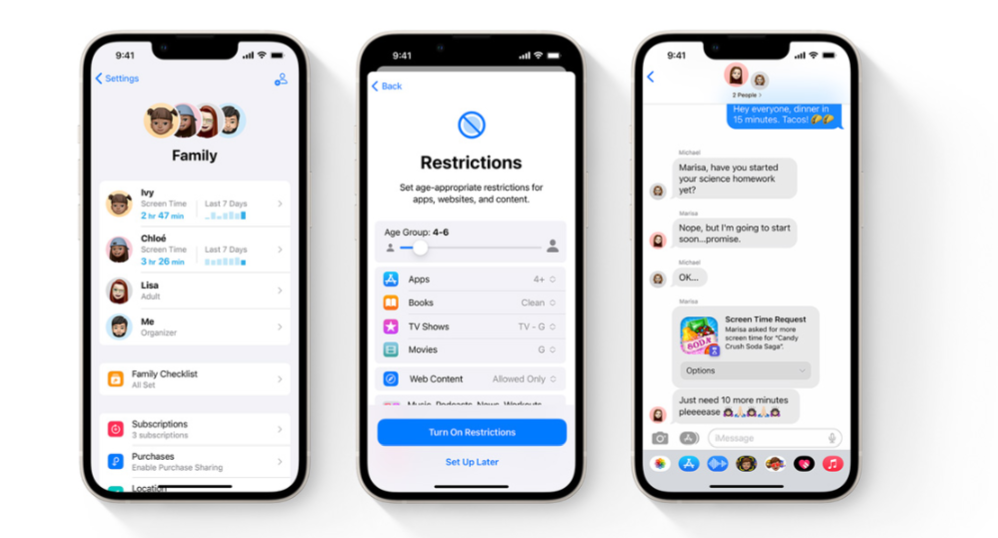 The new family share photo library permits up to six family members to contribute with equal access permissions to add, delete, edit, or mark their favorite photos and videos. In addition, the feature gives users intelligent suggestions about sharing the images without the hassle when other shared library members are nearby.
New iMessage Features
Addressing the needs of iPhone users when it comes to chatting & collaborating, The latest iPhone update, iOS 16, has introduced some significant features that enhance the overall communication experience for every iPhone user with the newest iOS 16.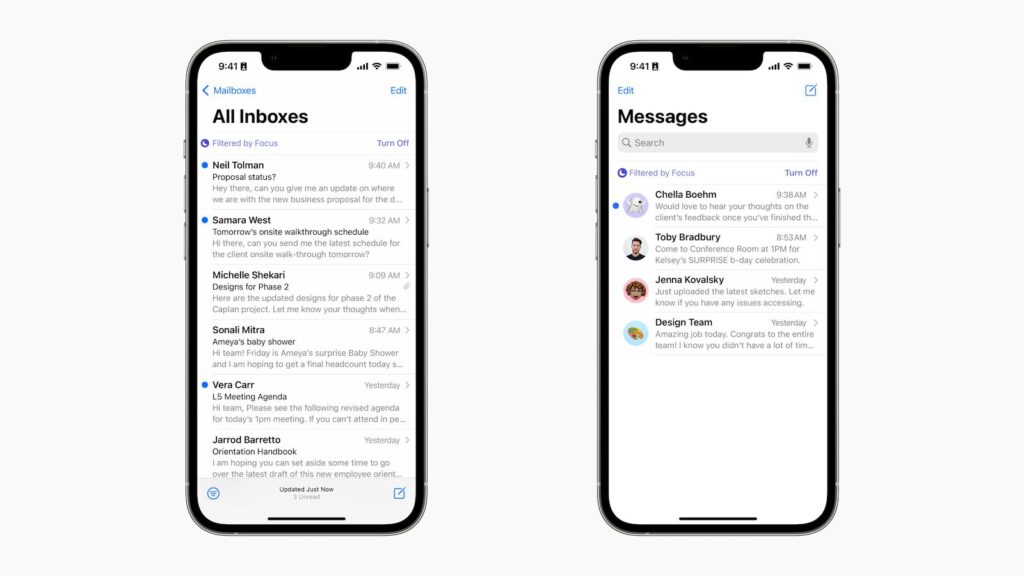 The latest version of iMessage allows users to:
Edit or unsend the sent message & recover deleted messages as well
Mark a message as unread
SharePlay via Messages – Play music or watch video while chatting
Share files, notes, presentations, reminders, Safari Tab Groups, etc., seamlessly via Files, Keynote, Numbers, Pages, Notes, Reminders, Safari, and third‑party apps.
Look into and seamlessly collaborate on shared projects in the thread.
Filter messages based on SIMs.
Classify business messages into sub-categories
Access event bookings and appointment notifications as Siri Suggestions.
Wallet & Apple Pay
Another intimidating feature of Apple's iOS 16 was the addition of the Apple Wallet App. Upgrading to iOS 16 empowers users with Apple Pay Order Tracking, The Apple Pay Later feature & the ability to share & use digital keys and ids for identity and age verification.
Apple Pay Order Tracking
Users can leverage Apple Pay Order Tracking to ease the tracking of retail store purchases and access detailed receipts and notifications regarding their order and Apple pay purchases in their wallet app with participating merchants.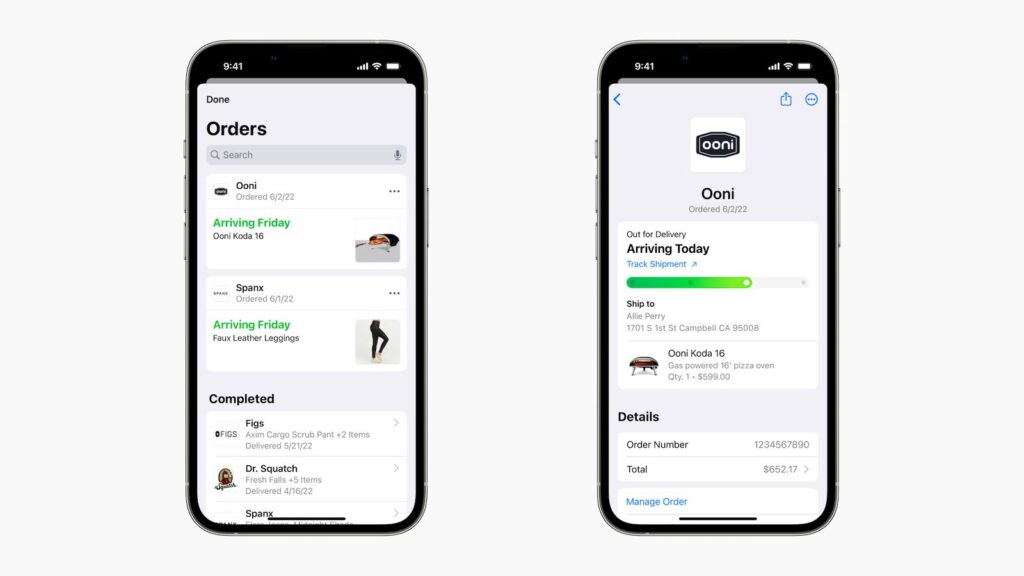 Apple Pay Later
Apple Pay Later is a line of credit offered by Apple with the latest iOS 16. Primary, the Apple pay later app enables users in the U.S to use Apple pay and split their Apple purchases into installments distributed over six without any fees or interest.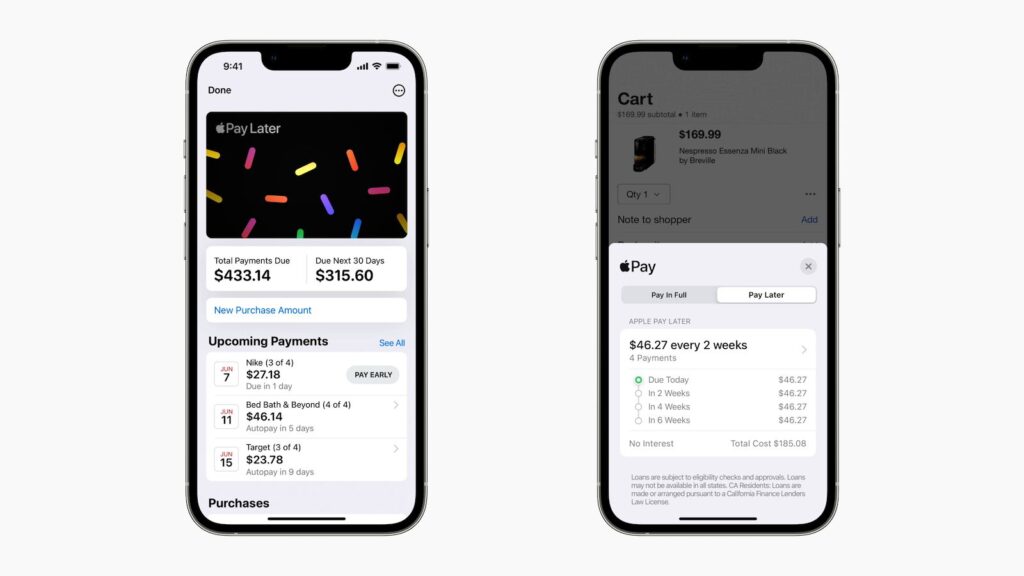 Digital Key & IDs
The enhanced Apple Wallet app allows users to use their digital keys and IDs for age and identity verification with utmost privacy. And also lets the users safely manage key permissions and share their office, hotel, home, and car keys in Wallet through messaging apps, like Messages, Mail, WhatsApp, and more.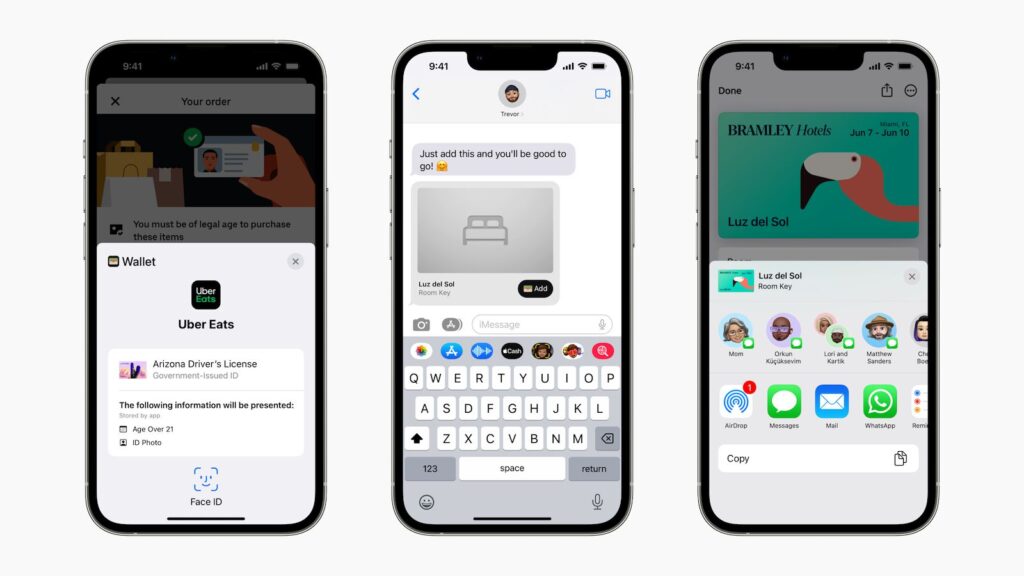 News, Quick Notes, and New Reminders
The subsequent notable enhancements of the iPhone with iOS 16 were the introduction of Quick Notes, reminders, and the news.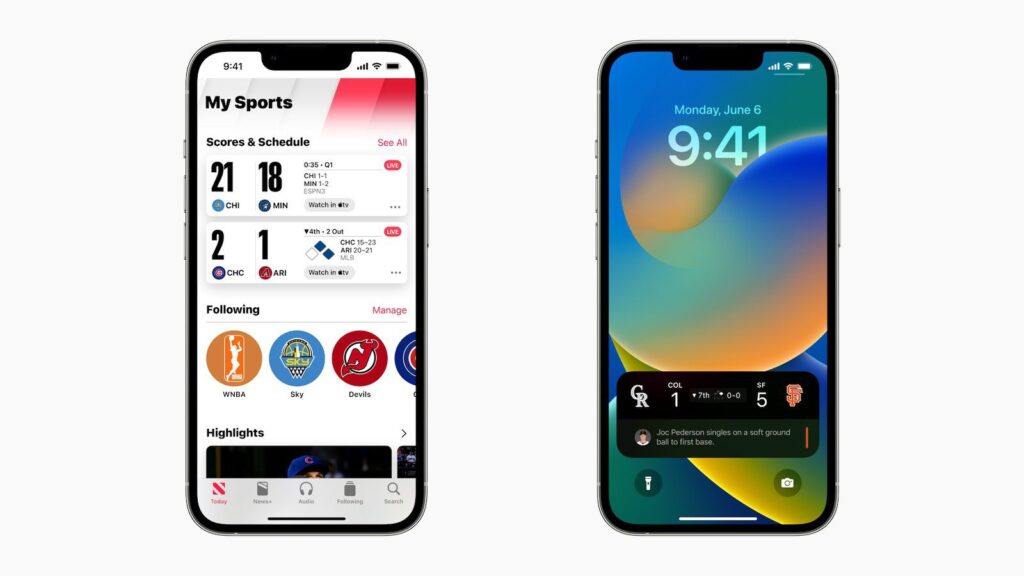 Notes
Quick Note has been introduced to the iPhone with iOS 16. Quick notes can create a Quick Note in any app from Control Center and can be categorized chronologically based on date & time for easy reference in the list and gallery views. Further, these notes can be easily shared via a link, locked and encrypted with the user's iPhone password, and compiled with enhanced smart folders.
Reminders
Reminders with iOS 16 proffer users an easier way to access and manage their reminders. With the new advancements, users can create, save and reuse a list, group the reminders and checklists based on date and time, pin lists option effortlessly, and share these reminders and lists with their close group of people.
News
Following the quick notes & reminders, Apple News introduced a new "My Sports" section that enables the users to effortlessly get their hands on the detailed coverage stories from hundreds of top publishers of top newspapers with home pages. Users can follow their favorite sports person or sports while having advanced access to the local stories in their preferred channels and topics with a customizable Favorites group in the Today feed. This new feature's only limitation is its availability as it is available only in the U.S., UK, Canada, and Australia.
Dictation

Aiming to enhance the customer experience, the latest iOS update introduced the Dictation feature; wherein users can dictate the OS's tasks. This dictation feature amalgams speech and typing in real-time, enabling users to write grammatically fine-tuned text without typing.
Siri
With numerous intimidating enhancements, Apple's Siri also gets some exciting add-on features to delight users. For example, with the new upgraded Siri of the iOS 16, users with just a few commands can easily download, update or set up any app on their device without hassle.
Besides the easy download of apps, Siri will be able to send messages automatically, enhance them by adding emojis while sending, and enable the users to switch hands-free, and help them hang up while using phone calls or Facetime.
Safari
When everything is getting enhanced, how can Apple's browser, Safari, not get new features? The new iOS 16 has equipped Safari's start pages with enhancements like customizable backgrounds, images, and the ability to mark, pin and share favorite tabs, making it easy for friends and family to collaborate.
Moreover, Safari will have new language support in images on web pages, the ability to edit Wi-Fi passwords, and seamlessly sync the Apple devices and preferences for specific websites. However, users can expect support for web-push notifications to be announced by 2023.
Health and Fitness
It's well known that most of the health-based Apple features were limited to its watches; however, with the latest iOS 16, Apple has added some helpful features to the Apple health app.
iPhone Fitness App
For instance, the iPhone fitness app, which is well equipped with third-party workout apps, built-in motion sensors, and calorie, and step counts, can play a part in helping users achieve their fitness goals by assisting them in tracking their sleep schedule, routine effectively, and calorie intake even without having the Apple Watch.
In addition, iOS 16 has announced dedicated awards for Apple Fitness+ workouts, motivating users to adopt healthy activities and exercises tailored to their body shape and endurance.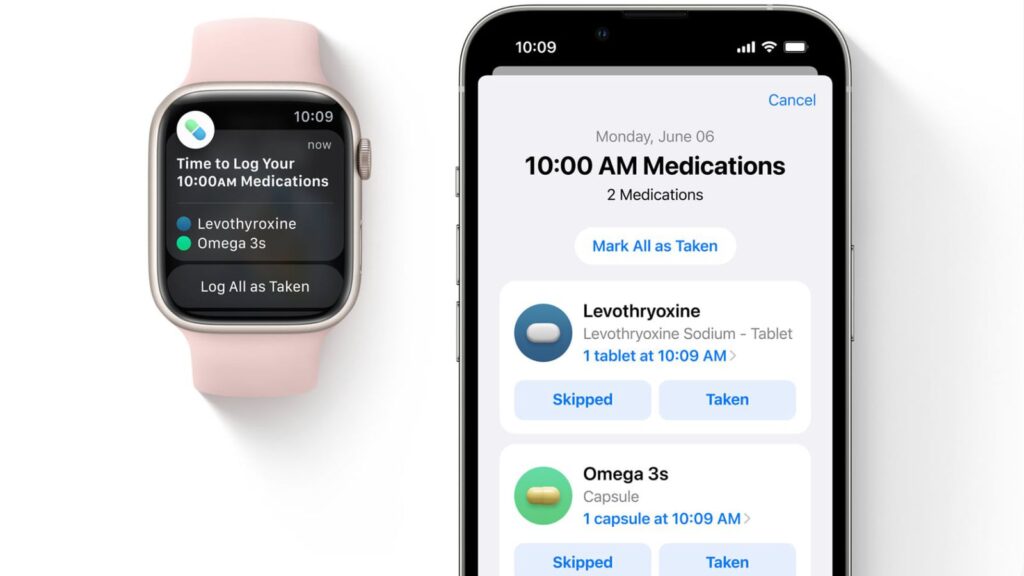 Health Tracker
The new way of offering health updates to users is another impressive enhancement in iOS 16. Users with the upgraded version of iOS can efficiently create schedules or reminders and log and track their medications and timings with intuitive charts and visuals. These details can also be shared with your doctor or prescribed professional to help you stay on track with your medical treatments.
The Renewed Home App
The newest iOS – iOS 16 has introduced users to an entirely refined Home App available across the ‌iPhone‌, iPad, and Mac. The new home page equips users with:
An intuitive interface for the home app with a detailed view of the entire home in one place.
Easy navigation, view, and control of their smart home, especially for homes with many smart devices or accessories.
Categories for electric types of equipment like lights, speakers, TVs, security, and water enable easier management with more detailed status information.
Additional camera views are available by swiping.
Maps
The Apple Maps have also been enhanced with the new iOS update. Users will now be able to sync and use their Apple devices together while efficiently planning their travel. For instance, a user can lay down a travel plan on Mac, have it on his iPhone and use Siri to add up to fifteen stops ahead of time using the Multistop feature. Also, the new, improved maps aim to offer transit updates to users, making it easier for them to calculate expenditures without leaving the Maps app.
Other Features
The next set of enhancements apart from the ones mentioned above are:
Improved Child Account Settings
The new iOS update enables users to create and manage kids' accounts on their Apple devices. The account settings are equipped with more accessible ways to determine age-appropriate restrictions and parental controls while offering permissions like QuickStart, Screen Time requests, and notifications warning about parental control reviews.
Privacy and Security
‌iOS 16‌ also introduces a new Apple security update in the device settings. This feature enables users to review and edit the device's access, grant or reset privacy permissions, restrict access to messages, and stop the device's location sharing.
In addition, iOS 16 also introduced Spatial Audio with AirPods, enabling users to use the TrueDepth camera on ‌iPhone‌ to create a commendable music experience, new Mail features, QuickNote, and Fitness app functions without the Apple Watch, Rapid Security Response, additional Memoji customizations, and more.
iOS 16 Supported Devices
With so many impressive advancements and new features, you might be excited to know the compatibility of the new iPhone update iOS 16 with your device. Well, Apple, with its latest version of iOS, has announced support for the below devices:
iPhone SE (2022)
iPhone 13 Pro Max
iPhone 13 Pro
iPhone 13
iPhone 13 mini
iPhone 12 Pro Max
iPhone 12 Pro
iPhone 12
iPhone 12 mini
iPhone SE (2020)
iPhone 11 Pro Max
iPhone 11 Pro
iPhone 11
iPhone XS Max
iPhone XS
iPhone XR
iPhone X
iPhone 8 Plus
iPhone 8
What's the iOS 16 release date?
The stable new iOS update – iOS 16, is expected to be released by Apple in their next event on the 7th of September 2022. However, users can expect some revisions or changes in the final launch of iOS 16.
What to expect in the next Apple Event?
The upcoming Apple event is primarily the official launch of the rumored Apple iPhone 14 and Apple Watch Update – Series 8. Discussing the possibility, experts anticipate the significantly advanced features of the iPhone 14 Pro and iPhone 14 Pro Max, including the long-awaited dreaded notch discontinuation and an always-on display.
Apple fans can also expect the Apple watch series 8 to launch with a more advanced model for Athletes. However, to know what is being brought by Apple, we'll have to wait for the event; until then, let's keep hopes high and eagerly wait to unveil what the tech giant has to offer.