Apple App Clips are all about making apps more accessible and seamless to use as the web. The concept behind Apple App clips is not a breakthrough discovery. Infact, Google's Android platform offers tiny app-on-demand downloads– Instant apps, for years now.
Apple App Clips are fast and eliminate the barriers of downloading an app from the Apple store. The millennial generation is too busy to bother downloading a full application. They are almost always in a rush. Apple App clips help users in situations where they want to get the job done, without the obligation of downloading complete applications. For instance, if a customer is waiting to place an order, or trying to pay for parking, they're more likely to just speak their order at the counter or swipe their Credit Card in the meter, respectively.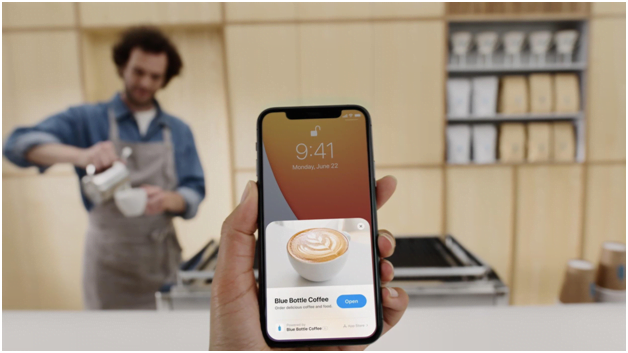 Apple App Clips work for any such scenarios. Apple Pay and Apple ID support Apple App Clips, allowing it to work faster. It makes Apple App Clips useful in scenarios where the user wants to make a quick payment. This specific feature of iOS14 helps B2C businesses grow and thus have a huge impact on the upcoming market trends.
As a business owner, you can develop several Apple App clips at a time to serve different purposes. Developers also use these clips as a business opportunity.These apps can help increase downloads for your complete App if you get the customer's attention. The best part is if they remain unused for 30 days, they are automatically deleted from the device.
How are Apple App Clips Made Discoverable?
App discovery continues to be one of the prime reasons why apps fail to generate value. We have an app for everything now! This makes it almost impossible to convince users to choose your App over another- especially when you offer similar services. Apple App Clips however, uses multiple ways to be discoverable, and hence increase traction.
Easy discoverability and accessibility are two USP's of Apple App Clips. These Apps appear in front of the user right when they need it! That's instant value generation, right there!
Some of the ways how users make their Apple App clips more discoverable are through Apple App Clip codes, QR codes, NFC tags, Links in messages, and much more. The support for offline applications through QR scan and NFC tags pave the way for brick and mortar businesses to acquire new customers.
How are businesses generating value from Apple App Clips?
The main purpose of this tool is to increase user engagement, thus boosting business revenue. All the businesses providing quick goods or services like instant food, quick payments, etc.can use these clips to enhance their maximum potential. Here are some of the services you can develop in Apple App Clips for your business:
a. Rental payments
b. Discount coupon activation
c. Check-ins
d. Electronic queue management
e. Orders for goods
Developing quick and easy to use Apple App clips will help you grow your conversion rate, and retain more customers. These Apple App Clips generally have a size of 10MB and are bundled with the complete App on the App store.
One of the key advantages of using Apple App Clips is the data privacy and security they offer, They are restricted to tap into customer's sensitive data, and thus act as a safe way to complete daily operations. A user can simply stop using the App for 30 days, and it will be deleted from his/her phone automatically.
However, if someone begins to use a particular Apple App clip more frequently, its lifetime gets extended. The app clip might also help remember your favorite orders at your favorite cafe, and bring them up as suggestions the next time you want to order. Eventually, the user becomes more likely to download the complete App.
The process of app clip development requires expertise and understanding of business logic, apart from knowledge and basic skills. Your Apple App Clip reflects what your app has to offer, which is why you need to focus on its development just as much as you did for your app. As industry leaders, we want to guide you through the various aspects of business expansion using Apple App Clips.
a. Deep Linking: Although deep linking is not a necessary step in the development process, we recommend deep links for a streamlined experience. Deep linking makes it easier for the users to open the exact screen of the app clip they want to open
b. Siri Integration: Another major step you can include in your app clip development process is to integrate your application with Siri. This increases your app's useability instantly and thus gets you more business.
Using Apple App Clips for your business is a great idea altogether. Your business conversion rate is undoubtedly bound to increase, and so is your customer relationship. At the same time, you would not be hampering with your customer's sensitive information, which is a win-win situation for everyone!
Apple App clips is an emerging tool with immense potential to bring benefits to your business if used correctly.