54% of leaders in IT report that their teams struggle to form a cloud strategy- the first step of a cloud transition. This is why we all need a handy guide. Cloud migration involves critical organizational change management spanning people, processes, and technology. Taking a holistic approach would help you navigate the journey successfully and ensure that your organization realizes new benefits.
Moving to the Cloud with a plan and a purpose
In 2017 alone, the Cloud grew by almost 40% – a phenomenal growth rate for any technology. By 2020, 60% of IT infrastructure and 70% of software and IT services spending were already in the Cloud. When deployed effectively, the public Cloud is a powerful and disruptive model. It brings positive operational transformation and greater competitiveness. However, inadequate implementation is equally disruptive.
Why Now?
The pace of innovation is relatively rapid. To keep up, business leaders place ever-higher demands on IT to support their growth and business initiatives. The public Cloud has emerged to offer the speed and flexibility required to meet those demands. Cloud is a transformative piece of technology. When a business opportunity presents itself, it can be used to put a solution in place quickly. If a business area is no longer relevant (or there is a downturn), the Cloud can help cloud migration service companies reduce their technology footprint with speed and grace.
Your existing IT processes and controls should be a fundamental part of this shift. Even though the Cloud presents a new set of cloud migration tools and technologies, you should modify your processes and controls to conform to cloud operations. This will help you ensure that you provide the proper solutions within budget and with appropriate administrative authority. Before taking the plunge, consider the underlying motivations for the move.
What triggering event, business change, or challenge is driving you to the Cloud? Is it time for a significant hardware or software refresh? Are you facing strict new industry regulations to which you must respond? Is there a new business approach or service being launched that needs more agile technology support?
Let's discuss how digital transformation can accelerate growth for your business
In short: What is the business transformation that's prompting your technology transformation? With that knowledge in hand, you can begin on the path to successful cloud adoption and achieving more excellent value from it.
What is a successful Cloud Migration?
Here are the five stages of cloud migration:
1.Gap Analysis:
A common mistake made by companies moving into the Cloud is configuring their server the same. If we didn't make it clear enough how important it is to understand your current utilization vs. configuration, keep in mind there are egress charges: an incremental charge for data that leaves the Cloud. Since it wasn't right-sized, you'll end up spending more than you should.
The cost of your facilities and utilities, including cooling and power, and real estate. The more detail, the better, of course. You may need to reach out to other departments for this information. While this may seem cumbersome, keep in mind that understanding this is important.
These facility costs disappear once you're in the Cloud. Having visibility builds a more accurate picture of current costs vs. expected costs in the Cloud. How is your IT staff currently allocated? How much effort does physical infrastructure take, and how will this change as systems move to the Cloud? Start thinking now about how you will reallocate and retrain these resources.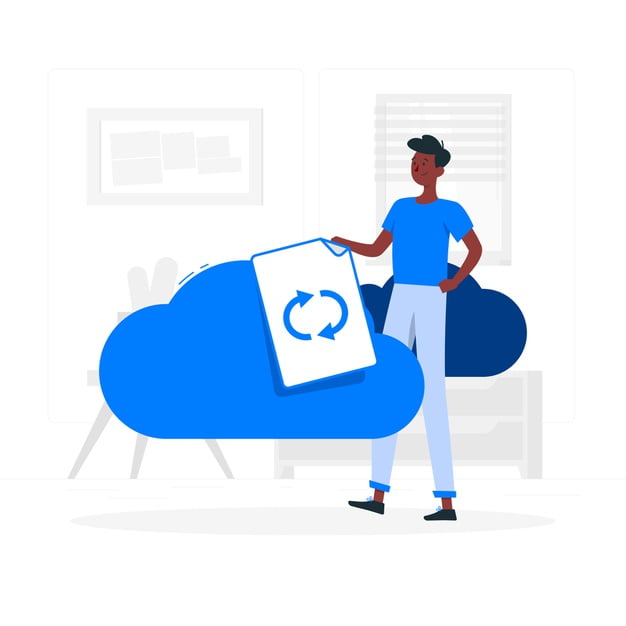 2. Get Moving:
When we say "Get Moving" to the Cloud, it isn't exactly like saying, "Just do it!" Although getting started with your first workload is essential at this stage, this is the time to do the frontend work that lays the foundation for future successes. Your first initiative is an excellent opportunity to get stakeholders united around the strategic vision the business has for Cloud and ensure there is buy-in from all affected parties. A quick, meaningful win is essential to building momentum.
Choose the first workload to move to the Cloud carefully, but get going. One of the most significant governance challenges you'll face is achieving a balance between ease of provisioning resources and maintaining compliance and controls. When developing your compliance strategy, don't lose sight of your purpose for moving to the Cloud in the first place.
Read more about how Cloud solves challenges in Real Estate here.
3. Planning:
With all the competitive advantages available, your move to the Cloud needs to be an unequivocal success. Your first successful project lays the foundation for another and another.
Developing a plan for what to migrate and when will ensure you maintain that momentum-building success. Unfortunately, most businesses plan their cloud projects with an incorrect assumption that often comes back to haunt them.
Businesses too often treat their cloud projects like the moving of servers or infrastructure between locations. It bears repeating: moving to the Cloud is not a simple lift and shift of your applications.
The typical server-based approach to migrating to the Cloud is not a strategic one. Instead, build your cloud plan based on your applications and their suitability for the Cloud. This will also ensure you have a deep understanding of each application – its impact, dependencies, business value, and potential roadblocks – all before it even touches the Cloud. Start by profiling your applications.
Start by profiling your applications. Determine which are dependent on each other, which pose the most significant risk, and are the strongest candidates for the Cloud. Pay close attention to threats, complexity, dependencies, operating costs, and suitability. Remember, not everything belongs on the Cloud.
4. Migration:
Typical on-premise migration scenarios involve the laborious process of procuring new servers, storage, and infrastructure for the cloud migration data center. To account for peaks, you must buy hardware and software configured to meet the highest level of performance you might need. If you fail to account for peak performance, you'll need to buy even more and risk longer, costlier delays — and missed opportunities.
Of course, this is not the case with the Cloud, where infrastructure and resources are available at a moment's notice. To achieve the promise of the Cloud, being able to scale up and down based on usage and performance need with speed and ease is essential. If you're still thinking of the Cloud as a location to put your cloud migration data and applications, stop. Cloud is a model, not a place. It's a wholly different way for IT to operate, and your migration needs to be viewed through that lens.
5. Optimize:
The work doesn't end when your applications are on the Cloud. Once you have successfully moved to the Cloud and achieved some degree of operational normalcy, it's now time to go a little further and refine your deployment. Thanks to constant competition between service providers, prices drop far faster than they do with on-premise infrastructure.
As well, the pace of new technologies and methodologies coming to the Cloud is relentless, and each further improvement and iteration offers the opportunity to improve performance, reduce costs and improve compliance. In a mere matter of weeks, by making the right choices to optimize your cloud deployment, you could cut associated costs by more than 20 percent, and it just keeps getting better.
Maximizing value from the Cloud requires being aware of usage and traffic patterns and constantly looking for ways to do more with less. A workload that costs $1000 in its first month could cost as little as $200 per month in its third year. This comes back to good governance and the use of cloud migration tools that provide greater visibility, such as a usage dashboard and Artificial Intelligence and business intelligence tools. By building business logic into your decisions around consumption and right-sizing, you can automate the changes needed to your cloud environment.
In conclusion, automation is the key to preventing complacency. Even if you are in the middle of migrating to the Cloud, you'd be well served by conducting an in-depth gap analysis if you have not already taken this step. This will ensure you're on the right path and help change you may be missing. Contact our experts to know more about how you can solve your business challenges with Cloud Migration.