This December indeed began with great news: Comparably, a leading workplace culture and corporate brand reputation platform awarded Copper Digital the Best Workplace Culture Award of 2022 and the Best CEO Award as a part of the 6th Annual Best Places to Work series.
Based in Dallas, TX, Copper Digital is the leading digital transformation service provider in the world, known for being one of the best tech companies to work for and associate with, as the enterprise holds over 12+ years of experience in offering the most unprecedented mobile solutions and digital transformation consulting services to businesses right from Startups to Fortune 500 companies. 
Embracing the technology-led paradigm shift in the business world, Copper Digital has proficiently delivered over 1000 business solutions across the most competitive industries like Supply Chain, Financial Services, Energy, Electronics, E-commerce, Healthcare / Benefits Management, MRO, Manufacturing, etc.
Copper Digital has offered digital transformation solutions to the most prestigious brands: Verizon, Cisco, Sirius XM, Amazon, Hearst, Jaguar, Honest, GreenDot, Aon, Deloitte, Westinghouse, Visa, Future Group, U.S. Army, Texas Instruments, etc.
In addition to Comparably's Best Workplace Culture Award 2022, some of the esteemed awards that have recognized Copper Digital excellent work culture are Dallas Morning News Top 100 best places to work, INC 5000 company as America's Fastest-Growing Private Companies, GoodFirm's Top Mobile App Development Companies in Dallas, Clutch's Top Design, Mobile App, and Web Solutions awards, and many others.
Let's discuss how digital transformation can accelerate growth for your business
For more information, you can visit our website www.copperdigital.com
Review Copper Digital: Here
Top Reviews By Copper Digital Employees
"I've enjoyed my time here. I've been able to grow professionally and personally and have developed meaningful friendships and relationships."
"Good work environment and culture, source of knowledge. Company polices are good, teammates are supportive management is transparent."
"It's been few months working here & I would truly say that it's really great & fun working here, great colleagues who are always up to help & work as a one team"
"Copper Digital is really good company as they give an opportunity to work on diverse projects and the culture is really exciting over here."

"My overall experience at copper digital is much enthusiastic and there are more learning opportunities coming my way everyday."
Comparably's Best Workplace Culture Awards 2022
Comparably's 6th Annual Best Places to Work series represents and recognizes the best companies of 2022, contemplated and determined by anonymous employees' answers, reviews, and ratings based on 50+ structured and comprehensive workplace questions in nearly 20 core culture metrics right from remuneration, work-life balance, career development to leadership, perks and benefits, etc.
The year-long collected reviews and ratings are then consolidated and segmented into two categories Large and SMB. The Top 100 large companies have over 500 employees and at least 75 anonymous participants. The top 100 SMBs are those enterprises with less than 500 employees and at least 25 anonymous participants from U.S. and Canada.
What are the Top Companies with the Best Workplace Culture 2022?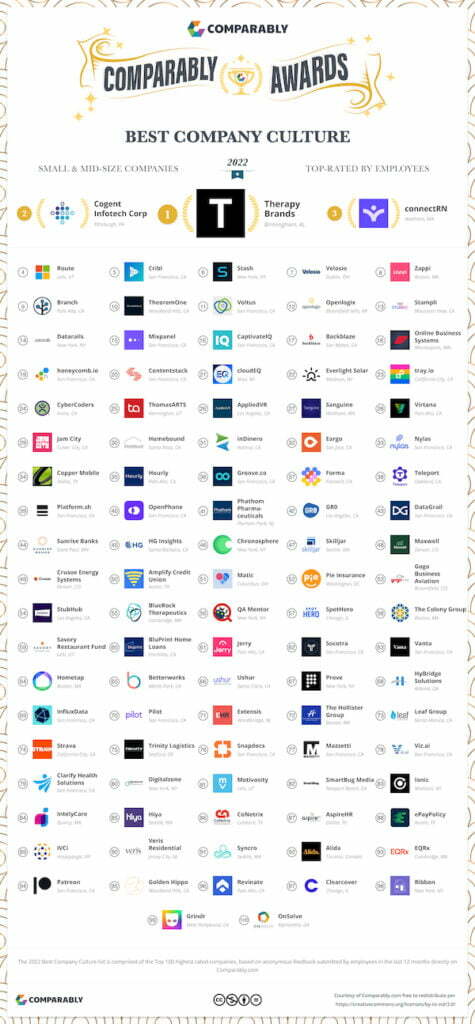 About Comparably
Comparably is a leading workplace culture and corporate brand reputation platform with over 15 million anonymous employee ratings on 70,000 companies. With the most comprehensive data on large and SMB organizations in nearly 20 different workplace categories – based on gender, ethnicity, age, experience, industry, location, and education – it is one of the most used SaaS platforms for employer branding and a trusted third party site for workplace culture and compensation.