Creating a mobile app is a good start for a company that wants to gain a competitive advantage over its peers. Why is that? Mobile now accounts for approximately half of the time spent on digital media. Copper Mobile harnesses the power of apps to help and solve a business problem for their clients.
About Copper Mobile
Copper Mobile is premised in Noida, India, with a corporate office in Dallas. It is a leading mobile app development company that often integrates expertise from diverse fields to offer cutting-edge mobile development solutions. Having specialization in turnkey engagement, the company has developed a proprietary methodology that sets a high standard for mobile app development solutions with innovation.
The firm delivers a comprehensive solution that helps its client navigate the changing mobile landscape. As a reliable advisor and trusted partner, they take pride in becoming valued team members of the client's business who bring the best of services to the table.
GoodFirms Research Process
GoodFirms is an online platform that aids seekers to find the top mobile app development company and hire them. The research methodology adopted by the profound researchers plays a significant role in hiring a company because the firms are strictly examined on parameters such as Quality, Reliability, and Ability. This way, service seekers can hire a reliable partner for their projects.
Same way, GoodFirms evaluated Copper Mobile and got to know the services offered by the firm are unique. Details regarding the same are cited below:
Let's discuss how digital transformation can accelerate growth for your business
Delivering Innovative Mobile App Development
A mobile app is an extremely efficient way to establish a presence in the market and customers' minds. This technology is like a black box that, when appropriately decoded, can yield colossal benefits. The company, Copper Mobile, is flexible in its approach to delivering the best mobile app development solution. Their teams are known to solve any kind of complexities regarding projects taken, and the firm is always ready to serve its clients in their best interest. Using these teams' capabilities, either in a specific or any comprehensive technology, the clients can benefit from the services.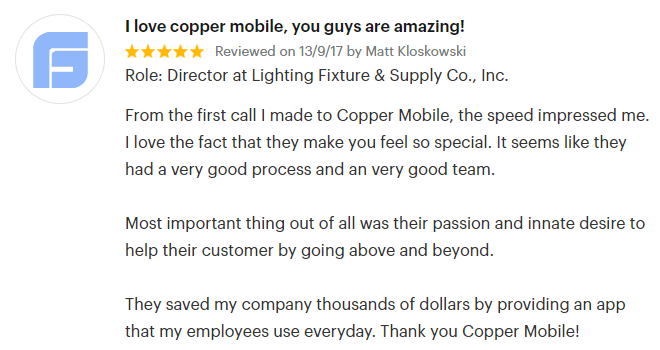 Matt Kloskowski, Director at Lighting Fixture & Supply Co., Inc., gave a 5-star rating explaining how passionate the firm is to help their clients.
Besides, the company's approach is also systematic in saving clients from any form of hassle in the final deliverables. They follow an in-depth approach to understanding clients' business, goals, and challenges to develop applications that make business sense. Therefore, all these factors have placed the firm as the top mobile app development company in Dallas at GoodFirms.
Offering Intuitive App Designing Solutions
Designers are in charge of developing a formidable app experience that can entice and drag customers' attention. While developers promise to make it, a designer assists for a smooth UI/UX. Copper Mobile delves into their clients' business to understand it profoundly and build an innovative, intuitive, and engaging design. Their team is highly engrossed in working on different projects with such fidelity that makes them a stand-out among peers. The assembled group of designers and experts often walks the extra mile to support the clients in goal attainment.
Since the teams can foresee the impact and importance of a magnificent design, they always think ahead of the curve. Right from helping companies to transform their business process to saving them huge unnecessary costs, the firm is capable of delivering clients' vision into intuitive applications. Also, because of their true intentions to develop a long-term relationship with customers and partners, they have gained a place as a trusted partner. The company ranks as the top mobile app design company in Fort Worth at GoodFirms.
Delivering Quality Ensured Testing Services
It is an inevitable fact that exhaustive testing is a smooth rollout. Software testing is a necessary step to detect any kind of defect or bug, even from the early stage of the development, saving time and money. Copper Mobile firmly believes precisely this – in carrying out the testing process, not just in the final stage of the development but at every step to find any glitches early. They tend to push their teams' potential to find solutions in a continuance period to convert challenges into opportunities. To ensure finding a significant impact on the software and correct them beforehand, the team offers Q&A assistance to its clients.
The company follows engagement models such as the turnkey and team-extension model to develop a holistic mobile solution. In the first one, the company acts as a comprehensive mobile partner, while in the other one, the company provides team members to clients on a contract basis. The continuous support and effort can make the firm acquire a position as a top software testing company in India at GoodFirms.
About GoodFirms
Washington, D.C. based GoodFirms is a maverick B2B Research and Reviews Company that helps in finding Mobile App Development, Mobile App Designing, and Software Testing firms rendering the best services to its customers. GoodFirms' extensive research process ranks the companies, boosts their online reputation and helps service seekers pick the right technology partner that meets their business needs.
About the Author
Anna Stark is presently working as a Content Writer with GoodFirms – Washington D.C. based B2B Research Company, which bridges the gap between service seekers and service providers. Anna's current role lingers to shape every company's performance and key attributes into words. She firmly believes in the magic of words and equips new strategies that work, always in with ideas, something new to carve, and something original to decorate the firm's identity.