You may have heard that Ecommerce is on its way to outstripping traditional brick-and-mortar stores. With the mobile revolution happening, Mcommerce is growing at an even faster rate. The global Mcommerce market is expected to touch $3.56 trillion by 2021, with an average annual growth rate of 33.8%; 79% of smartphone users have purchased online using their mobile devices in the last six months. It's easy to affirm that the time for Ecommerce business applications is the most crucial as ever. It makes it imperative for businesses to implement the best approaches to build on potentially thousands of dollars.
The objectives for both forms of selling online, Ecommerce, and Mcommerce are similar. You're still connecting customers to an inventory of products online and allowing browsing through a web interface.
The two platforms work slightly differently. The content, communications, and interface designed for consumption through an app have to be optimized according to the changing consumer preferences- that differ from desktop users. The purchases have to be quick, swipeable, responsive, and easy to complete.
Let's dive into the various aspects of developing an Ecommerce app, one by one!
A Step By Step Guide for Ecommerce Businesses
Ecommerce seems to be revolutionizing its ways and consumer patterns for some time now. The whys of adopting Ecommerce businesses are no longer a question for either newer or older brick-and-mortar businesses. One such example is from the famous Toys'R'Us, a famous brand that went digital-only a while ago. Companies must adapt to such digital tactics to become more responsive.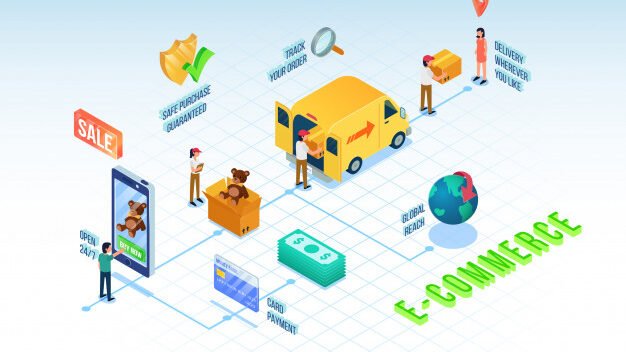 Here's a step-by-step guide to a beautiful Ecommerce app:
Step 1. Figure out the goals for your Ecommerce app
Step 2. Identify your target audience
Step 3. Choose the right technology
Step 4. Create a list of requirements for creating an Ecommerce app
To get started with your Ecommerce app strategy, we have listed down a few key points to enhance your app's user experience.
Push Messages: Critical to any modern Ecommerce app
Easy Checkouts: Streamline initial purchases, and make repeat purchases more straightforward.
Look-books and Wishlist: Popular for B2C and B2B businesses, to focus on repeat purchases.
Multiple suitable payment options: More options to pay get your companies to adopt more sales and better revenue.
Review/Rating system: Customer experience is enhanced multiple folds if there are great reviews and ratings.
Social Media Integration: Being present on all social platforms builds on your brand value and helps client nurturing. Once you have a list of features ready for your app, you can move on to the next step.
Step 5: Pick the right budget.
Step 6: Prepare your marketing plan.
The Most Innovative Things Happening With Mobile Apps In Ecommerce
While developing the perfect Ecommerce app for your business, you need to understand the underlying story of these apps' innovation. In the past decade, online marketplaces have served the majority of people. It's become a popular medium for product vendors to sell their products, marketers to advertise their products, and consumers to shop, many popular stores having their businesses online. These stores can be labeled as the new storefronts.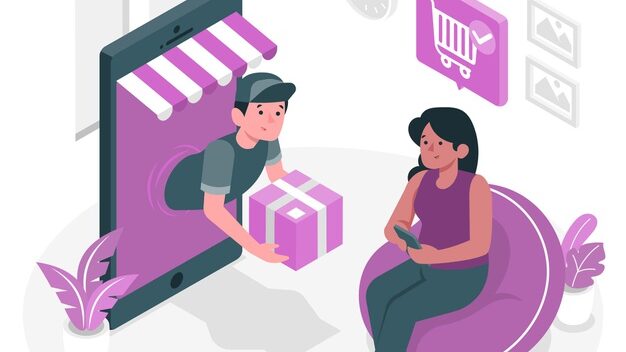 The growth of online marketplaces, such as Amazon, has changed how people shop. Adding layers of security made more and more customers trust these online marketplaces. Moreover, with Google releasing Google Checkout in 2006, there have been many more technological advancements in the Ecommerce sector. Another major player, Magento, an Ecommerce Content Management System (CMS), is now the most popular platform with 26.1% market representation.
Reasons You Should Invest in Ecommerce Business App
The biggest strength of Ecommerce lies in the mobility of buying and selling. Estimates state that by the end of 2021, 73% of Ecommerce business sales would take place on a mobile device. It makes Ecommerce apps functionally responsive, thereby turning them into a significant aspect to focus on. For instance, giants such as Amazon and Etsy have revolutionized the Ecommerce experience on mobile devices, making it easier for them to shop.
Once we have established Ecommerce applications' evolution, we need to understand why you should start investing in these apps.
1. Increasing Online Purchases
Online purchases are expected to increase to significant levels in the coming years. Two-third of Americans prefer buying online, unlike earlier.
2. Greater Opportunities to Make Money
Having a robust online presence facilitates more significant opportunities for an Ecommerce business. The untapped potential of these platforms to make money is enormous! You are no longer restrained to geographical constraints or time boundaries since your online stores are open 24/7.
3. Boosts Your Brand Image
Repeat customers positively to drive your sales. Once you've made a strong bond with your customers or gained their trust, you'll be able to boost your brand image and thus have repeat customers. A great way to do that is to invest in your website, prepare effective marketing strategies, and be present at online fronts.
4. Lower Operation Costs
Starting a business is a costly affair- or is it? In the modern era, Mcommerce businesses helped create enormous opportunities for people. Maintaining a web store is far more economical. The operational costs are also way too low, which means more profit for you.
5. Track your Customers' Behavior
It would help if you understood your customer's behavior to make the highest possible sales. This is easily achievable by tracking your customers' orders, keeping their preferences in one place, and acting accordingly. Take your business to another level if you have the right kind of website.
Biggest Problem With Ecommerce Business Apps, And How You Can Fix It
With the mobile revolution pacing up across the globe, retail businesses became necessary to sustain in the hypercompetitive industry to ensure standing out from the crowd; however, even after multiple attempts and numerous design iterations, businesses battle with low engagement and retention of their apps.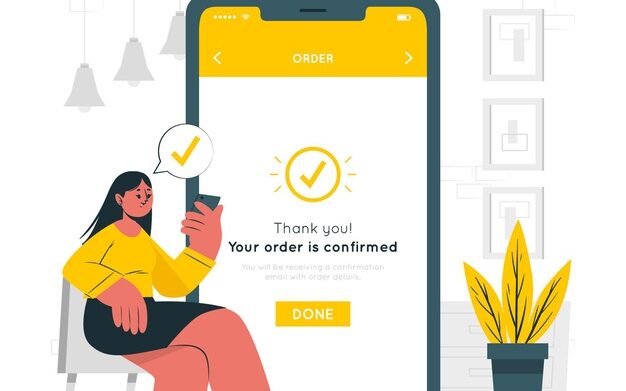 The reasons could range dramatically from improper planning to failure in the user-friendliness of the application. However, the grounds are common mistakes developers make while building a goldmine for Ecommerce businesses.
Developers not respecting the medium
Lack of personalization.
Low-quality product images.
Cluttered home page
Complicated checkout process
Essential functions out of thumb's reach
Lack of a marketing strategy
The process of development is thereby going to be one of the most significant investments for your company. You must partner with industry experts to develop a trustworthy and top-notch product. Ensure that your app development company has an in-depth understanding of the business logic, and you're all set! 
Common Pitfalls of Mobile Commerce
It would help if you had these, be constantly aware of advancements in technology and changes in optimization best practices to ensure your website- at least on mobile- offers a superior experience.
Choosing the right payment solution for your Ecommerce business is even more critical when it comes to mobile. Users generally skip adding their card and shipping details. Therefore, one-click solutions that integrate with mobile wallets offer a better customer experience. Simpler checkout processes and payment leads to an overall increase in conversions and sales.
The Next Big Thing in Mobile Apps In Ecommerce
Developing your Mcommerce application in the right way is just the first step towards success. As an Mcommerce business owner, you need to stay updated with the latest mobile commerce trends.
1. Design for the Mobile Experience
While one of the critical errors in Mobile app development is developers forgetting the medium they're working on. Ecommerce business owners and developers need to design their mobile applications or websites following their target audience. Also, different platforms may get your other data for the same set of audiences.
2. One-click Ordering:
With technological advancements, retailers begin to implement one-touch shopping in their businesses. This technology allows customers to complete checkout processes with just one click. It gives business owners an excellent opportunity to get more sales and have more repeat orders.
3. Social Commerce:
Social media has a tremendous impact on any business. It's easy to convert social traffic into sales. Be present on all relevant platforms to increase trust with customers.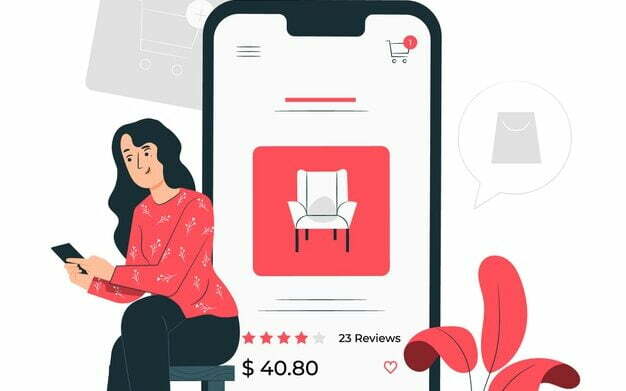 4. The use of Artificial Intelligence
The latest technology of AI is used in a wide range of areas. In the Ecommerce world, AI chatbots are rapidly becoming the new norm. According to data, 79% of consumers prefer to live chats since they get their answers immediately.
5. Voice Search:
According to The Verge, approximately 25% of American households own a smart speaker, and 40% of those have multiple ones. The numbers are clear evidence of how consumers want to browse online. As smart speakers tend to grow in popularity and utility, it's only natural that people want to shop via voice search.
How to market your Ecommerce Business online for greater revenue generation?
It's crucial to stay updated with the most current Ecommerce marketing trends and techniques for your business. Structuring an Ecommerce website is a milestone achievement for your brand. Therefore, it's imperative to invest in an effective website structure and Ecommerce marketing strategy. Here are some ways to market your Ecommerce business:
1. Twitter Ecommerce Marketing:
According to research, Twitter users are 2.7x more likely to purchase a product after checking it out on the platform. Considering highly potential marketing platforms, about 66% of brands with over 100 employees use Twitter for Ecommerce marketing.
2. Product Videos for Ecommerce
Product Videos are a must-have for your Ecommerce website and apps. Ensuring that you get the most brilliant product videos will help you engage your customer base better and thus generate more revenue. According to statistics, videos engage people three times more than any other photoshoots. Around 80% of users have a higher buying confidence in the product when they have watched a video on it.
3. Optimize Your Website: Content and Layout
After launching or redesigning your Ecommerce site, it's important to test your website's layout, content framework, and placement of conversion elements. When customers visit your Ecommerce website, you want to make sure that they feel naturally inclined to purchase your products.
4. Email Marketing
To update and reach your audience most effectively, provide useful content within your emails. Make them as personal as you can, offer valuable promotions, and use them as an opportunity to socialize.
5. Use Chatbots
With chatbots coming into the picture, operational costs are cut down to 30%. Chatbots take advantage of incorporated Artificial Intelligence (AI) more than other advanced technologies and assist you in your shopping journey. Apart from that, the most obvious benefits of chatbots are:
Improved customer service
Increased customer engagement
Better lead generation,
Nurturing qualified leads
Cost-saving
Interacting with past customers
Providing shipping and return information
Gathering feedback
Recommending related/relevant products to increase sales.
Trends that work in Ecommerce App Development
The biggest strength of Ecommerce lies in the mobility of buying and selling. Estimates state that by 2022, 73% of Ecommerce sales would take place on a mobile device. This means that businesses are bound to focus on their mobile apps and their desktop platforms. Making functionally responsive Ecommerce apps helps your customers to focus on your services.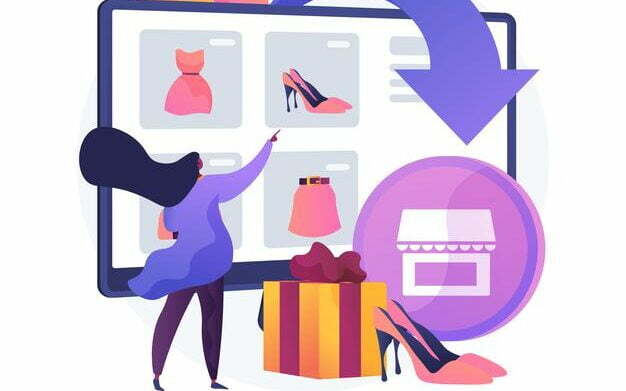 Based on a KPMG report, the time for transformation and thinking for the future states that the COVID-19 situation while presenting challenges is "a time for SMEs to change business models for a sustainable future fundamentally." The report adds that COVID-19 has demonstrated that adapting to digitization isn't a luxury but a necessity. Technology is critical to operating during these times but requires significant focus and attention post-COVID-19 if businesses remain competitive and resilient in the 'new normal.'
 The next question that should be addressed here is the language and platform most preferred by Ecommerce businesses to build their website. As a business owner, you should look at Magento as your magic wand! According to studies from W3 Techs, Magento currently empowers 0.8% of all websites on the Internet. It holds 4.55% of the whole Ecommerce market share, making it the fourth-largest Ecommerce platform globally. 
In all, multiple Ecommerce businesses are all set to thrive in the present era. Mobile trends and smartphone users will continue to drive the market. As an Ecommerce store owner, you need to keep a close eye on the increased scope, rising opportunities, and market trends for the foreseeable future.