As we move towards the end of 2022, business leaders should know that they have to be competent, well informed, rely even more on technology, and be prepared for the advancements that may become mainstream in the coming year – 2023.
As for entrepreneurs, being a part of the ever-evolving business era, which is introduced to new technologies and tools almost every day, predicting the next shift or staying on top of the trends is undoubtedly intimidating.
Thus to give a glimpse of what the technology landscape looks like in the coming years, here's a compilation of our top technology picks for 2023 that we think to hold the potential to help enterprises embark on a journey of innovation and business growth and a quick recap of top technologies that were embraced by businesses in the year 2022.
Without further ado, let's start exploring!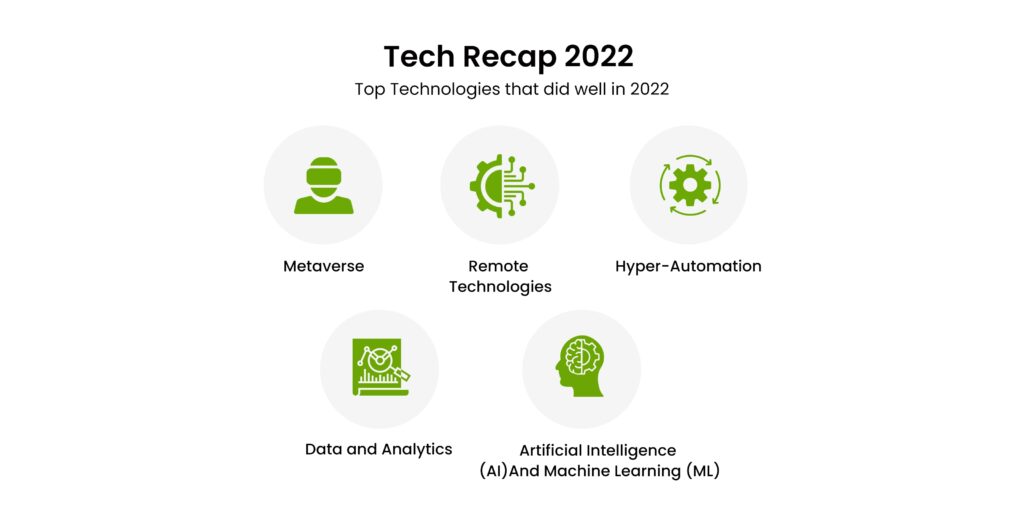 Emerging Technologies That Will Dominate 2023-24
Artificial intelligence & Machine Learning
Artificial Intelligence, also known as AI, initially began gaining traction over a decade ago and continues to be one of the leading technologies with no signs of slowing down in its pace. All these years, we have witnessed AI and Machine Learning (a subset of Artificial Intelligence) evolving and expanding their roots to numerous industries.
Some of the most popular AI and Machine Learning applications that we observed recently were the rise in wearables, voice assistants, marketing chatbots, improved medical diagnosis, and self-driving cars.

Moving ahead in 2023, we can expect to witness AI and Machine Learning implications at the forefront of tech evolutions with increased demand and adoption of hyper-scale automation, enterprise metaverse, cybersecurity, augmented working, generative AI, AIOps, low-code no-code development, etc.
Also, Read – TOP 7 MACHINE LEARNING TRENDS TO LOOK OUT FOR IN 2023-24
Metaverse
2022 buzzed with discussions around the Metaverse after the rebranding of Facebook to Meta, and renowned brands like Microsoft, Nike, Nividia, and many more famous brands creating their Metaverse and digital projects, all of this equally contributed to the hype Metaverse created in 2022.
However, the hype has remained.

In 2023, we will witness a significant rise in the Metaverse environments, business experiments with Blockchain, non-fungible tokens (NFTs), decentralized networks, and a whole new advanced era of digital assets and decentralized autonomous organizations (DAOs) aiming to bring in digital democracy to the virtual worlds we inhabit.
Also, Read – AN ULTIMATE GUIDE FOR BUSINESSES TO ENTER METAVERSE
Blockchain & Defi
It's no exaggeration to say that the Finance industry has undergone a tremendous shift in the last few years. Especially with the advent of decentralized financial systems, DeFi has become the new-age economic trend; and we know that Blockchain will expand its roots in the coming years.

For those who need to become more familiar with Defi, let us help you understand.
DeFi is primarily an umbrella term for peer-to-peer financial services on public blockchains. In simple terms, DeFi is an emerging technology upon which Bitcoin and Ethereum operate, i.e., a technology that aims to create a decentralized financial system that eliminates the need to employ a central monetary authority to validate financial transactions.
As for the coming year, as the understanding of crypto deepens, we will witness more platforms and techniques for implementing and leveraging the decentralized financial system as a part of regulated business operations.
In addition, with Blockchain, we'll have the upper hand with data analytics.
For example, the cloud is the most prominent safe space to store information today, correct? But as we move toward decentralized data storage and more of encrypting that data using Blockchain, the security level of the data will further enhance, leading to a more streamlined and convenient way of processing and analyzing data and information for the more significant business benefit.
Digital Twin Technologies
Being a part of a technologically advanced business era, we know that the accelerating pace of digital transformation is fueling innovations across industries globally. Well-known brands like IBM, Microsoft, Cisco, and Philips embracing the new age emerging technology – digital twin in the most innovative way possible is a notable sign of the rising growth and acceptance of Digital Twin Technology that we will witness in the coming year 2023.

Digital Twin technology, in simpler terms, is a robust amalgam of IoT, Ai, and data analytics to create a virtual replica of a product or service and its functionality that help identify ambiguity and possible vulnerabilities, prevent downtime, build new opportunities and lead to a greater understanding of the forthcoming product simulations through efficient analysis of data.
Not just this, as the world contemplates the remarkable benefits of digital twin technology, we might witness tech enthusiasts and scientists experimenting with a fully functional digital twin of a human being contributing to medical research and diagnosis in the coming years.
Also, Read – HOW IS DIGITAL TWIN TECHNOLOGY DRIVING THE FUTURE OF BUSINESS?
Super Apps
Another emerging technology trend we all might have witnessed is the notable shift from single-purpose apps to multi-purpose apps, also known as Super Apps.
The Super Apps is an enclosed marketplace or an ecosystem of numerous apps, services, and offerings, gathered under one umbrella to equip end-users with an inclusive, contextualized, and integrated experience. The best examples of Super Apps are PhonePe, WeChat, Alibaba, Alipay, etc.
These apps are built to equip users with a single app that functions like multiple apps and eliminates the need to operate and deal with numerous apps, thus offering a seamless, convenient and frictionless customer experience.

Considering the reduced customer engagement span, an increasing number of mobile users, and the accelerating pace of technology, mobile solutions, and digital transformation in the coming years, we will witness users looking out for more simplified and convenient ways of operating their mobile devices, and this will precisely be the most crucial reason behind the increased development of Super Apps.
Sustainable Technology
With the environmental risks, carbon emissions, depletion of natural resources, pollution, deforestation, e-waste generation, poor air and water quality, and more becoming the alarming concerns of entrepreneurs, IT leaders, and investors, the next emerging technology trend is a necessity for the coming generations – Sustainable Technology.
In fact, with the increasing focus on building technology that optimizes costs, energy performance, and asset utilization and drives ESG outcomes to ensure responsible business practices, sustainable technology has become a competitive differentiator.
To define, Sustainable technology is initially an umbrella term that elaborates on innovation or building a product that shelters natural resources, fosters economic and social development, and minimizes adverse environmental impacts.

Thus in the coming few years, we will come across a paradigm shift wherein investors will most likely associate with businesses with excellent ESG scores.
And businesses will be more committed to sustainability, and distributed energy generation, as a result, will aim to utilize renewable and biodegradable materials, sustainable and greener sources of energy leading to innovation that directly or indirectly protect the environment and minimizes the negative impact, and differentiates itself from other market competitors.
The Rise of DevSecOps
As technology continues to evolve, cyber intruders also have new and advanced ways of infringing enterprise cyber environments; leading organizations significantly turn towards DevSecOps in the coming years.

DevSecOps, in simpler terms, refers to strategically integrating security as a shared responsibility and a primary part of the entire enterprise's IT infrastructure aiming to ensure that businesses are protected throughout the IT lifecycle and deliver higher quality products without compromising on cybersecurity.
In essence, implementing DevSecOps means embedding a security approach in the entire development process, from requirement gathering to design process and product development, instead of randomly bolting on last-minute post-deployment.
Robotics
Robotics is one of the fastest technology, showcasing significant progress and holding endless potential for the future of humanity. In 2022, we have witnessed advances in robotics that have equipped industries with feasible ways of functioning with extraordinary speed and accuracy, from streamlining and improving the efficiency of the simplest to the most complicated business operations.

Contemplating the rising demand for robotics, in 2023, we will witness a rise in demand for industrial and warehouse robots, especially autonomous mobile robots. Additionally, we also see an unparalleled conglomeration of robotics with advanced technologies like AI, IoT, and cloud computing and an accelerated pace of robotic cybersecurity solutions to minimize the cybersecurity risks and concerns of the business leaders.
Quantum computing strategies
Quantum computing has been one of the key focus areas for tech companies since 2000. However, considering the expedited pace of technological breakthroughs, AI, ML, IoT, Big Data, surged investment flows, and rise in start-up culture, it is the best time for business leaders to start planning their quantum-computing strategies for the coming 2023.

Especially with Quantum machine learning, quantum simulation, and quantum-inspired computation gaining a lot of traction and acceptance in industrial applications, 2023 seems to witness a proliferated growth of Quantum computing as a whole, with numerous business leaders paving the way toward leveraging the technology for the greater good of their business and having a competitive edge in the marketplace.
In The End!
We are at the fastest pace of digital transformation, wherein every day, a new technology, a new tool, and a new phenomenon is introduced to improve the way we live and work. What's trending and buzzing now can become primitive tomorrow, and what's primitive today might boom tomorrow, meaning that technological advancements are unpredictable yet constant.
For businesses to have a competitive edge and get ahead, staying on top of the trends and embracing technology is necessary.
However, since leveraging the best of technology is not always easy for businesses, it's best to partner with business transformation consultants who are well-versed in technology and have a proven track record of offering the most unprecedented business solutions that reciprocate business growth and impact.
Suppose you are an entrepreneur or a leader looking out for the best ways to embrace the technological shift of the business era. In that case, Copper Mobile is one of the world's top Digital Transformation consulting firms and the finest mobile app development solution providers are known for consistently offering the digital-first experience by solving complex business problems with future-ready and cutting-edge mobile and web development solutions. Reach out to us today and explore opportunities to pave the way for turning your business envisions into reality.