In-House vs. Outsource Mobile app development is a common predicament for enterprises. However, entrepreneurs and CTOs even today remain skeptical about what will be best suited for their enterprise — partnering with the best app development company or building an in-house team to support the envisioned app development.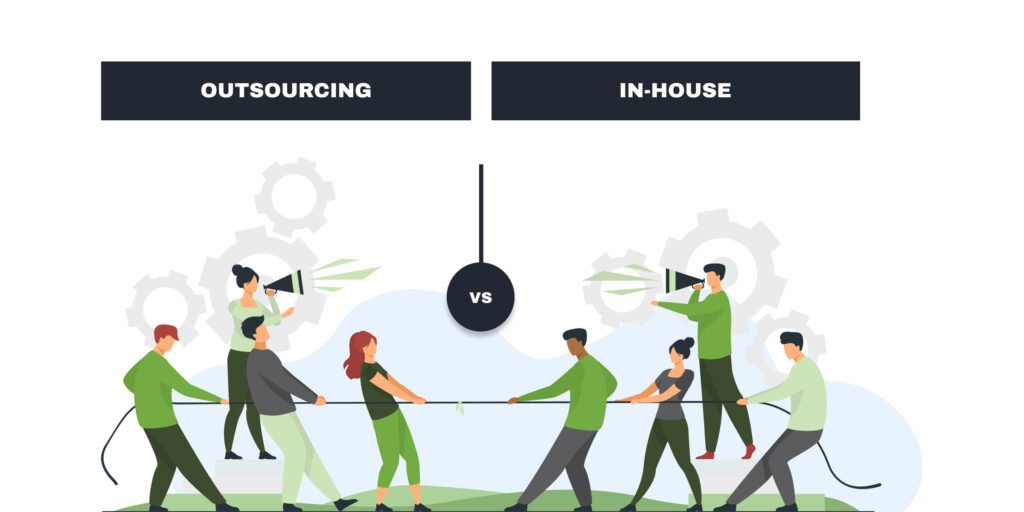 For over a decade, we have partnered with numerous brands to develop their app. We are well versed in the intricacies of mobile app development and have been proficiently delivering the most robust and unparalleled mobile solutions.
Sometimes, we build apps for clients from scratch, and sometimes we advise businesses to set up their teams and develop their mobile apps in-house and advise brands to follow a hybrid approach for development. So what is it; we'll get to that later.
Let's discuss how digital transformation can accelerate growth for your business
But first, let's help you choose between the two mobile app development approaches – Outsource vs. In-house.
Ready to read? Let's Begin!
Outsourcing Mobile App Development: An Introduction
Outsourcing mobile app development refers to the development approach wherein an enterprise hires an established team of expert developers or partners with an app development company to develop their envisioned mobile application.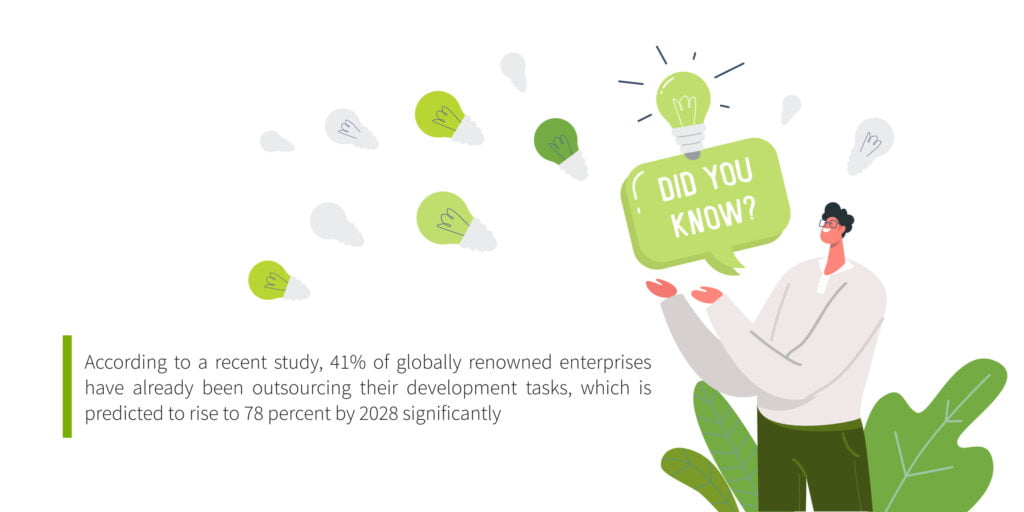 Now that the stats say everything. We know that Globalization and the internet have shortened geographical distance and have enabled us to communicate in just a few taps and clicks without any barriers.
And Thanks to Covid-19 and the prevalence of remote working environments, working with teams and experts across the globe has become seamless, making it even more convenient for enterprise decision makers to choose the teams or partner with app development agencies that they seem fit.
Moving forward, let's look at the pros and cons of outsourcing mobile app development to better understand: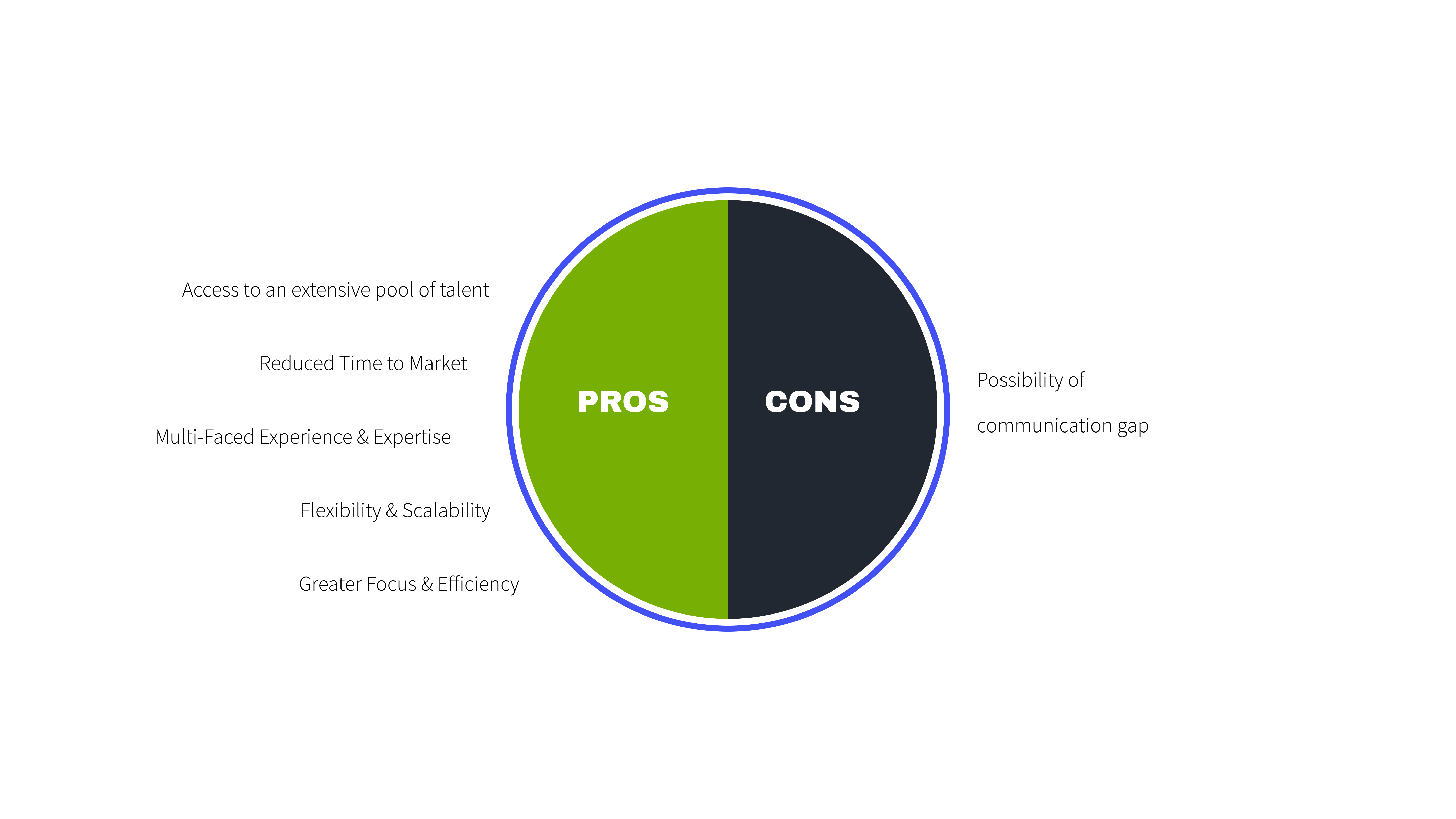 Pros of Outsourcing Mobile App Development
It's no news the horizon of outsourcing mobile app development is on the rise for the right reasons. But what are those reasons? Let's quickly look:
Access to an Extensive Talent Pool:
Access to a bigger talent pool is one of the most significant advantages of outsourcing mobile app development to an experienced app development company.
When you work with an in-house team, the skill set is limited. When you work with a group of professionals, you have access to the best minds who can bring life to your idea better than anyone else.
Reduced Time to Market:
When you have a specialized team of professionals or a renowned app development company by your side, you have to worry less about the time to market and the completion of the app development. Dealing with dedicated, professionally qualified individuals has its perks; you have a committed deadline and work delegated; in addition, there are always fines and charges associated when there's late delivery; thus, violating the deadlines without valid reasons becomes non-negotiable, which leads to a more streamlined development process and faster time to market.
Multi-Faceted Experience & Expertise:
Another perk of partnering with the best app development company is leveraging their expertise. A renowned app development company has years of expertise in innovating and dealing with numerous kinds of mobile app development projects. And with years of experience, focus on mobility, and enhanced exposure to the latest trends and technologies can help entrepreneurs with more improved and technology-oriented solutions that can help meet business goals by developing a robust mobile app beyond expectations.
Flexibility & Scalability:
Planning to create an app is a volatile, non-linear process for any enterprise or entrepreneur.
Even with a well-thought development plan and strategy, multiple factors can affect the development and the end product, from dynamic market trends and disruptions to initially choosing an ill-fitted architecture pattern, platform compatibility issues, or lags in the testing stage.
It is estimated that almost 54% of all organizations working on projects fail to track their KPIs in real-time effectively. This is a serious number and leads to multiple failed projects and unhappy stakeholders. Today, organizations generally waste 12% of their resources due to ineffective project management.
However, joining hands with an app development company can help you seamlessly combat these factors and lead to developing a well-built mobile app that reciprocates business growth.
Greater Focus & Efficiency
Another advantage of outsourcing to a mobile app development company is the increased work efficiency and focus. When you have a dedicated team of professionals working on your project, you can rest assured that there'll be greater focus and a much more accountable working approach associated with it, as there's a focus on delivering high-quality work. Because effective delivery from the associated mobile development company will ultimately be the most essential factor for driving more work or retaining clients.
Cons of Outsourcing Mobile App Development
Possibility of Communication Gap
One significant disadvantage of outsourcing mobile development is the possibility of a communication gap.
When working with the best minds at the best app development companies, it's not always possible to have face-to-face interaction. The closest you can get to it is a Zoom call. This might sometimes lead to difficulty in discerning the context. However, this might not be the case with experienced app development companies who follow the agile methodology and such benchmark practices for mobile app development.
Following an agile method will lead to a more streamlined development process keeping everybody on the same page while escaping the chances of lags or miscommunication.
When to Outsource Mobile App Development
Outsourcing mobile app development to the best app development company can be a suitable choice to make when:
You want to focus on your core business
You need Top-notch skills & industry expertise
You don't have an in-house team of experienced developers
You want to build a product well aligned with the latest technology
You want to lessen your team's workload.
Also Read: How to choose the right app development company?
In-house Mobile App Development: An Introduction
Another common approach to mobile app development: hiring or working with an in-house team of IT professionals to help turn the envisioned mobile app into reality, is what in-house mobile app development means.
For many companies, hiring experts, making the team, and then paving the way for mobile app development can be one of the most successful approaches. For example, known brands like Salesforce, Amazon, and Paypal are already well-equipped with proficient teams of IT professionals who work wonders for the brand.
But, the question is whether it is beneficial for small and medium-sized companies to hire a close-knit group of app developers or work with their current set of professionals.
Let's look at the pros and cons of in-house mobile app development to conclude.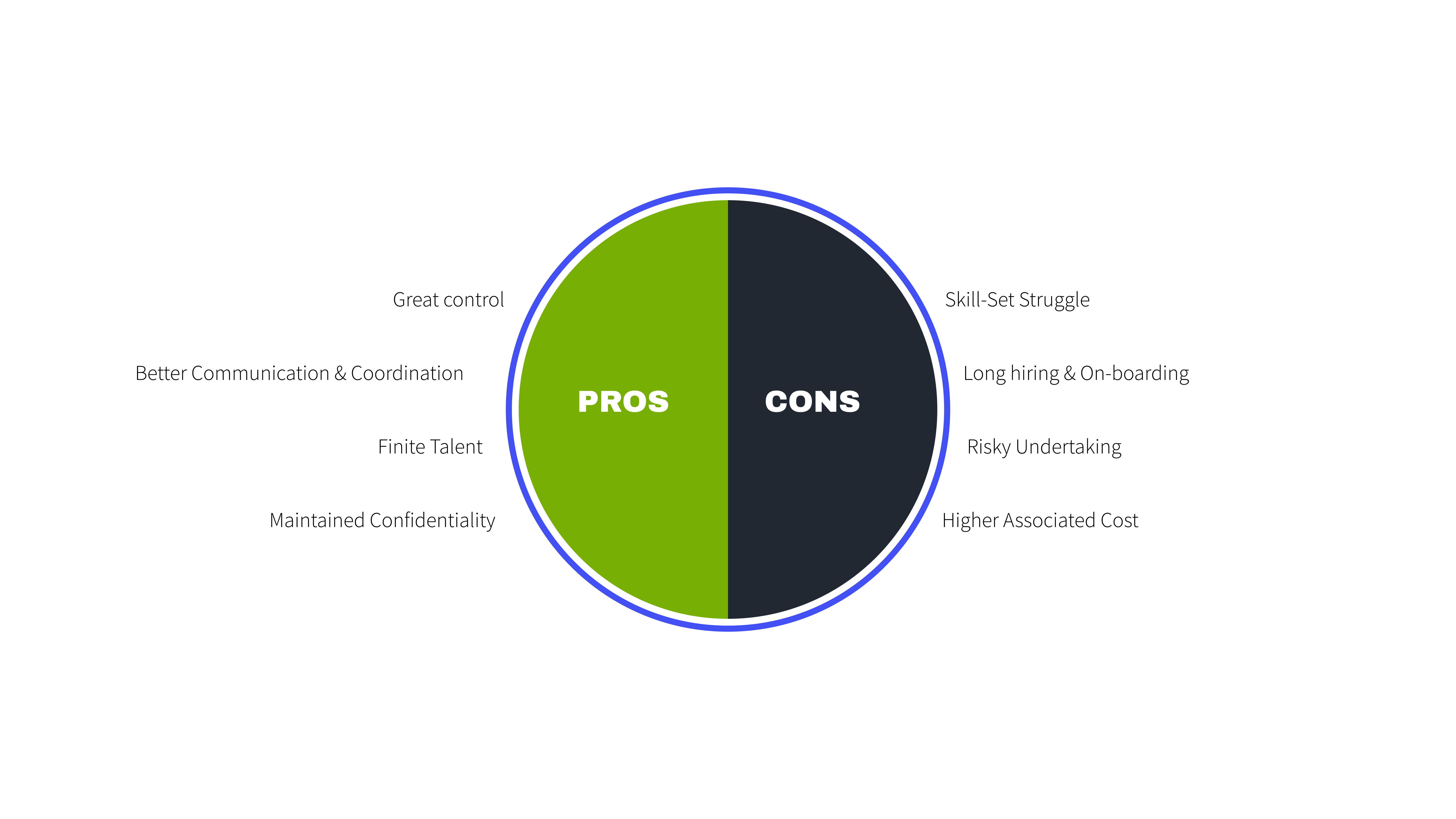 The Pros of In-house Mobile App Development
Here are a few substantial advantages of in-house app development:
Greater Control
One of the most significant benefits of in-house development is that you can choose a team of individuals you can train and instruct and have complete control over what tools and technologies they are using and how they are using them to carry out the app development process following your company's philosophy.
In addition, being in-house employees will make them more aligned to the company's goals and objectives, leading to better coordination and making it easier for you to observe the work progress and supervise the project's implementation.
Better Communication & Coordination
Having an in-house team will lead to seamless communication and coordination as the teams will be under one roof, working together for the same objective. Interaction becomes easy; escaping mistakes and implementing unexpected changes becomes less tedious. Which indeed is very crucial while discussing and finalizing concepts for the app.
Finite Talent
Another significant advantage of in-house app development is that you can hand-pick talent. You can physically interview candidates, background checks are easy, and it's easier to test individuals on various grounds to know who can add a different approach to work and act faster through a more remarkable dedication to the project.
Though the hiring can be quite a laborious process, when done right, you will gain a loyal, committed team that will ultimately yield results.
However, an enterprise's Chief technical head can escape the loss incurred due to a wrong hire by associating with an experienced app development company. Companies that are well equipped with expert developers, designers, and project managers can take care of the mobile app development project more efficiently.
Maintained Confidentiality
When you have an in-house team of tech experts working on your enterprise's mobile app development, the most significant benefit that business owners can leverage is the continuous maintenance of confidential information.
In-house teams often know they will be held accountable for the information that will be shared, thus always ensuring that they maintain confidentiality and never breach the employee code of conduct.
The Cons of In-house mobile app development
After discussing the pros, without further ado, let's look at the cons of in-house mobile app development:
Skill-Set Struggle
The most substantial disadvantage of in-house app development is the struggle with finding a suitable skill set.
You might have teams that are very proficient in handling development tasks, but will they be appropriate to work with the new technologies and create the kind of app you envision?
Maybe you have a team of IT experts – Android/iOS developers and QA analysts, but your app needs some help from a UI UX developer specialized in building fintech apps.
In such cases, what suffers the most will be the ultimate development of the mobile app. Because of the lack of skill set or proficiency, either the project will be challenging to complete, or you'd have to outsource some part of the app or recruit an additional resource in the middle of the development.
Long Hiring & On-boarding
Another challenge organizations can face when working in-house is recruitment. Being a tedious process, hiring consumes most of an organization's time, affecting the mobile application's overall project development, team morale, and whole time-to-market tenure.
For example, we recently came across a 2016 Glassdoor survey that showed that the average interview process takes up to 23.7 days. And if an entrepreneur wants to hire a software development engineer, the interviewing process will take 40.8 days on average.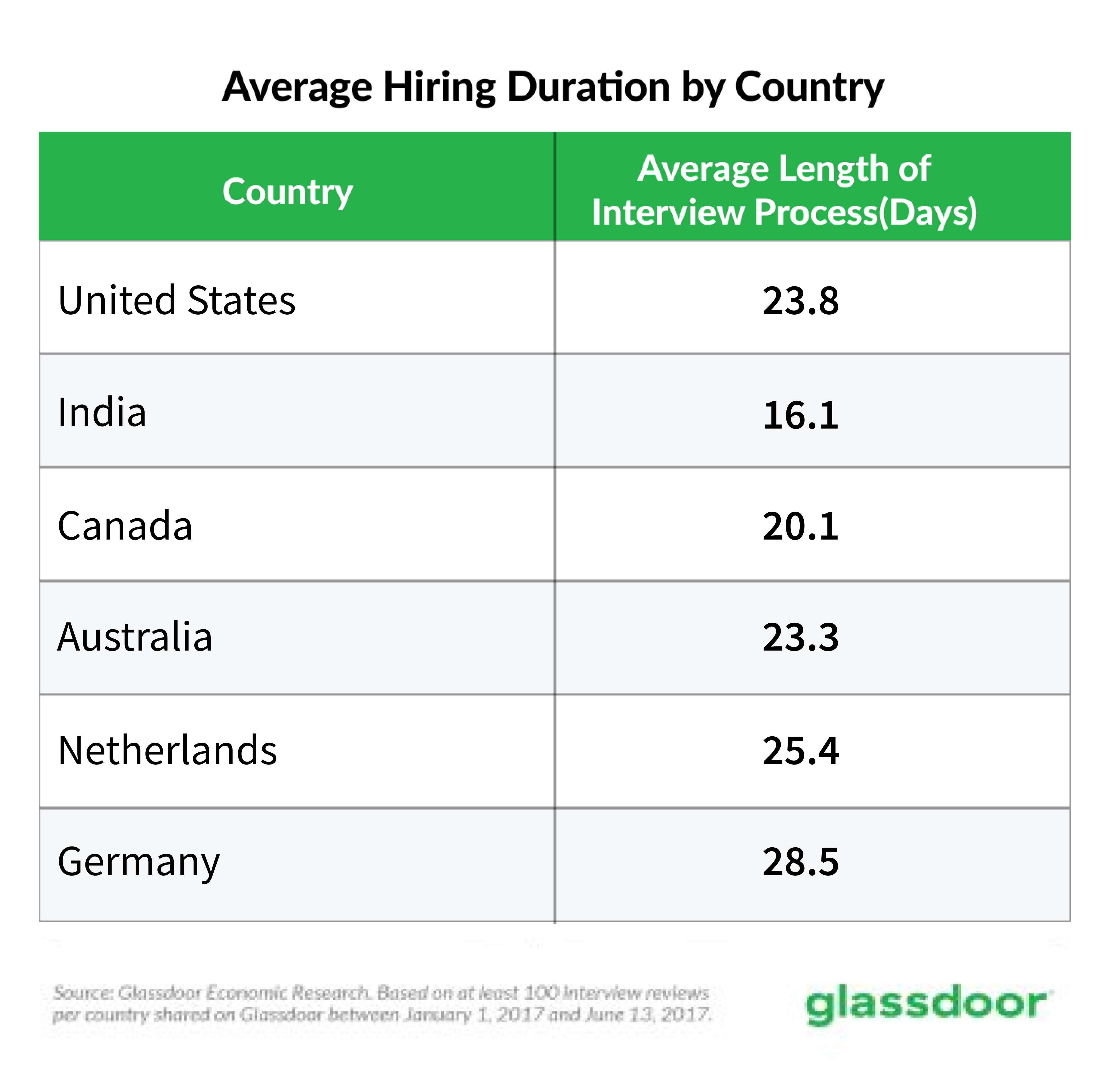 Another scenario that might occur is – suppose you find the perfect candidate for your project. Everything kicked off well, but the candidate resigned within a month or two. Now what? The whole time, effort, and investment is wasted, as you'll have to undergo the same process.
This is where having an app development company by your side is the best choice to make. Choosing a renowned app development company will equip you with top-notch IT experts and project managers without wasting time on the prep work for new team members.
Game of Risk
Working with an in-house team is a feasible choice only until you have the right people involved and there's no need for an extra resource to be employed.
However, suppose you begin developing an app with a limited budget based on the in-house team's needs. But then, in the middle of the development, the scope of the application was tweaked or expanded; what will be the solution then?
Finally, you'll have to recruit additional resources to complete the development, which can be pricey; in addition, introducing a new resource in the middle of the project can often be disastrous for the organization and the overall project.
Higher Associated Costs
Having an in-house team will have costs associated with it. For example, their salaries, office set-up expenses, recruiting expenses, and in the case of app development, you'll also have to bear the cost of high-end development devices, tools, technologies, development licenses, design, and development resources whenever required.
However, these costs can be cut down when you outsource the mobile app development to an experienced team of developers or a renowned mobile app development company, as they'll be responsible for the whole development process, tools, and resources.
When to Choose In-house Mobile App Development?
An enterprise should opt for in-house development when you believe you have the resources to complete the mobile app development without hindrance.
Which is the Best Approach? Final Verdict!
The ever-changing mobile development trends make it even more difficult for entrepreneurs to decide whether to go for in-house development or outsource the development. But an in-depth analysis of your business goals and app envisions can help you determine which approach will work best for your business.
However, if you do not wish to choose between both, you can opt for a hybrid approach wherein you can reach out to an expert app development company and still have your in-house development team work on your app.
We at Copper Mobile are well equipped to help businesses and entrepreneurs develop a robust mobile app from scratch. We can also assist your in-house development team in developing the end product. So whatever be your decision, you can reach out to the best mobile app development company in Dallas and pave the way for your envisioned app to become a reality.