This year has been a rollercoaster of a ride for all of us, and 2022 is expected to be the same. We at Copper Mobile, want to help you conquer whatever hurdles and challenges you may have throughout the year. We're here to help you solve your unique problems through bespoke solutions and bleeding-edge technologies, especially for your mobile app development.
Just like with most industries and markets, the mobile app space is expected to see some trends that may or may not stay in the long term. Regardless, our team is here to help you have the best mobile app and experience that will last.
In recent years, 5G technology has taken the world by storm. As telecommunications providers refine the next-generation network, businesses also need to make sure their apps can make the most out of the new tech.
Located in the heart of Dallas, Texas, our team is prepared to guide you through the complex mobile ecosystem. Since 2010, we've been helping companies transform their businesses across several verticals. Our team has worked with more than 500 clients and delivered at least a thousand custom mobile apps and platforms.
To give you an idea of how we work and what we deliver, we're going to share our latest Clutch reviews from a current client. Washington DC-based reviews and rating platform, Clutch helps browsers through the nitty-gritty of the B2B industries.
Let's discuss how digital transformation can accelerate growth for your business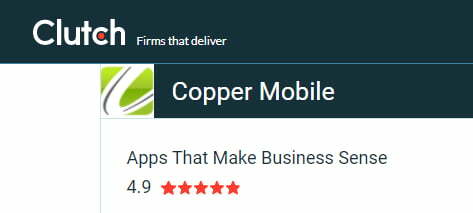 This year, we earned reviews that highlight our mobile app work — and one of those touches upon a swift app development project. For those who don't know, Swift is an all-around programming language that's widely known for its safety, efficiency, and readability. Our client wanted a Swift mobile app that will allow their clients to transmit photos to an accessible archive.
Check out what they had to say about the results and the Copper Mobile team!
"Their transparency, sincerity, and integrity stand out. They're honest and straightforward, which I value. Their transparency, sincerity, and integrity stand out. They're honest and straightforward, which I value." — CEO, Celer Images
"They go above and beyond with their work and commitment to help us grow our company — everything they bring to the table is what makes us stick with them, and they've been meeting our expectations. Their attention to detail and responsiveness is what distinguishes them from other providers. Also, their on-demand problem solving is one of their key strengths." — President, Text Space App
It's great reviews and feedback like these that allow our team to thrive and grow. The trust and appreciation of our clients are the reason why we're regarded in the industry.
Aside from our strong track record on Clutch, Copper Mobile is also listed on Top Design Firms, a new B2B website that guides browsers through different industries and regions.
According to their research, the Copper Mobile team ranks among the top mobile app development companies this 2021. We're incredibly proud to have this recognition. Thank you so much to everyone who supported us throughout the years.
Interested to know more about our team and what we can do for you? Let's talk! Get in touch with the Copper Mobile team. We're super excited to connect with you.