Apple held its annual iPhone launch event last Wednesday (September 12, 2018, PDT). It began with a Mission Impossible themed video showcasing Apple's products and the all new Apple Park. As always, Tim Cook took the stage and welcomed everyone.
Following are the highlights and main takeaways from the event.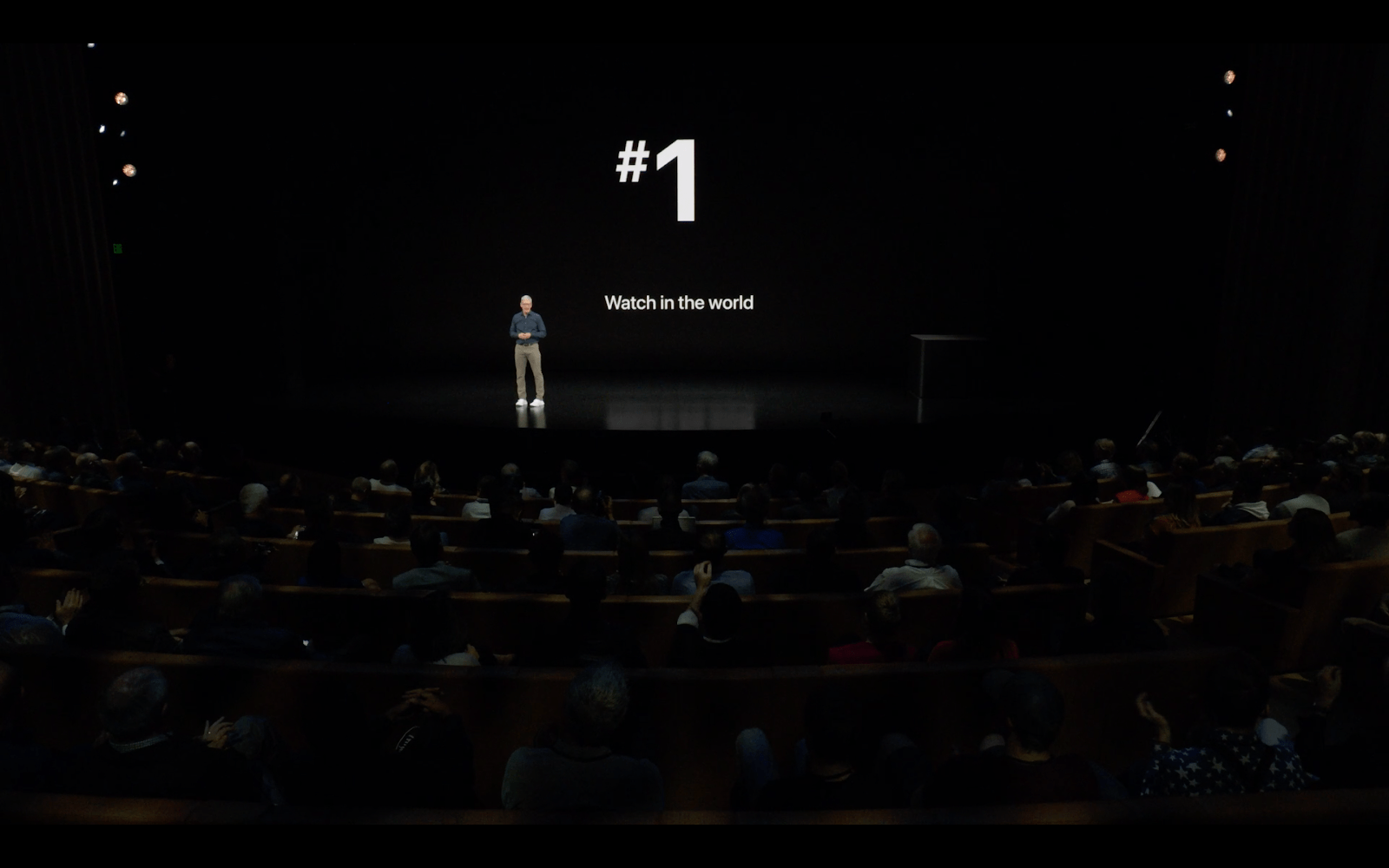 Apple Watch Series 4
According to Tim, Apple Watch has become the "World's number one watch. period".
Let's discuss how digital transformation can accelerate growth for your business
Following Tim, Jeff Williams, Apple COO, took stage to unveil the next generation Apple Watch named Series 4 (S4), following are its improvements: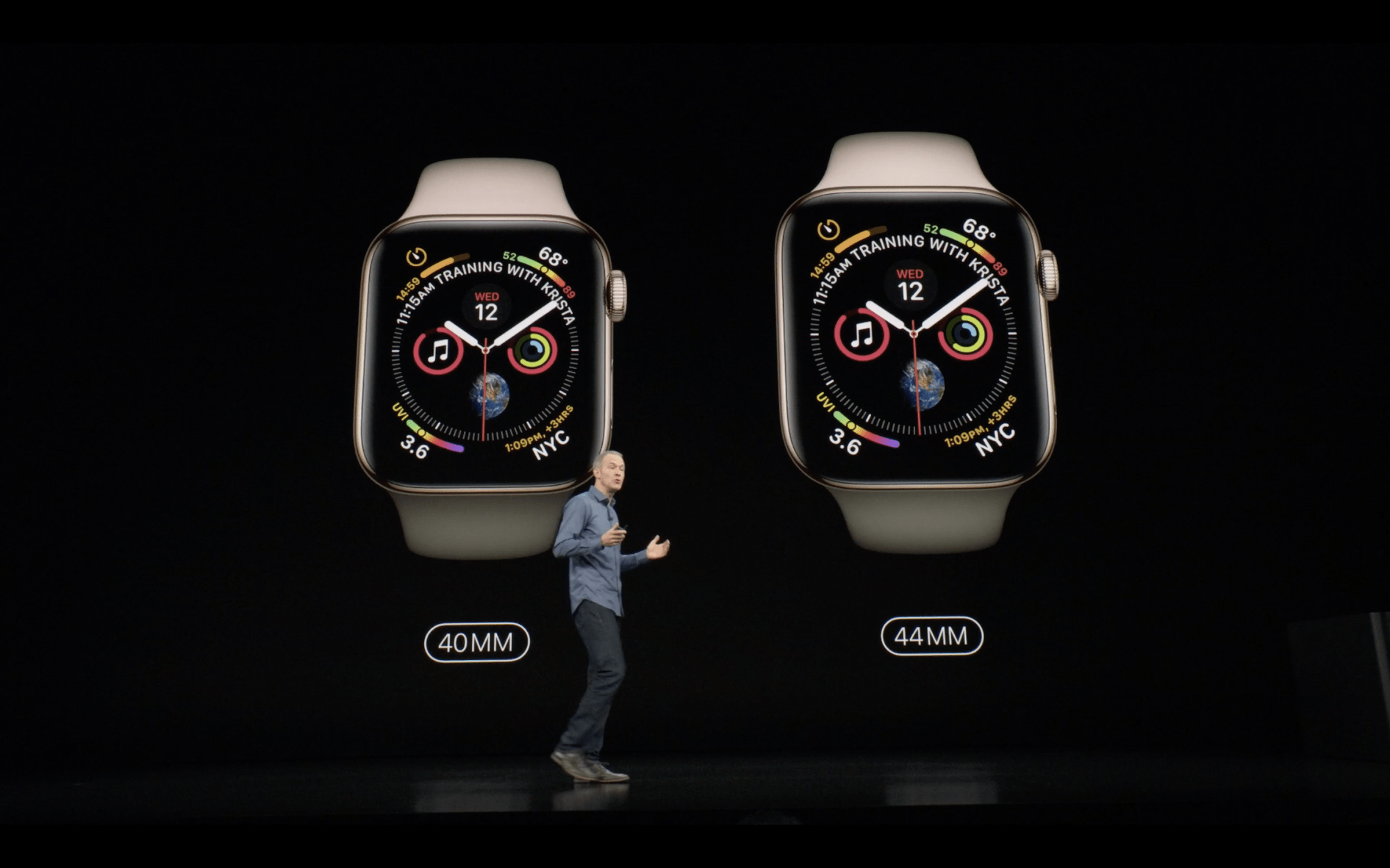 Bigger Display (Thinner Bezels)
The new watch is thinner than previous models and sports a 30% larger display (allowing for up to 8 simultaneous compilations) with thinner bezels (40mm and 44mm faces), vs. the Series 3 (38mm and 42mm faces).
Updated Processor
Series 4 rocks an all new 64-bit dual core S4 processor, which is twice as fast as the current S3 model.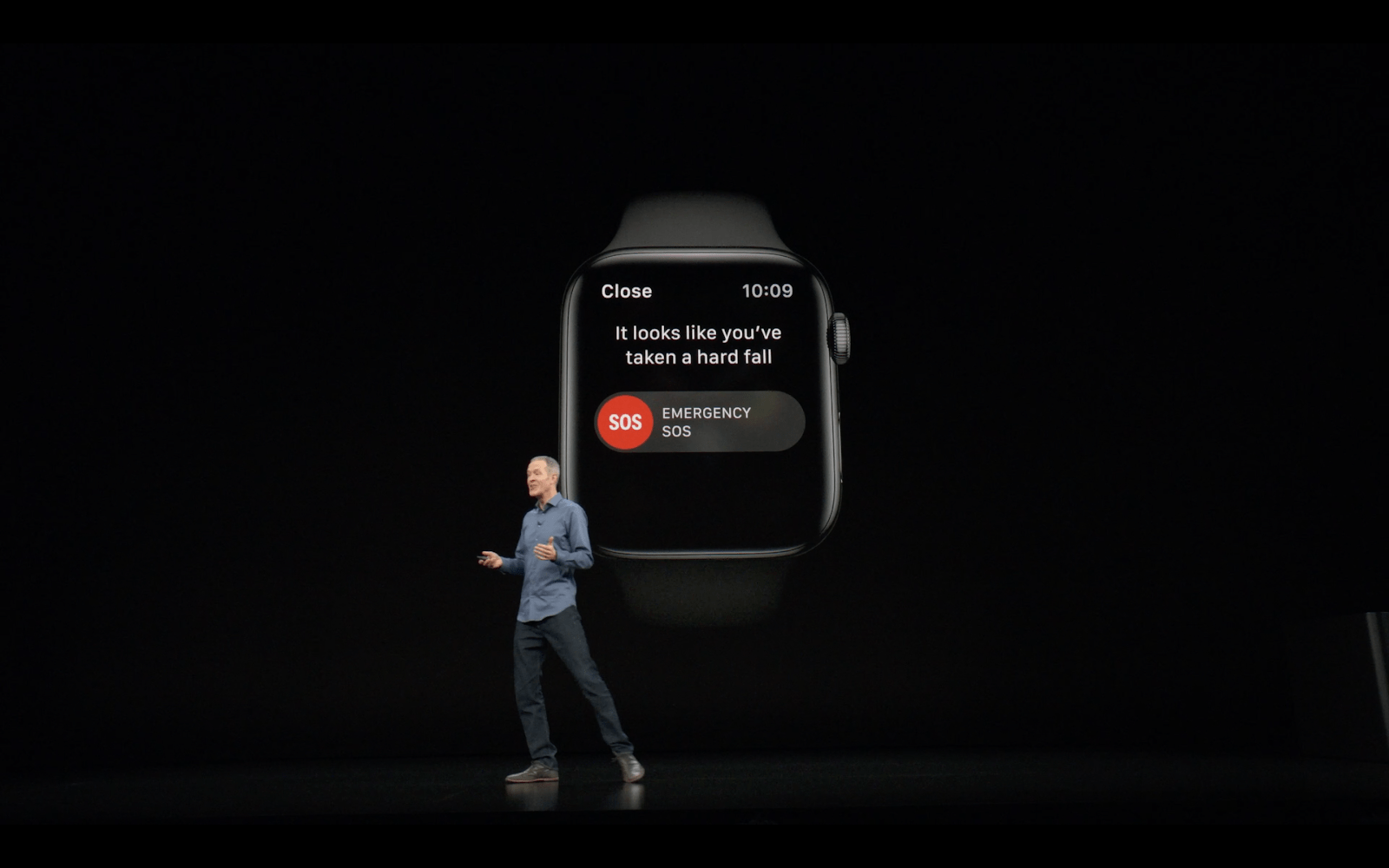 Fall Detection
The sensors (accelerometer gyroscope) for monitoring user activity have been updated and now sample data up to 8 times faster, thus enabling the watch to detect if a user has fallen. This capability activates an emergency call prompt, followed by an automated SOS call and message if the user stays immobile for a minute after the fall was detected.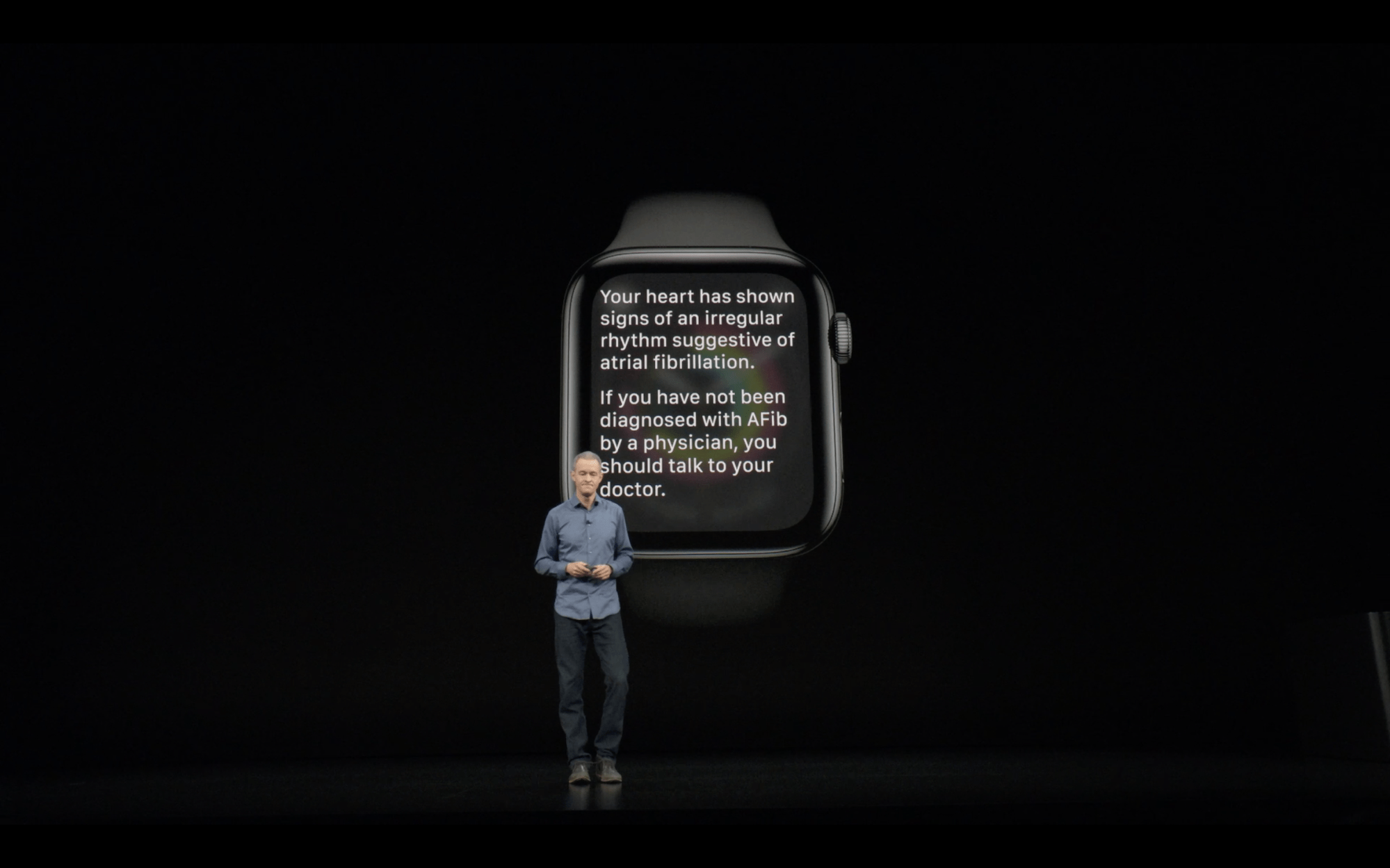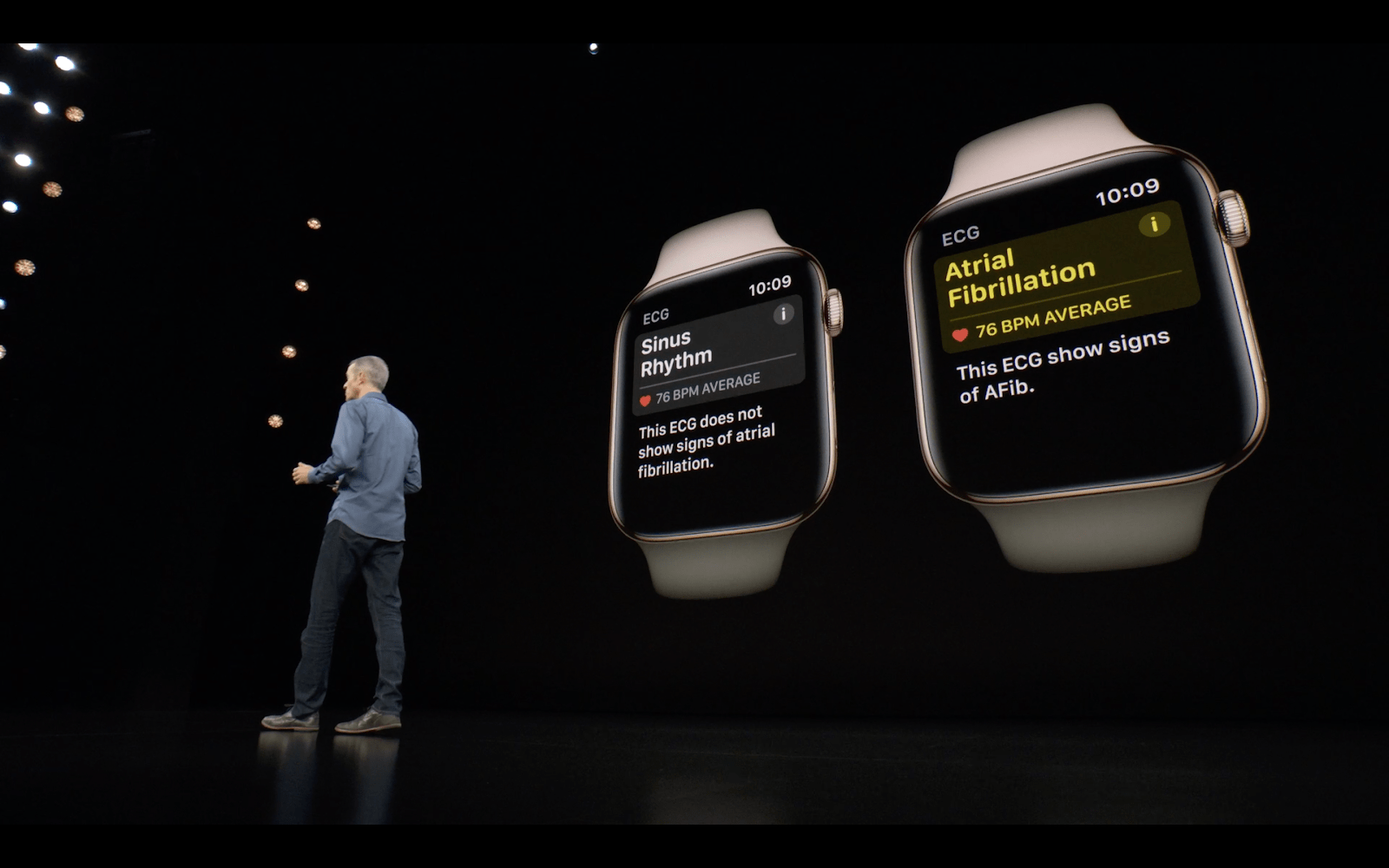 AFib (Atrial Fibrillation): The watch can now detect abnormal heart rate.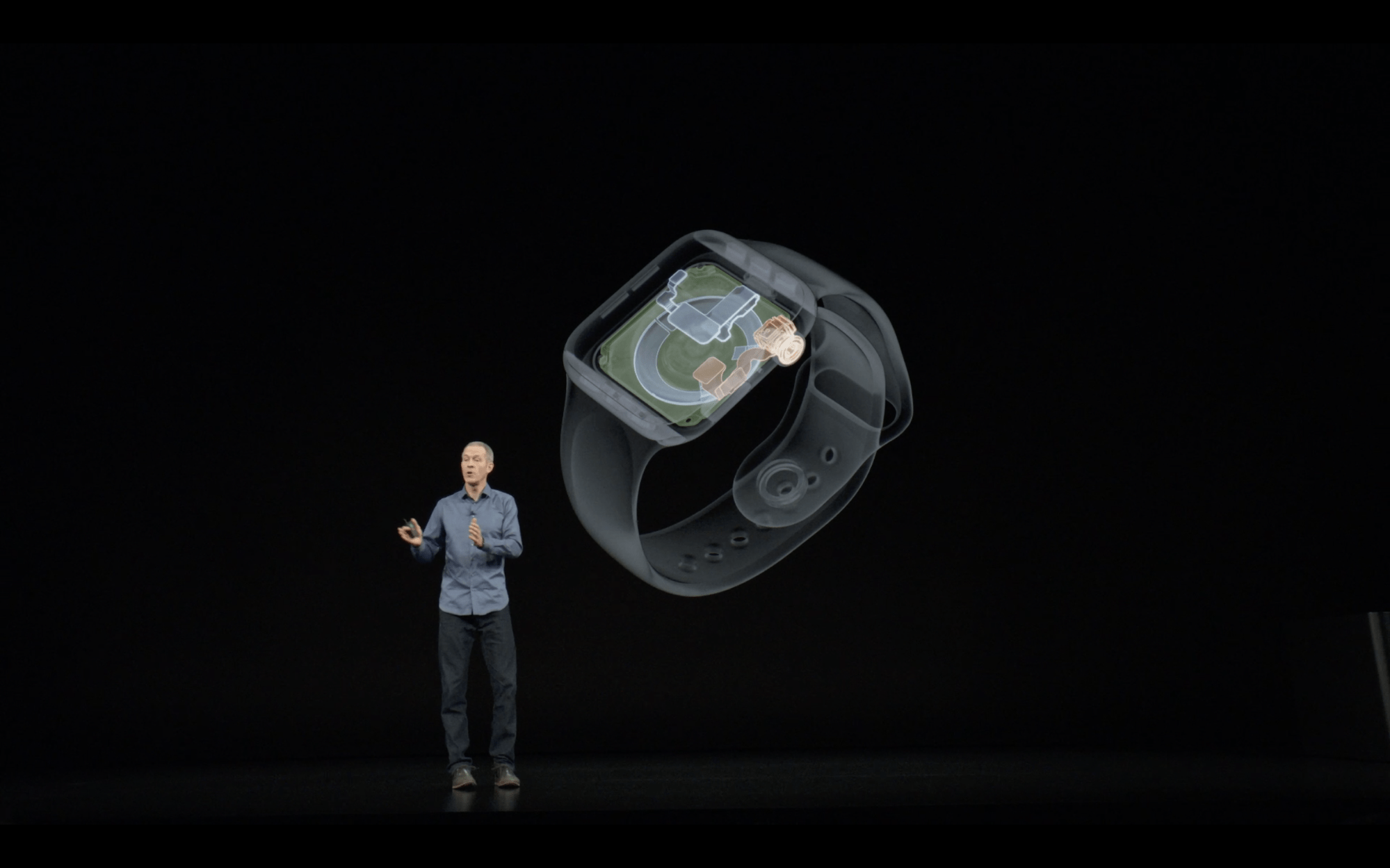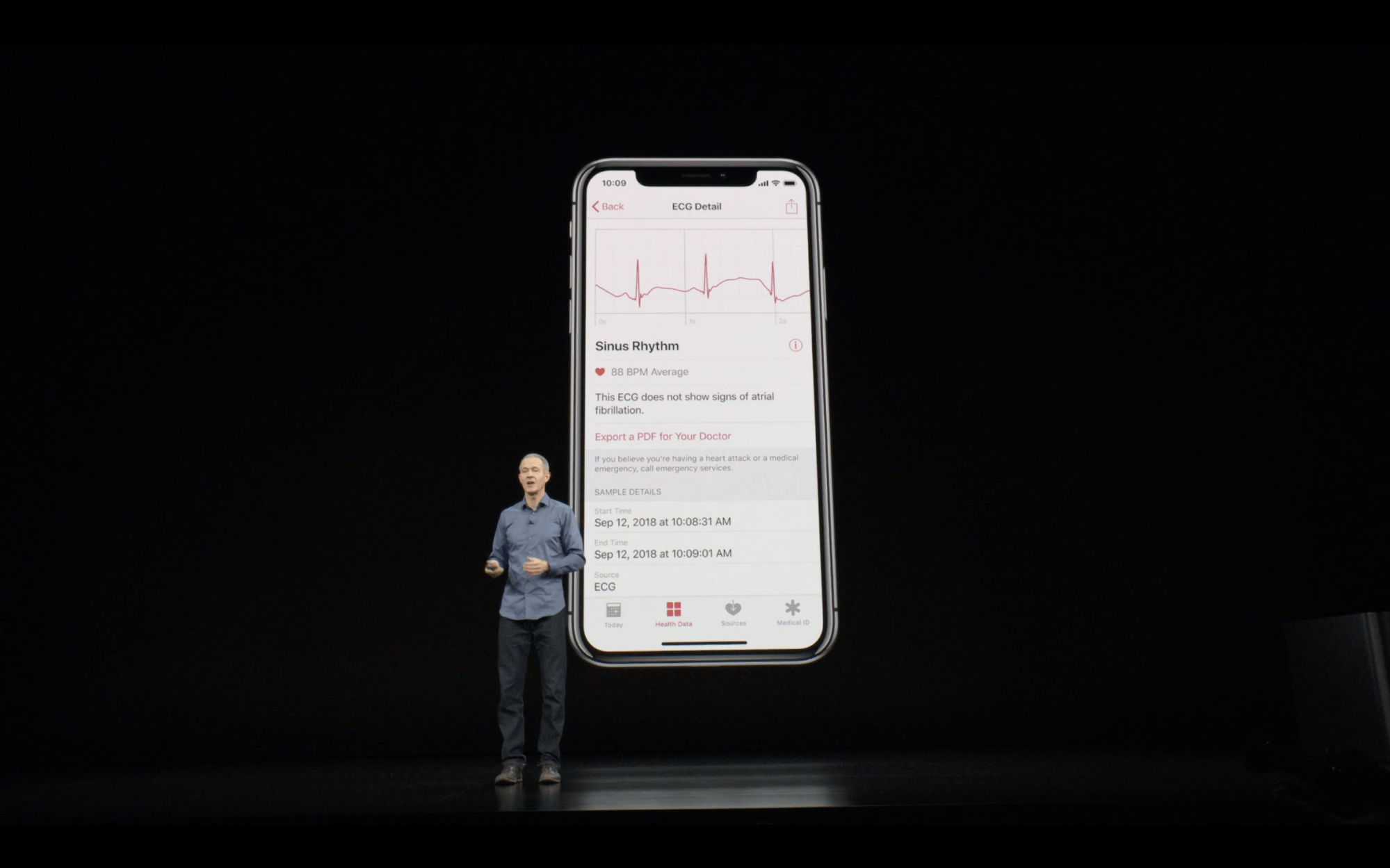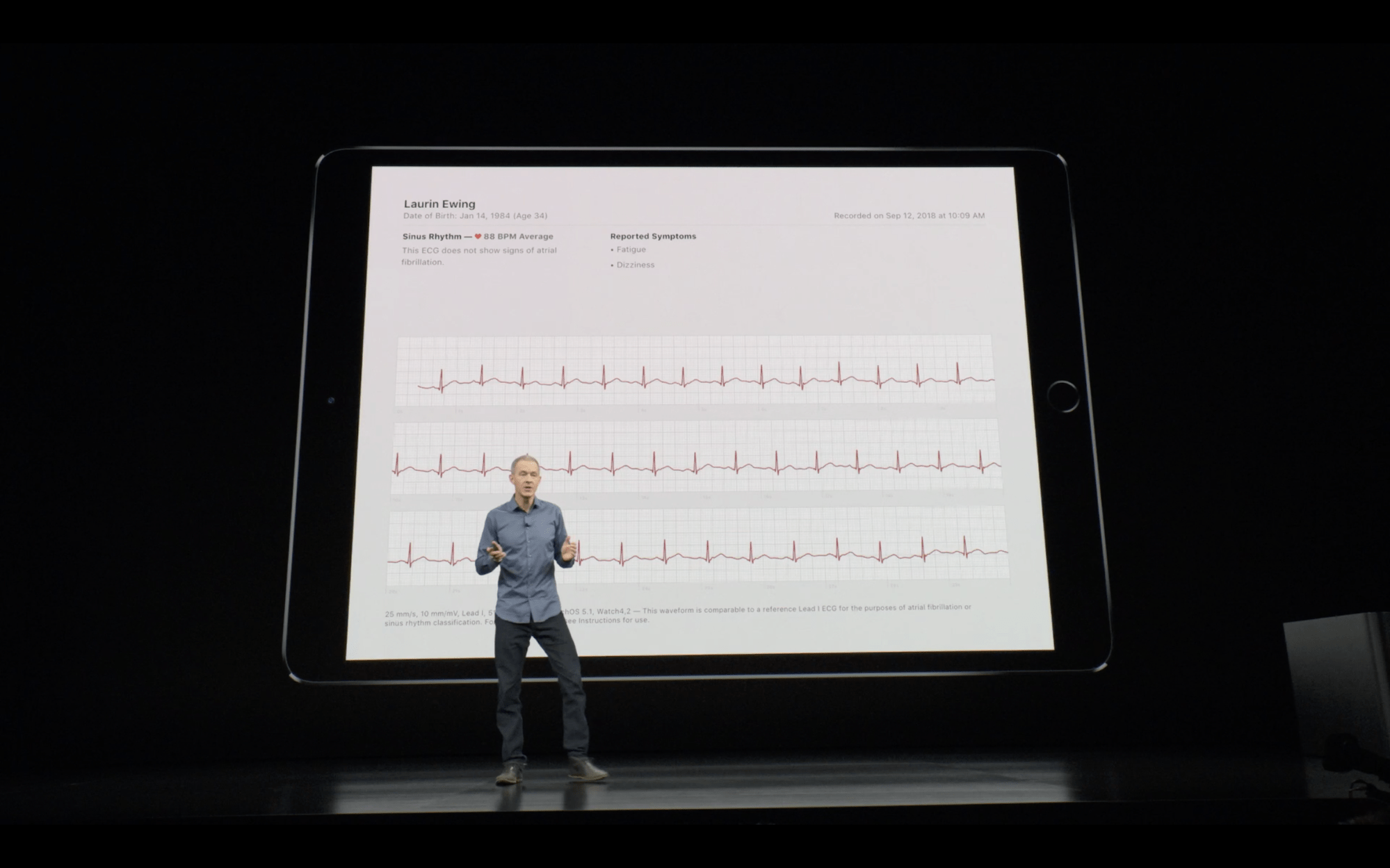 ECG (Electrocardiography) [available in the US only]:
The most revolutionary function the watch can perform is an ECG (available later this year). A user can now take an ECG in 30 seconds.
This makes Apple watch Series 4 the first ever, FDA approved, over-the-counter consumer device able to perform ECG.
Battery Life
Apple claims that despite all the updates and additions of new sensors, the watch will provide the same battery life as the Series 3 (18 Hours all day battery life).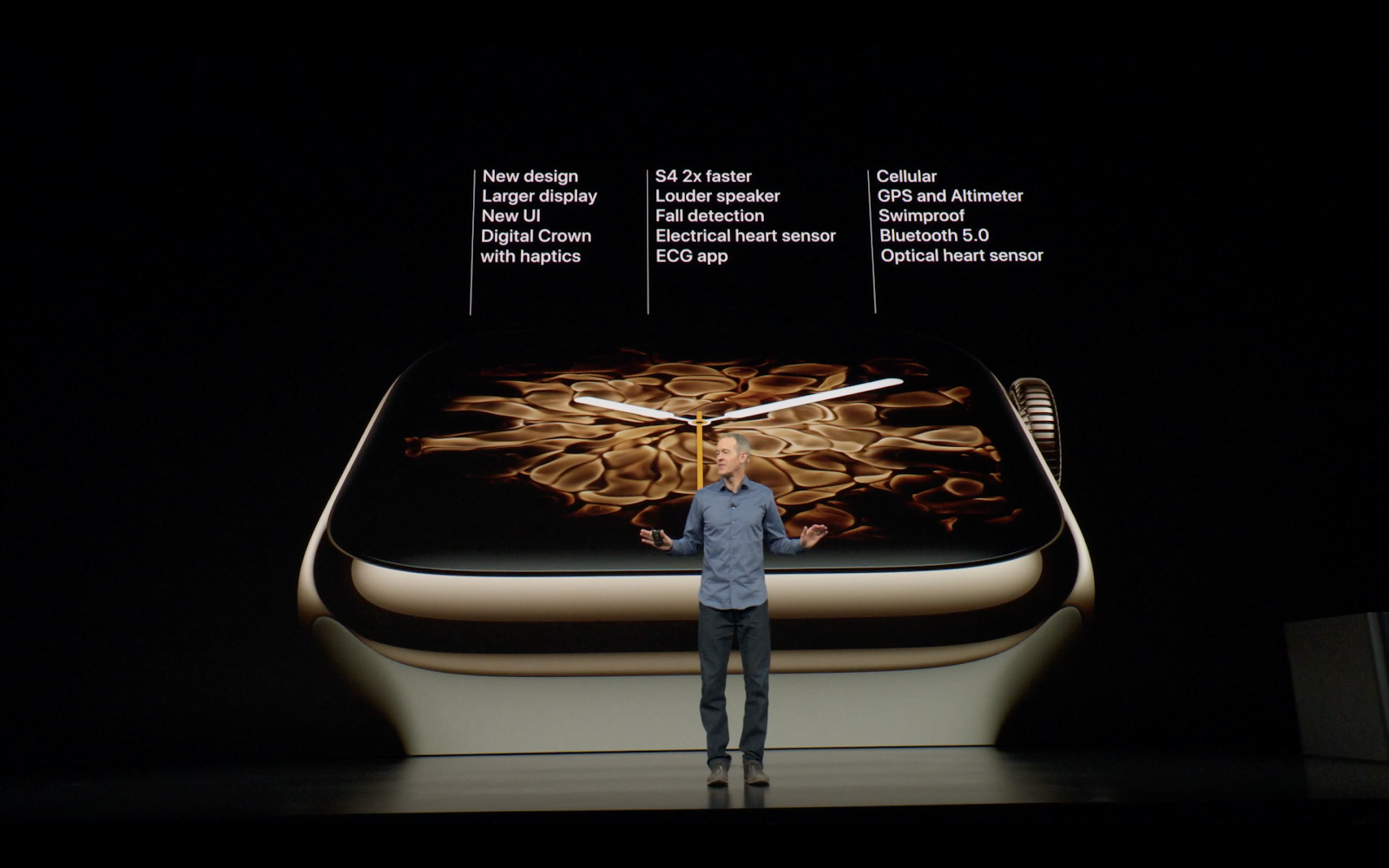 Additional (S4) Improvements
Improved cellular reception (for cellular versions)
Improved calling experience, resulting from updated mic and speaker placement
Improved sound with speakers upto 50% louder
The watch is swim-proof
New faces will be available, including: fire, water, vapor, dynamic faces like favorite contacts, time zones and three versions of breathing app faces.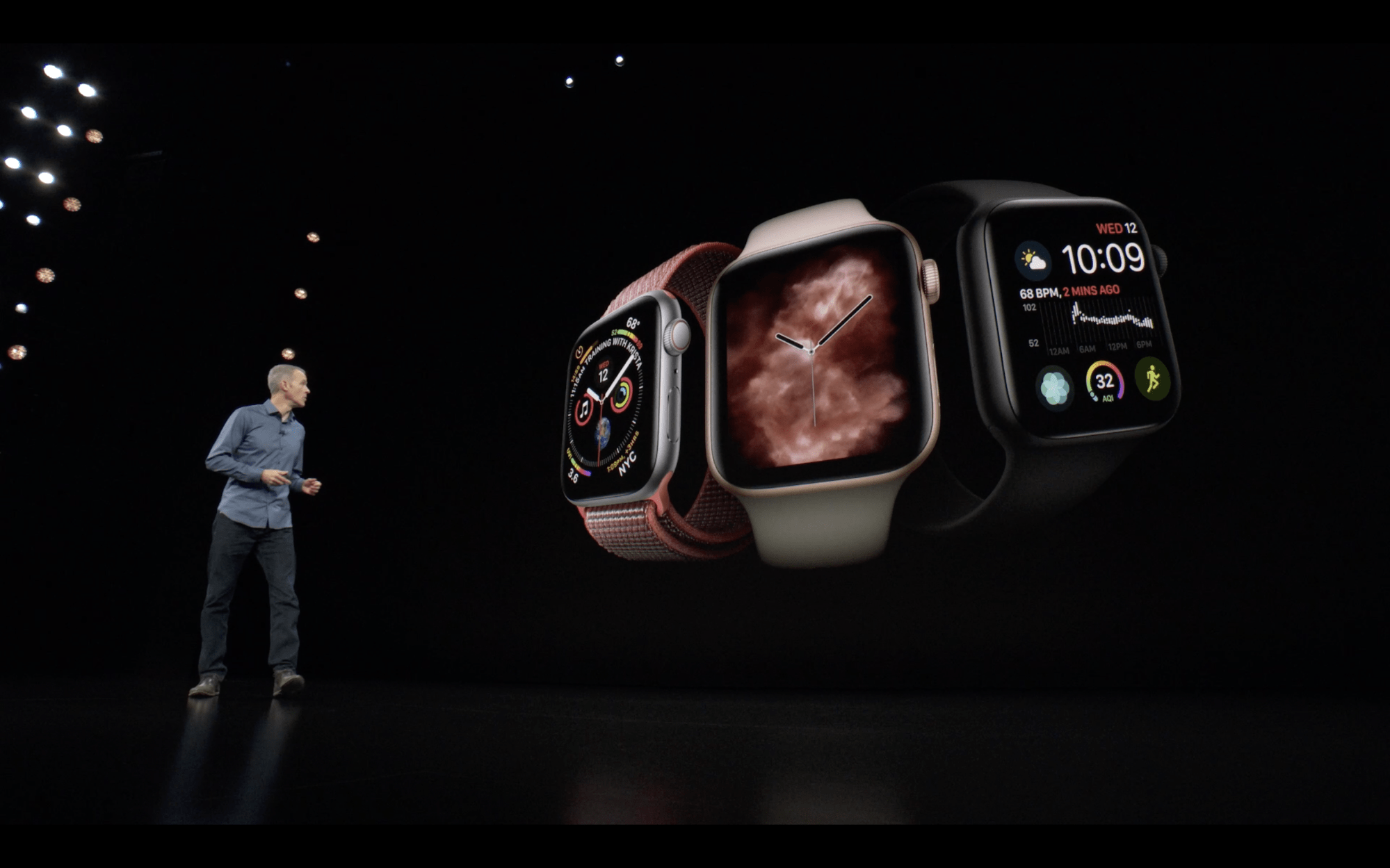 Pricing and Availability
The new S4 is available in Silver, Gold and Space Gray. While the GPS version starts at $399, the cellular e-sim version starts at $499.
Pre-orders started on September 14th and will be available September 21st.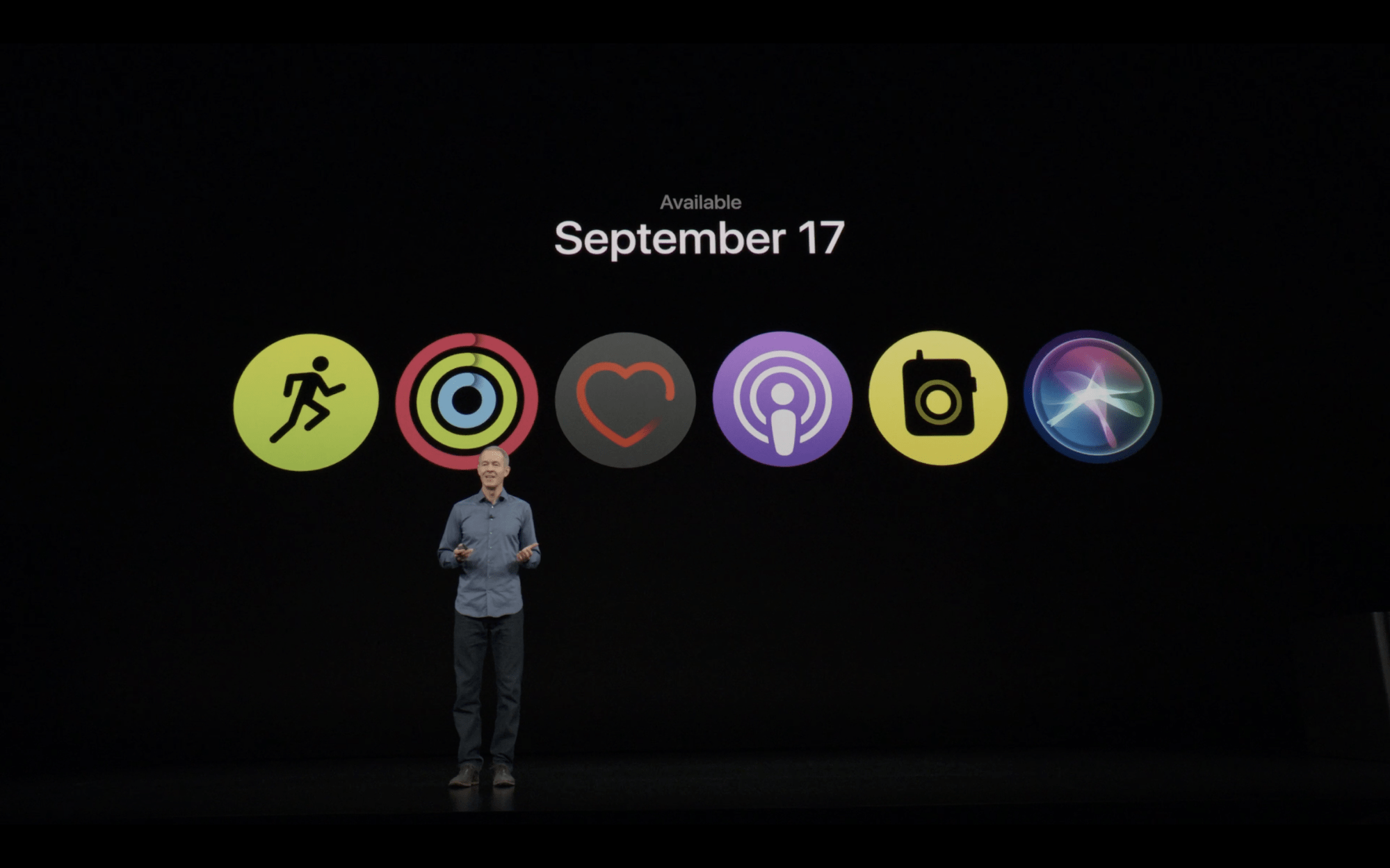 WatchOS 5
Some of the major updates include: walkie-Talkie, auto-workout detection, activity competitions and podcasts.
All Apple watches series, except the Series 0, are eligible to receive watchOS 5 update.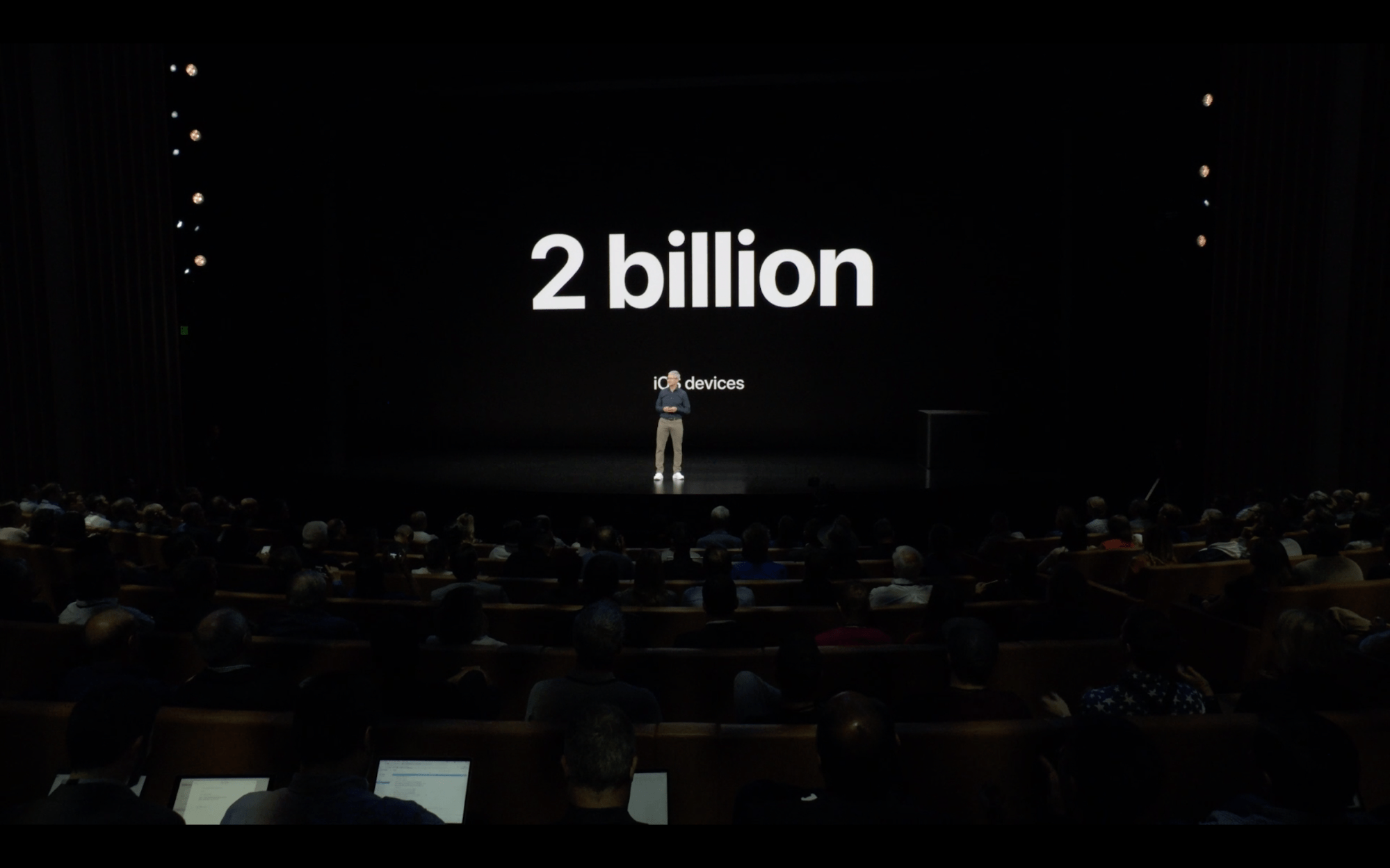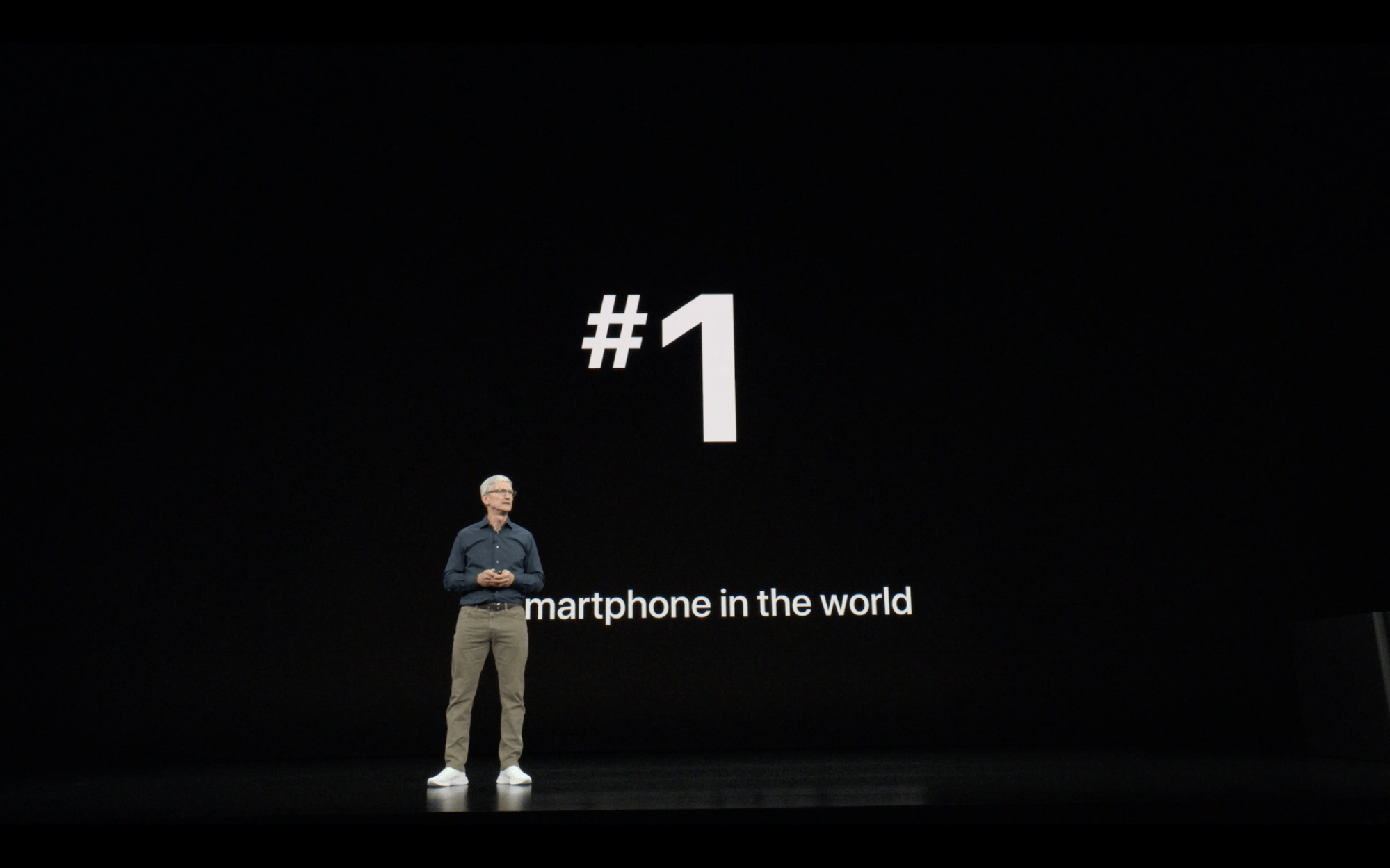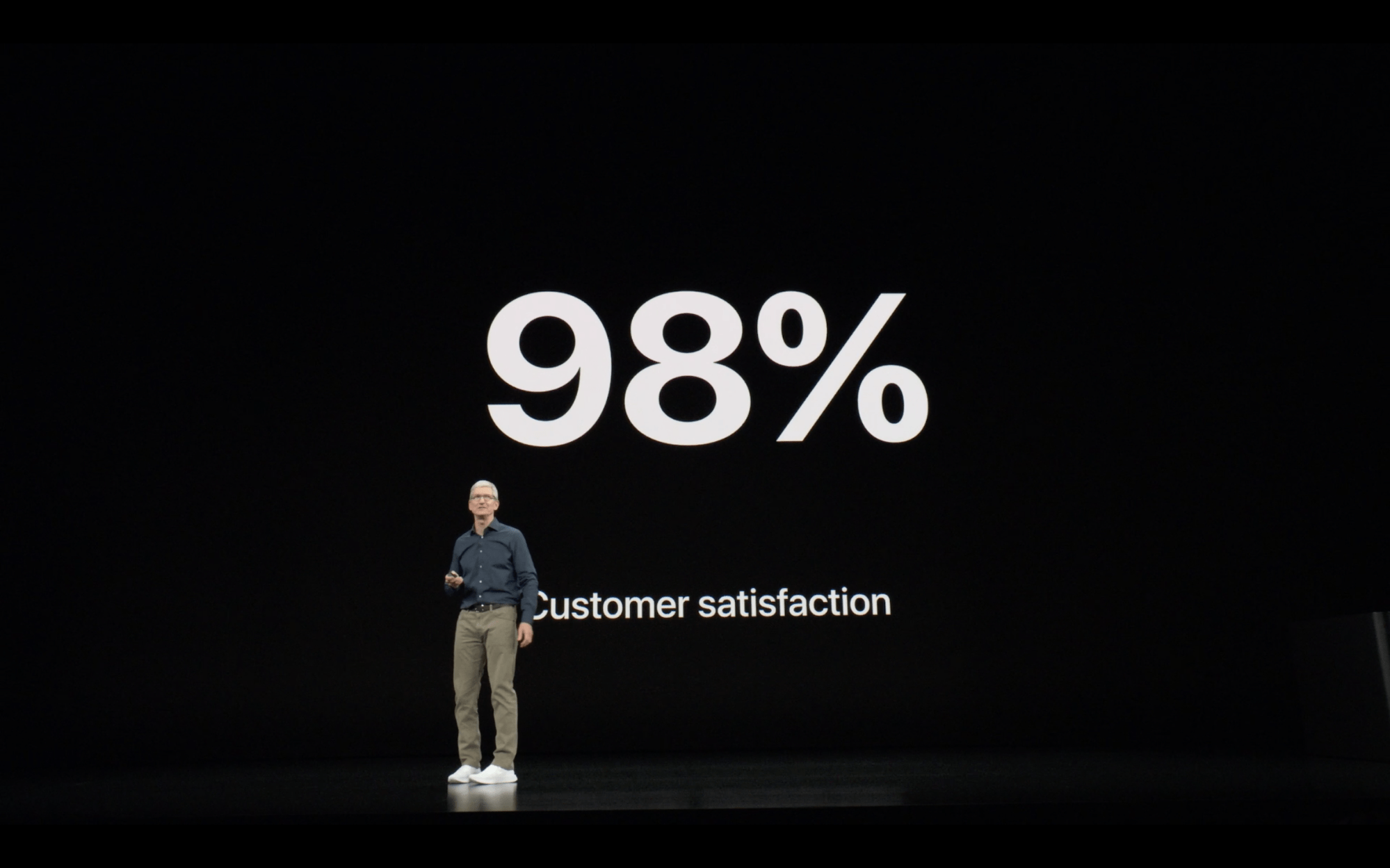 Tim said that Apple is about to ship its two-billionth iOS device. He also mentioned that iPhone X is the number one smartphone in the world with 98% customer satisfaction.
He then called Phil Schiller on stage to announce the three new iPhones:
Apple iPhone XS (pronounced iPhone-Ten-S), iPhone XS Max, and iPhone XR

All three support the last year's iPhone X's all screen design at the front with the following updates:
Display
XS supports a 5.8" Super Retina HD OLED display(same as iPhone X)
XS Max has a 6.5" Super Retina HD OLED display (biggest ever on an iPhone)
XR supports an intermediate 6.1" Liquid Retina HD LCD display (best ever LCD on any smartphone)
Processor
All the new iPhones support Apple's A12 Bionic (first ever 7nm chip) with a dedicated 8 core neural engine. It is capable of performing 5 Trillion operations, compared to A11's 600 Billion.
Storage
iPhone XS and XS Max are available in 64, 256 and 512 GBs variants, while iPhone XR is available in 64, 128 and 256 GBs variants.
Splash, Water, and Dust Resistance
XS and XS Max are rated IP68 (maximum depth of 2 meters for 30 minutes), while the XR is rated IP67 (maximum depth of 1 meters for 30 minutes)
Front Camera
All three of them include a True Depth Camera system with a 7MP photo camera. Face ID is faster too due to better algorithms as well as an updated secure enclave.
Rear Camera

iPhone XS and XS Max support Dual 12MP wide-angle and telephoto camera unit, while iPhone XR supports a single 12MP unit.
All three support Smart HDR as well as updated Quad-LED True Tone Flash.
The picture quality has supposedly improved a lot, thanks to computational photography ("A new era of photography" as Apple called it), i.e. the new ISP (Image Signal Processing) and the new processor.
SIM Compatibility
iPhone XS and XS Max support Dual SIM Dual Standby (A physical nano SIM and an e-SIM; while it's two physical nano sims in China). iPhone XR supports a single nano sim. All three iPhones support Gigabit class LTE networking.
Battery Life
iPhone XS has a 30 minute longer battery life than the iPhone X, while iPhone XS Max lasts 90 minutes longer. On the other hand, iPhone XR lasts 90 minutes longer than the iPhone 8 Plus.
Other Improvements
The iPhone XS and XS Max feature Portrait mode with Depth Control, so the user can change the depth of field of a picture after it has been taken. They record audio in stereo due to an updated, four microphone setup. Phone XR doesn't have 3D touch but does have the new Haptic Touch.
Colors and Pricing
XS and XS Max are available in Silver, Space Gray and Gold (New Color).
While XR is available in Blue, White, Black, Yellow, Coral as well as Product Red colors.XS starts at $999, XS Max at $1099 while XR is the cheapest all screen iPhone ever at $749.
iOS 12
The iOS 12, promising to bring major performance as well as stability updates to the iPhones. iOS 12 features Faster App Launches, Emoji, Screen Time, Grouped Notifications, Siri Shortcuts, shared AR experience, Password sharing and much more. iPhone 5s and onwards are eligible to receive iOS 12 update.