What if we say that the latest paradigm shift for the internet is already well underway? Yeah, you guessed it right. We are talking about none other than Metaverse – the internet's favorite buzzword nowadays.
The buzz around Metaverse paved its way in 2021 when Facebook rebranded itself to Meta. As a perceived step in becoming a Meta Company, Facebook launched Horizon, their social reality networking app where human-like virtual avatars can work and play together in a simple cyber environment. Remember, we discussed this in one of our blogs on Metaverse?
Not just this, Microsoft CEO Satya Nadella also announced that he wants his company to build an "enterprise metaverse." And these announcements and the Metaverse wave led to swarms of renowned businesses like JP Morgan, Disney, and Nike announcing their Metaverse plans.
With the estimation of Metaverse becoming an $800 billion market by 2024, it's no news that plenty of businesses are looking forward to investing billions of dollars to join the bandwagon and get in on the money-making potential of this new tech universe.
But are you ready to transition your business?
There are still a lot of rumors and speculation that entails, what it means for the rest of the businesses that Facebook doesn't own, and what it takes to enter the world of Metaverse. Well, this is something we will discuss in this article today. We'll deep dive into the intricacies of Metaverse and get to know how you, as an entrepreneur, can leverage this booming technology.
Ready to read? Let's begin!
What is Metaverse?
"Metaverse" was first coined in 1992's sci-fi novel Snow Crash by Neil Stephenson. He introduced the beginning of a dystopian digital world where avatars of real people met in a realistic 3D environment.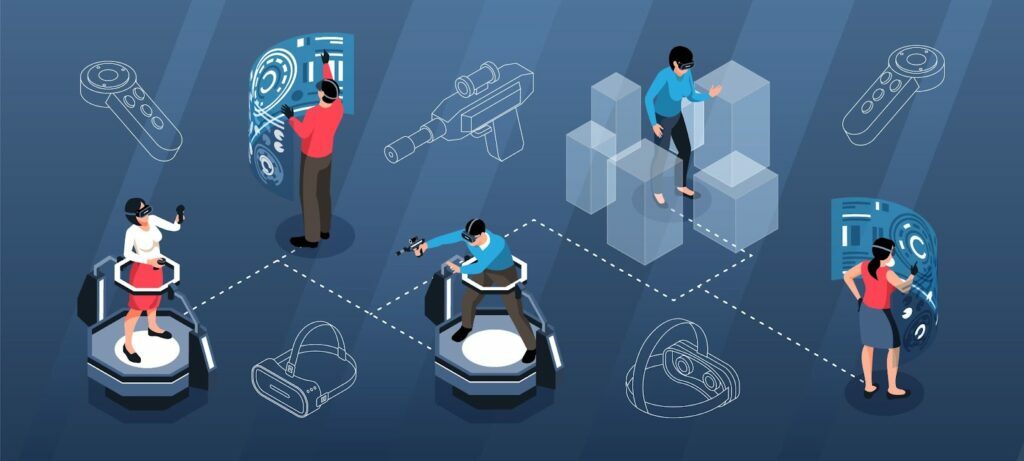 Coming down to the current essence – The Metaverse, which is poising itself to be the Internet 3.0, can be defined as a future iterated version of the internet populated by 3D objects and avatars of human users interacting similarly to the real world. A simulated digital environment uses social media concepts, augmented reality (AR), blockchain technology, and virtual reality to create 3D spaces allowing people to have real-time interactions and experiences across distances.
In simpler terms, Metaverse is the network where megatrends coincide. For instance, the amalgam of online blockchain games with social networks, live entertainment with pop stars, offering unparalleled user experience through online avatars, shared screens, space, remote education, and meetings.
Since the technology is likely to grow and diversify more, we'll hopefully have more specific definitions of Metaverse in the coming times. So, let's look at what Metaverse means for businesses.
Also Read – 7 AI TRENDS AND PREDICTIONS THAT WILL SHAPE 2022
Why Is The Metaverse Important For Your Business?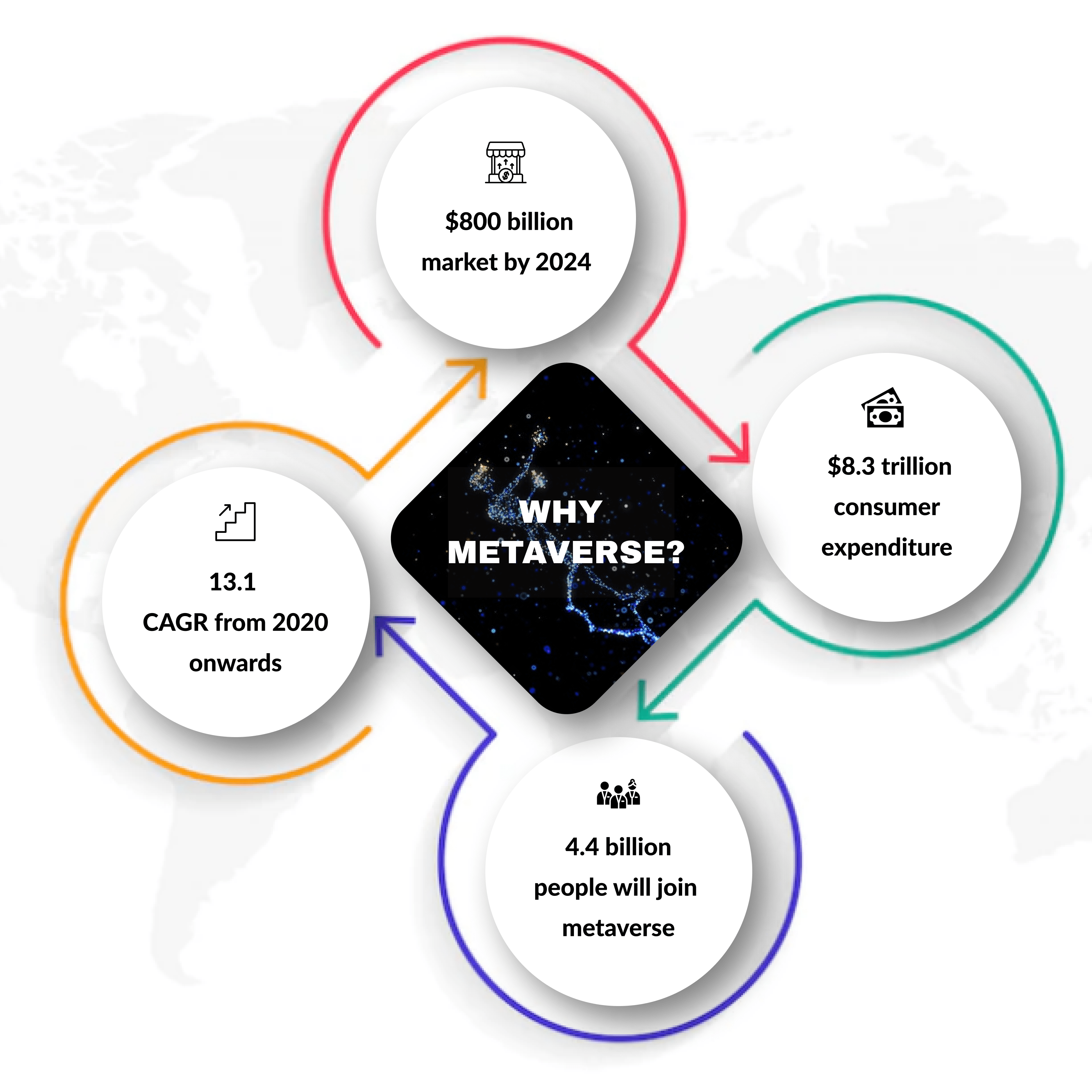 Unparalleled Customer Engagement & Customer Experience
The Metaverse seems to bring a revolutionized future for businesses to offer the next level of customer engagement and customer experience (CX). For instance, enterprises can pave their way into the Metaverse by introducing customer service avatars. As a result, they make engagements more empathetic and maintain sustainable, long-term relationships that drive loyalty and conversion.
It raises the possibility of an advanced level of speculative business for consumers. Consumers can engage with brands in remarkable ways. For example, Retail businesses can introduce hyper-personalization by using VR and AR to create more interactive experiences for their end users while enabling them to browse virtual stores and try on clothing in virtual changing rooms.
Enhanced Hybrid Work Culture & Employee Engagement
Post-Covid, the hybrid work model is here to stay. However, for organizations finding it difficult to build & train remote teams across continents, introducing themselves to Metaverse will be advantageous.
With Metaverse, organizations can hire the best people regardless of location and offer training to employees working from home while leading to an effective team collaboration from disparate backgrounds. The Metaverse, the next step in VR connectivity, can empower enterprises to provide their employees and clients with the best platform for co-working spaces, meetings, simulations, training, conferences, and more.
Increased Business Engagement using Virtual Events
An opportunity that enterprises can encash is virtual events and concerts.
Fortnite is a well-known example of business opportunities in the virtual world. Famous musicians like Travis Scott and Ariana Grande have been a part of Fortnite virtual events and have gained a lot of traction post the virtual event.
The primary advantages of the Metaverse for creating a virtual event are accessibility and the enhanced user experience. For example, a virtual concert ticket can be purchased by anyone, regardless of physical or geographical location. With the involvement of technologies, avatars, and shared spaces, the end consumers or participants can have an out-of-the-box experience even while not being part of the event, which will certainly intrigue them to participate in such virtual events more often.
As a result, businesses can witness increased audience involvement in virtual events and better opportunities for gathering audience data and analyzing audience behavior.
Now that we have had a look at what Metaverse brings to the table when it comes to the business, let's move forward and look at how brands can enter the Metaverse.
How Brands can Enter the Metaverse
In the opening keynote of Connect 2021, Mark Zuckerberg stated that the Metaverse would take an average of 5-10 years to become a mainstream business concept, which certainly can and can not be accurate.
With the pace, Metaverse is growing, and we don't think it'll take up to 10 years to evolve entirely. However, metaverse elements like Ultra-fast broadbands, virtual-reality headsets, and always-online digital worlds are already up and running, which depicts that we have begun evolving, though the inaccessibility of these devices might be a concern, that too won't be witnessed for long.
With that said, here are a few ways to ensure that your business can weather transitioning into Metaverse and thrive in the aftermath.

Find the Right Metaverse
The primary step to pave the way for Metaverse is figuring out the best-suited platform for your business. In the current times, a few Metaverse environments that are available to explore are gaming, real estate, and NFTs.
One of the most common Metaverse platforms is Roblox, with around 47 million daily active users. Roblox allows users to indulge in numerous games and entertainment amenities like virtual concerts. Roblox is the virtual event model discussed above while discussing virtual Fortnite events.
Multiple brands have started collaborating on content marketing, PR campaigns, and sponsored metaverse events to acknowledge the essence of Metaverse in the business space. For example, companies from luxury fashion houses like Gucci, Valentino, and Balenciaga can be seen taking steps in the Metaverse, and other renowned names Nike and Adidas, have already jumped onto the bandwagon and have opened virtual stores offering NFT trade.
As a business, before you get down to deciding which platform is the best suited for your business, ensure that you thoroughly understand the intricacies of various options available, research the top metaverses, the audiences you wish to attract, the products or services that are most needed and how can your business fit into the Metaverse virtual world.
Reinforce Your Current Online Presence
Every business today already has an online presence, be it as a website, social media page, or just being a directory page. However, for any enterprise that envisions entering the Metaverse, it is highly recommended to reiterate its current online presence and marketing strategies.
There are chances that the business might not require an entire shift in the strategy, maybe introducing a virtual store, having an NFT wallet added to your online website, or just having a virtual meeting can boost a business's customer and client base. Of course, you never know which strategy might be your ultimate step towards the success of your business. Thus before getting onto anything, take some time to look back, and re-evaluate what you and your company have been doing all along, what your competitors are doing, and what the renowned business names are doing to succeed.
Maintaining an online presence is imperative for any business to thrive and not miss opportunities. Just ensure that your online presence aligns with what you have to offer.
Plan AR/VR App Development
Developing an AR/VR application through which your customers can begin getting used to the features of the new reality – Metaverse will be highly beneficial for any business that wants to be aligned with Metaverse. As read above, Metaverse is an amalgam of technologies like blockchain, AR, VR & AI. Thus, experimenting with these technologies will help you better understand the intricacies of the Metaverse before entering the virtual world.
Also, Read – THE FUTURE OF AR/VR APPS FOR BUSINESS
Several brands like Zara, Chanel, and Gucci, for example, experimented with an AR app for shopping. The brand instructed its consumers to hold their phones near store windows or sensors and experience how models wearing the brand's merchandise come to life on their screens. Similarly, to begin with, you can start leveraging the currently available technologies like VR headsets and acknowledging what the virtual reality experience will be like.
Your prime focus should always be your target audience.
The target audience varies from industry to industry. When entering Metaverse, ensure that you focus on a predefined set of the target audiences. Having a product optimized for the Metaverse is excellent, but it might not be suitable for the target audience you wish to cater to. Especially when it comes to virtual reality, targeting everyone in the Metaverse would never be a good idea; instead, you should focus and aim your marketing efforts at a set of the target audience that your product best serves. Therefore, it is always recommended to do thorough market research and define your target audience based on various parameters during the planning stage of the business to escape any setbacks.
Stay adaptable & Focus on Experience.
Metaverse is all about the experience. And until there's a more definitive form of Metaverse, there are no predefined rights and wrongs for doing business in the virtual world. Thus the only essence that any entrepreneur needs to understand is that one Metaverse is all about the experience; anybody that steps into the virtual world is there to witness a never-before experience. And the same time, since the technologies and the Metaverse industry is still evolving, doing business in the Metaverse will be a trial and error process, which means that your business must remain adaptable to the changing nature of virtual worlds.
Wrapping it up!
Top brands investing their time, efforts, money, and resources into the Metaverse indicates that this virtual world will turn into one of the biggest things in the business era while transforming the ways humans interact and increasing efficiency across different sectors.
Til the time the potential of the Metaverse is entirely unleashed, businesses have immense opportunities to enter the Metaverse, be a part of the bandwagon and accelerate their business growth. The earlier you start, the better you'll position your brand to succeed in new virtual spaces.
So what are you waiting for? Gear up and start thinking about how you will pave the way for your business to enter the Metaverse. In case you need a helping hand, our experts at Copper Mobile are well versed with the knows and hows of the latest technologies and trends; thus, reaching out to them can be the first stepping stone. So get in touch now!