The accelerating technology and the highly competitive business ecosystem have undoubtedly led enterprises to prioritize digital transformation and establish receptiveness, scalability, flexible yet modern infrastructure, robust mobile solutions, and data resources.
Being well-versed with the key reasons to invest in digital transformation, IT leaders today continuously strive to explore ways of uplifting their business, turning feedback and data into actionable insights, and building technology that offers impact, value, and an unprecedented customer experience. 
When it comes to digital transformation, understanding DevOps and Cloud – the two essential pillars for a successful business transformation is a must. 
Therefore, in today's blog, we'll deep dive into the intricacies and significance of DevOps and Cloud in accelerating an enterprise's Digital transformation.
Cloud and DevOps: An Overview
As defined by AWS, DevOps is an amalgam of traditional practices, cultural philosophies, and modern tools aiming to increase an organization's ability to deliver, evolve and improve robust products and services faster, enabling enhanced customer experience and business growth.
Let's discuss how digital transformation can accelerate growth for your business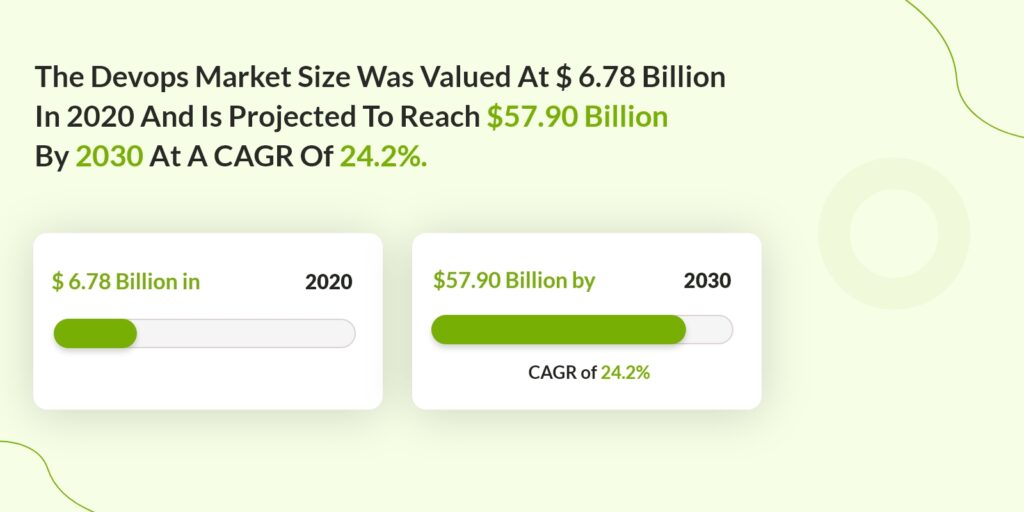 DevOps is primarily a more strategic and systematic way to implement agile principles to control the infrastructure and minimize silos and gaps. In addition, it facilitates seamless coordination of technology and operating teams while ensuring enhanced efficiency, faster delivery of products, business continuity, accountability, and desired results across groups.
On the contrary, cloud computing is a virtual system offering remotely hosted servers to store, manage, and process data, embed intelligence, and deliver software on demand, empowering faster innovation, flexible resources, and economies of scale.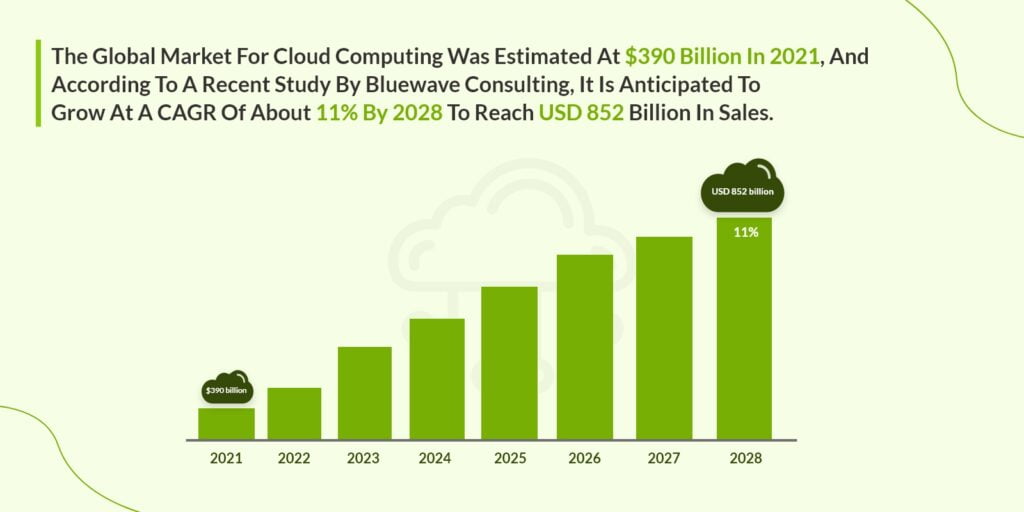 Enterprises leveraging cloud computing do not have to manage individual physical servers or run software applications on their machines.
Role of the Cloud in Digital Transformation
As read above, cloud computing primarily refers to remote servers accessible over the internet. Leveraging cloud computing can proffer organizations the ability to evolve and experiment with technologies like the internet of things (IoT), chatbots, augmented reality, machine learning, big data analytics, etc., without worrying about storage, data processing, and security.
In consequence, helping enterprises streamline and improve their IT infrastructure while focusing on cloud-enabled digital transformation and enhancing customer experience.
Here's how cloud computing help in digital transformation:
Security:
An in-house database is vulnerable and prone to data breaches, unexpected system shutdowns, disasters, brute force attacks, etc. While with cloud hosting, users can have multiple data backups and a secure infrastructure mitigating the risk of data loss or cyber attack.
Rapid Prototyping:
Cloud infrastructure transformation equips businesses with a secure platform to build, test and deploy enterprise applications, eliminating the need to set up a complex infrastructure every time a new product is created and deployed.
Seamless Collaboration:
Innovation, technology, and teamwork are vital to any enterprise's digital transformation. Adopting robust cloud services for business enables a single repository of data accessible over the internet, thus can potentially eliminate the hierarchical chain of command and help to introduce a more flexible, collaborative, and optimally delegated working environment that encourages innovation, technological upliftment, and teamwork.
Role of DevOps in Digital Transformation
The soaring competition of digitally transforming enterprises has made it imperative for businesses to hop on the bandwagon, pace up business ideas, minimize response time and shift their business approach to technology. And this is precisely where the role of DevOps comes into play for competitive differentiation.
At the core, DevOps primarily focuses on enabling streamlined and quick delivery of impact and value to the end users by aligning the right tools, processes, infrastructure, culture, and collaboration.
Moving ahead, here's why DevOps is crucial to digital transformation:
Accommodate People, Processes, and Technology
As read above, DevOps ensures the employment of agile practices enabling organizations to deliver unparalleled mobility solutions and customer experience; in essence, supporting business transformation by unifying people, processes, and technology to achieve determined business goals.
Prioritizes Automation Wherever Possible

As you know, innovation and technology are crucial to digital transformation. To move ahead of the competition, enterprises must innovate, become technically equipped, eliminate rigid and traditional working methods and seek the industry's best DevOps consulting services to automate workflows and reduce redundant and manual tasks, CI/CD, and infrastructure to lead a successful business transformation empowered by technology.
Aligns Business Goals with Security

We all know that any business process involving data is vulnerable to cybersecurity risks until a stringent cyber-intelligent system is in place.
Another aspect wherein DevOps plays a significant role by introducing agile practices, enhancing collaboration, safeguarding the development environment, and aligning software development lifecycle through automation; thus aligning a rigid security intervention to achieve business goals without falling prey to cyber security risks.
The Significance of DevOps and Cloud in Digital Transformation
It's no news that the cloud infrastructure transformation has been one of the most significantly witnessed shifts in IT that's still going on strong. The cloud, in essence, is a software as a service (SaaS) that eases the management of an enterprise's IT infrastructure, and DevOps is all about how you manage the cloud.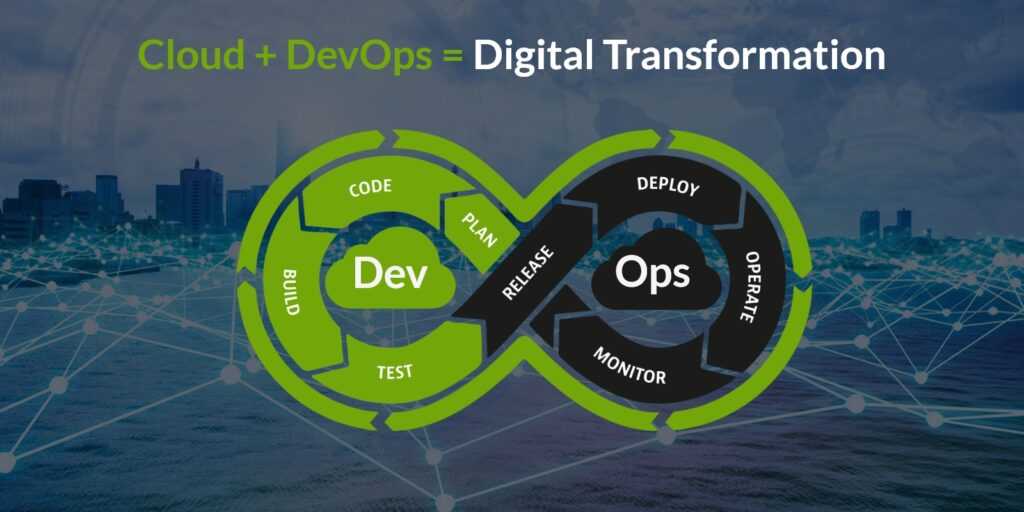 Combining these two empowering technologies can enable leaders to be proactive in their business transformation, providing impact-driven products and customer experience reciprocating toward achieving goals and objectives quicker than ever.
To better understand, let's quickly understand the benefits of leveraging DevOps and the cloud for digital transformation.
Evolving Cultural Mindset
Integrating DevOps for business automation and the cloud is one of the most successful digital transformation strategies. For any business leader to lead a successful business transformation, numerous IT challenges come along the way.
However, it's vital to understand that the primary transition of any enterprise, irrespective of the work industry, must begin strategically by evolving the organization's culture, processes, and technology.
DevOps empowers enterprises to collaboratively embrace process automation, saving considerable time, manual effort, and the possibility of error when working closely to achieve the common goal of delivering high-quality products, services, and user experience to customers faster and more efficiently.
Expedite Software Delivery
Businesses planning for cloud-enabled digital transformation should seek DevOps consulting to seamlessly leverage cloud and DevOps for business benefit.
Leveraging DevOps and the digital cloud can empower enterprises to upgrade their IT infrastructure and take advantage of cutting-edge cloud services while ensuring flawless project delivery and maintenance, thus expediting the entire software delivery.
Storage and security
With increasing cyber security threats, most enterprises look forward to keeping their IT systems highly secure. Moving enterprise IT infrastructure to the digital cloud has equipped businesses with secure data storage, reducing the likelihood of data loss.
By utilizing cloud and DevOps together, enterprises can benefit from the containerization of their applications and have a single repository wherein it's easy to process and manage data eliminating unauthorized access.
Competitive advantage
Another significant benefit of leveraging Cloud and DevOps is competence. Leveraging the cloud for robust IT infrastructure and DevOps for streamlined enterprise application development using advanced technologies tools and programming languages enables businesses to offer the most technologically equipped mobile products that help them get ahead of the competition.
Simply put, when used strategically, DevOps and Cloud can help offer speed, quality, reliability, and customer experience, ultimately leading IT leaders to stay on top of the technology trends and thrive in the competitive landscape.
Flexible IT services
Having Cloud and DevOps collaboratively working together equip enterprises with a highly secure IT infrastructure enabling the maintenance of a seamless experience for their users.
Therefore, allowing scalability and flexibility to add new business services and avenues without worrying about hardware or software upgrades taking up too much time or money.
Efficient Team Collaboration & Project Management
One vital reason for leveraging DevOps and the cloud is the seamless collaboration and effective project management backed by a robust infrastructure.
Cloud and DevOps practices help enterprises move towards a more agile environment and enable faster and more flexible ways to build and deploy applications without worrying about how their servers will handle the load.
Thus, ensuring the right tools, better services, and enhanced productivity results in a successful business transformation.
Bottom Line
With the accelerating pace of technology and digital advancements in the business landscape, it is essential for business leaders to stay competitive and look for solutions that can help enhance the overall business performance and end-user experience.
However, shifting the focus to either DevOps methodology or cloud transformation will not lead to a successful business transformation. As a result, IT leaders must put forward a well-thought-out cloud-enabled digital transformation strategy that amalgamates Cloud and DevOps.
Before putting your first step towards business transformation, it's best to seek DevOps consulting from top business transformation consultants at Copper Mobile, with a proven track record of helping businesses accelerate digital transformation and thrive in the highly competitive marketplace.