Unlike the old saying, "it's the thought that counts," a mere idea of a great app would not lead you anywhere. The market for mobile apps is quite lucrative, and with the right combination of an innovative idea and the right funding, you can reach significant growth. Once you're through this blog, you'll know all about how to raise funds, the type of investors, where and how you can start looking for them, and all around that area.
Most investors decide only in the first few minutes whether your app seems like a good idea, and once their opinion is set, it's hard to change that. Thus, the first impression is a major deal. The three major reasons for an investor to reject your app idea are lack of an inexpressive idea, incomprehensible financial projections, and absolute disbelief in conducting business effectively. In one of the interviews, an angel investor mentioned that he hardly cares about the idea but the traction!
Types of Investors and Whom should I go to?
Co-founders and bootstrap
Crowdfunding support
Venture Capital Firms (VC firms)
Angel Investors
Networking with professionals
Loans
Family/ Friends Support
The Process of getting funds
The process of raising funds goes through multiple investment rounds. Investment rounds to raise funds are also called the stages of raising funds required to implement a particular project. Each round speaks about the business stage, which is useful to project owners and potential investors. Both parties can understand that if their cooperation has a future, they won't lose time if their goals conflict.
How to raise funds: Step by Step Guide
a. Choose the right type of investment/investor
Before communicating with investors, you need to know the budget you would need. A successful app founder wouldn't pitch their ideas to investors if they didn't know how much money they wanted to get.
b. Do a thorough analysis to raise funds
Some things you can't forget about:
Let's discuss how digital transformation can accelerate growth for your business
Market analysis: You need to have precise and relevant numbers to support the scope of your app.
Competitor analysis: You need to describe what your app offers and how it solves the bridge of demand and supply. Your competitors and their work play a huge role here. Understand what they have to offer, and then determine how you are better.
Solution Analysis: You need to have numbers supporting your argument of creating a better product than your competitors.
c. Prepare your elevator's pitch
Don't expect an investor to give you money at your very first meeting. Your task at this stage is to interest the other party and persuade him initially. Your elevator pitch is the way forward. The pitch answers various questions about your app and explains what's, whys, and hows your product is.
Share these numbers and facts in your pitch to make it more impactful.
Target audience analysis: who is going to use your product along with their customer personas.
User demand in numbers: to convince investors that your app idea is promising.
Any other useful data.
Product benefits: Highlight the main advantages of your product and dedicate a colorful description to each.
Road map: Ensure to add details about the outline of your action plan step by step.
Profits: Use the high returns and probable high statistics to interest your investors. Remember, the ROI you expect must align with the kind of app that you are producing.
Your team: Another important aspect of your app is the team you will build it with.
d. Create an MVP
You need to offer the investors more than just an appealing description. You need to allow them to feel your product to raise funds adequately. And thus, your MVP model is a great solution to this challenge. It is quite suitable and easy as a first approximation because it is a simplified version of the future full-fledged mobile platform. So the task is to create a product with must-have features quickly and test it on end-users. Here's something to help you!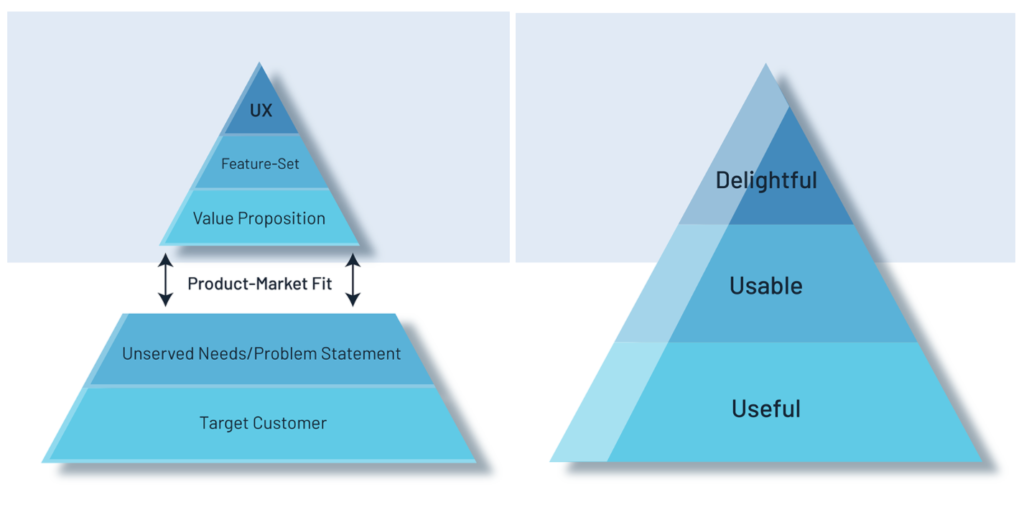 e. Bootstrap your way up with co-founders
Bank savings, personal loans, credit card loans, friends, and family are all legitimate sources of funds when your app is in its infancy. However, you don't always have to do it alone. Find the perfect co-founder to shoulder the responsibility of launching a new app. A co-founder is a lot more than a friend or shoulder during bad times.
Pick a co-founder based on your needs. A tech-savvy co-founder can majorly help you design and build a prototype of your app from scratch without spending a penny on outside developers. Bobby Murphy, the co-founder of Snapchat, was the development brains behind Evan Spiegel and Reggie Brown's Stanford classroom project. Currently, the app stands valued at close to $20 billion.
Alternately, you can find a partner who can fund your app while you develop it yourself. Case in point – Uber. Travis Kalanick was the cash supply for developer/co-founder Garrett Camp.
f. Set up a crowdfunding campaign
Crowdfunding has different models that you can choose from and is ideal for attracting the right funds for your app. For example, the leader in the crowdfunding space, Kickstarter, is an all-or-nothing platform. In case you fall short of your target, the contributions get refunded to the individual investors. On the other hand, Indiegogo offers flexible and fixed funding options.
g. Raise donations on your site
Crowdfunding is an ideal way to get quick resources and the right funds. However, it also has some negatives tacked on to it. First, there's tons of competition out there, and standing out from a sea of wannabe entrepreneurs can be near-impossible for many. Then there is the myriad of fees you shell out in return for the funding you request. A smart way to eliminate such problems is by raising funds on your site.
And while you do that, you must ensure that:
You are describing your proposed app to your readers well enough.
You are asking them for a small donation towards your app.
You are offering them a gift / pre-orders of your app / monetary compensation once your app rolls out in return for their contributions.
h. Participate in funding contests
With over $44 million in funding handed out across its five seasons of Shark Tank, the hit show is an app dream come true. Certain contests sponsored by universities, tech companies, and more offer new entrepreneurs the resources to fulfill their business idea.
i. Think about angel investors and strategic partners
The fact here is that less than 3% of seed funding comes from VCs. Instead, angel investors are stronger contenders for kick-starting your brand new application. These investors are not always companies or institutions. Individuals and successful entrepreneurs also take an active interest in funding new startups. For instance, Amazon's Jeff Bezos and Yahoo's Marissa Mayer are two examples of avid angel investors in early-stage apps.
Converting your app idea into reality while ensuring to raise funds can be a daunting task. If you use the techniques mentioned above, your probability of being successful will surely be higher. However, once you avail of the desired investments from mobile app investors, you can upgrade your app solution to the next level by contacting our app development experts.