In this era of digital transformation, IoT devices have gained significant importance. Especially in the automotive sector, IoT fits perfectly in turning vehicles smarter than ever. What can be a better example than Smartphone-enabled carpool and car-sharing services that generate revenue for independent drivers and offer convenient traveler options? The benefits of IoT in the automotive industry have created extreme interest and growth worldwide. According to Allied Market Research, the value of the global "Connected Car" market was $63.03 billion in 2019. However, it is now expected to reach $225.16 billion by 2027, registering a CAGR of 17.1%.
IoT and Automotive Technology for Connected Car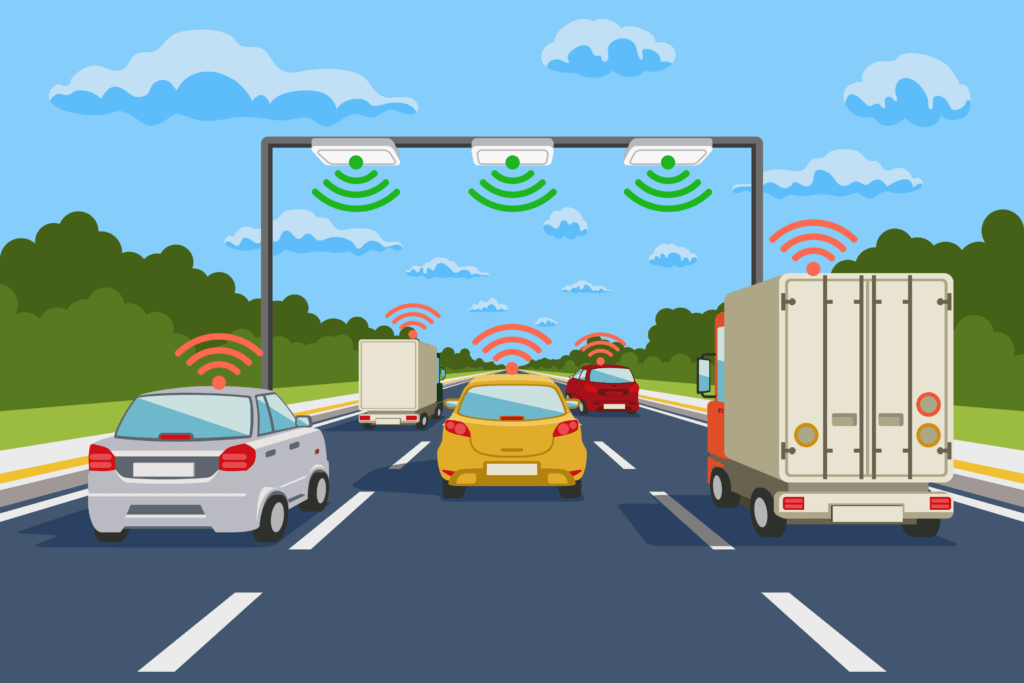 Well, many of you have come across this incident once or twice maybe, when a fellow driver makes gestures to inform you that the rear door is unlocked. A connected car app tracks such events in near real-time and informs the driver's through cell phones within seconds.
IoT, or famously called IoV (Internet of Vehicles), offers comfort, connectivity, safety, security, performance, and robust network technology. All these benefits enable the driver to connect with online platforms to facilitate real-time communication. Eventually, there has been a rise in consumer demand for connectivity in their vehicles. The tech-savvy population is looking for options that provide constant connectivity. Over time, manufacturers and service providers have been working to deploy various connectivity solutions in cars. The levels of connectivity in a connected car are interchanged at five levels, i.e., Vehicle to Infrastructure (V2I), Vehicle to Vehicle (V2V), Vehicle to Cloud (V2C), Vehicle to Pedestrians (V2P) and Vehicle to Everything (V2X). In simple terms, we can describe a connected car as a "data centre on wheels".
Now, getting smartphones into the picture, it has been changing the definition of connectivity with time. These days, even while traveling, people wish to stay connected with the outer world. Since connectivity is the need of the hour, automobile manufacturers are adopting connectivity solutions in vehicles to increase sales.
The rapid development of IoT automotive apps is undoubtedly going to make the future exciting. The simple vehicles will no longer be simple in terms of connectivity. The integration of IoT in automotive converts your car or truck into an infotainment-packed one that is smarter and more connected. Considering the demand and the future, it certainly makes sense to invest in IoT automotive apps. We can justify this investment with the following reasons:
Let's discuss how digital transformation can accelerate growth for your business
Why Invest in IoT Automotive Apps and Connected Cars
New-era cars can work with advanced software that enables real-time vehicle monitoring assistance and avoids breakdown.
Increases car safety and efficiency as drivers are updated about the maintenance of vehicles.
Third-party integrations and tools enhance the inbuilt abilities of vehicles.
Self-driving Vehicles stay well informed about the surroundings and infrastructure with the help of V2V, V2I, V2X connections.
There is a positive impact on the community and environment because of reduced car exhaust emissions.
The entire time-saving and fuel effectiveness that comes from IoT automotive apps makes vehicles to be cost-effective.
Some problems in vehicles can be fixed remotely while the vehicle is still parked at the home, office, or anywhere else.
Telematics and IoT are being combined to offer solutions to make car theft impossible in the future.
In a better-connected world, IoT automotive apps provide a convenient and entertaining traveling experience.
There is a significant increase day by day in the IoT applications in automotive technology, and it is changing the way we interact with vehicles. According to Maximize Market Research, North America is the leading market for Automotive apps. Next, followed by Europe, Asia Pacific and the remaining market comes from Latin America, the Middle East, and Africa. With an increase in demand for automotive technology, there are many connected car applications available. Such apps offer convenient, interactive, and connected traveling if you have a connected car.
The Top IoT Automotive Apps for your Connected Car
1. Car Scanner ELM OBD2
This Car Scanner app is designed to provide information like OBD fault codes, car health data, sensor data, and many more. The tool can be connected with OBD2 engine management using OBD 2 Wi-fi or Bluetooth 4.0. It will help if you have an OBD ELM327 compatible adapter to use this car repair app.
This app comes with many features, such as you can access the information you want with custom extended PIDs. The app can also work with every vehicle manufactured after the year 2000.
It is a car diagnostic app used as a trip computer to know about accurate fuel consumption statistics. Moreover, included connection profiles can provide few extra features for almost every Car Brand. It is compatible with IOS and Android.
2. Zubie
This automotive maintenance app works with a custom device that comes in two variants, with cellular service only and the other with a cellular plus in-car wi-fi hotspot. Firstly, it protects the vehicle by analyzing driving trends to eliminate unsafe driving. Secondly, it locates the car and tracks its whereabouts. Thirdly, it saves money by suggesting the cheapest gas and lower maintenance costs. Also, it detects and alerts about engine, battery, and fuel level issues.
Zubie integrates with several third-party apps and services. It can work on iOS, Android, and web platforms. To activate, you need to download the app, plug in the Zubie key, and drive your connected car. It is compatible with most gas-powered or hybrid cars made in 1996 and later.
3. Navdy
It is an IoT driving app with driver-assistant technology and Augmented Reality. The app works with the help of a custom device, namely Navdy portable head-up display and Navdy dial remote control button. Moreover, it accepts gesture or voice control and accesses the basic phone features like messages, calls, notifications, music, and calendar. Additionally, it provides superior navigation and tells about live traffic along with the best route. It also provides information about car maintenance in terms of speed, RPM, and fuel.
It assists with personalized driving where you can pick your favorite destinations, contacts, and routes. Moreover, this app is free to use as you buy the required hardware and targets iOS and Android platforms.
4. Dash
Dash is again a maintenance app with its preferred device and works with several third-party Bluetooth-enabled OBD devices. It represents your driving style with the Dash Score and saves money by finding the cheapest gas nearby. This app records the driving statistics over time to give insights about savings and improvement. Moreover, Dash tells you the severity, cost, and who can fix the issue with a check engine light alert. This app also integrates with other apps using IFTTT recipes, and its target platforms include both iOS and Android.
5. Automatic
Automatic is an automotive maintenance app that involves custom car adaptors, namely Automatic Lite and Pro. You have to plug in the device under the dashboard to sync driving data with the smartphone and track everything in the Automatic app. This app easily decodes the check engine light and also accurately logs your trips and mileage. It also helps with parking, crash alerts, live traffic, and third-party apps.
Automatic target platforms include iOS, Android, and web. However, the company also provides API for developers and businesses to create custom car apps that integrate with Automatic.
With the automotive technology flying high, time is just now to grab the opportunity for your business. You should find a way in this emerging market to make your business grow. However, it is essential to understand certain aspects before you go for it.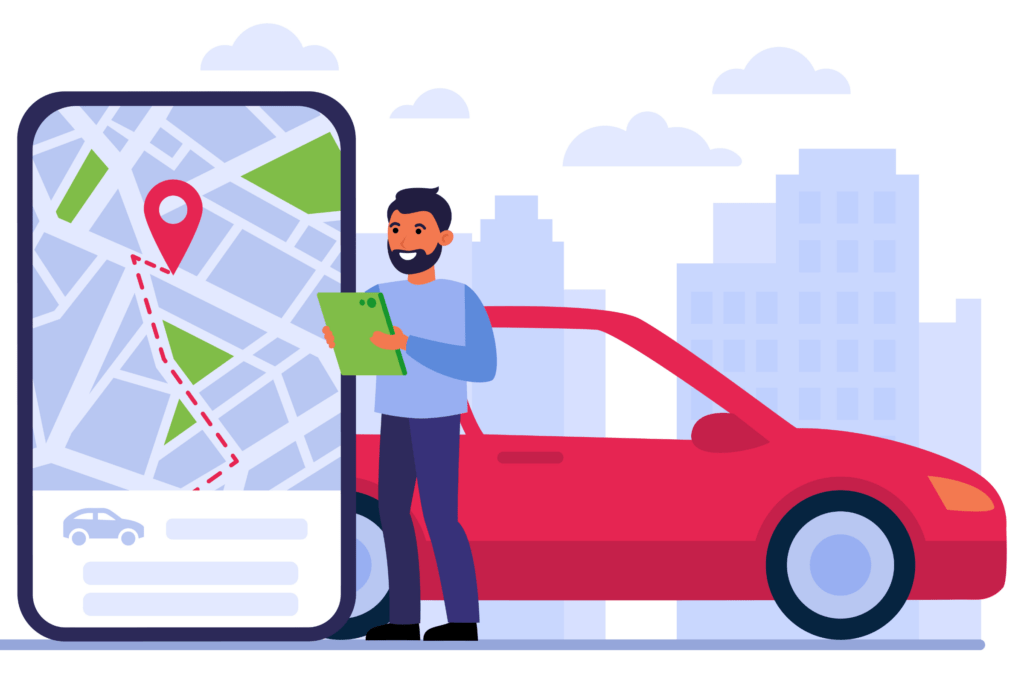 How to develop an IoT Automotive App:
1. Set goals and explain them to developers clearly
At this product specification stage, you need to define the ideas that fully meet your business requirements. In addition, specify the features that will add a unique value and bring the highest ROI in the long term. This stage is crucial for developing an app as it also includes discussing future plans for the product with developers directly. This discussion will help in brainstorming developments and business strategy challenges. Additionally, you can identify possible technological limitations and finalize your requirements accordingly.
Hence, project experts should inform you about possible pitfalls and should also be able to advise on better implementation of your vision along with the optimal solution for that.
2. Considering the specifications of your automotive app design.
An automotive app design has certain specifications. Primarily, it requires an uncomplicated UI, gesture or voice commands, and minimum distractions for users while driving. Therefore, hire a designer with relevant experience. He should be able to design an app to provide a balance between performance, appearance, and usability without distracting the driver.
3. Choosing the right technology stack
An IoT Automotive app implementation depends on the type of product you want to create. You should be able to integrate the app with onboard computers using hardware devices. Also, you should be able to configure the communication between the application and the target platforms Android/iOS through different connection protocols.
The choice of tech stack depends on your target audience and the product specifications themselves. Therefore, target audience research is a must. Then, depending on the functionality you want to implement, the developer's team will advise you on the pros and cons of different approaches. Through this you can ensure a streamlined user experience in the long run.
You can also choose different programming languages for your app and integrate it with third-party apps to provide a full-fledged experience to the users. However, third-party integrations might require much more expenses and may take more time to develop. But integration is essential for the growth of your business in the future.
4. App Development & Testing
At this stage, all the essential features are implemented in code, and the app is thoroughly tested for any possible bugs and compatibility problems. In this stage, the integration of hardware-software is tested along with accuracy. Therefore, choose an experienced and trusted transformation partner.
Conclusion
There is an impactful revolution in the automotive industry due to the Internet of Things and other disruptive automotive technologies. Automobiles are developing into connected and automated cars. Ongoing trends in the automotive industry such as telematics, AI, IoT, and smart sensors will make a bright future. For now, the industry is shaping up, and we are yet to see its take off. It is the best time for businesses to enter this emerging market and capitalize on the opportunities it provides. Recognized as the best app development company in Dallas by many. For any further information, get in touch with our tech agnostic team of IoT experts.