Copper Mobile Thrives by Offering Distinct yet Integrated Mobile App Services: GoodFirms
Harnessing the power of apps to help and solve a business problem for clients to gain a competitive advantage over its peers endows Copper Mobile to establish itself as one of the leading mobile app development service providers in Dallas at GoodFirms.
Overview:
Incorporated in 2010 and based in Dallas, Copper Mobile makes apps that make business sense. The organization is obsessed with client success. By investing the time and energy to understand the clients' ​ideas and strategic goals truly, Copper Mobile becomes more than just an app developer; they become a valuable partner for all things mobile.
As one of the only enterprise-specific mobile development firms in the country, Copper Mobile has produced solutions for clients from small/medium-sized manufacturers to Fortune 100 enterprises through hundreds of successful commitments.
The developers have been building to understand the clients' ​ideas and strategic goals truly enterprise apps since the first iOS SDK release. The designers stimulate the boundaries of user experience by crafting innovative, likable, and intuitive user interfaces.
Let's discuss how digital transformation can accelerate growth for your business
In addition, the account directors take contentment in becoming valued team members of their clients. This systemic commitment to the client's​ goals ensures delivery of the highest caliber mobile apps on time, budget, specific to clients at national and international levels.
The professionals integrate expertise from different fields to offer cutting-edge mobile development solutions. Having specialization in turnkey commitment, Copper Mobile has produced a proprietary methodology that sets a high standard for mobile app development solutions with modification.
Moreover, the firm delivers a complete solution that helps its client steer the changing mobile landscape, so whether clients need the help in one precise area or require to bring all of the abilities to the table, assuring clients to get the best experience.
GoodFirms' Research Methodology:
GoodFirms drives an unlimited list of businesses with verified reviews and research papers, supporting service seekers to find the right business companion.
GoodFirms company listings are rising daily based on the most advanced business drifts and the three most vital standards of its research method, viz Quality, Ability, and Reliability.
Similarly, GoodFirms evaluated Copper Mobile and asserted that the firm thrives amongst the flourishing companies in mobile app development and app design categories in Dallas and Fort Worth at GoodFirms.
The researchers also concluded that Copper Mobile would soon lead as one of India's best QA testing agencies at GoodFirms. Details about the same are cited below:
Mobile App Development:
Copper Mobile gives six distinct yet integrated services that traverse the whole mobile solution development cycle. It also provides services necessary to build apps that make business sense, from business strategy to open-ended support.
After the app developers have an in-depth conversation with clients about their business, industry, strengths, and challenges, they work together to craft a strategy. Finally, the team strives to provide solutions, whether it's a single mobile app or an integrated technology solution with many intricate parts working collectively harmoniously.
Once the team is well-versed with a good idea of how users will interact with clients' apps, they endeavor to design all technical specifications. In addition to this, the app developers work at each level with clients' teams to ensure every possible use case is considered while planning the application's technical design.
Thus, designing the solution's user interface and technical architecture to develop the mobile solution endows Copper Mobile as one of Dallas's leading mobile app development agencies at GoodFirms.
The review and the scorecard displayed below reflect the quality of apps developed at Copper Mobile.
Review: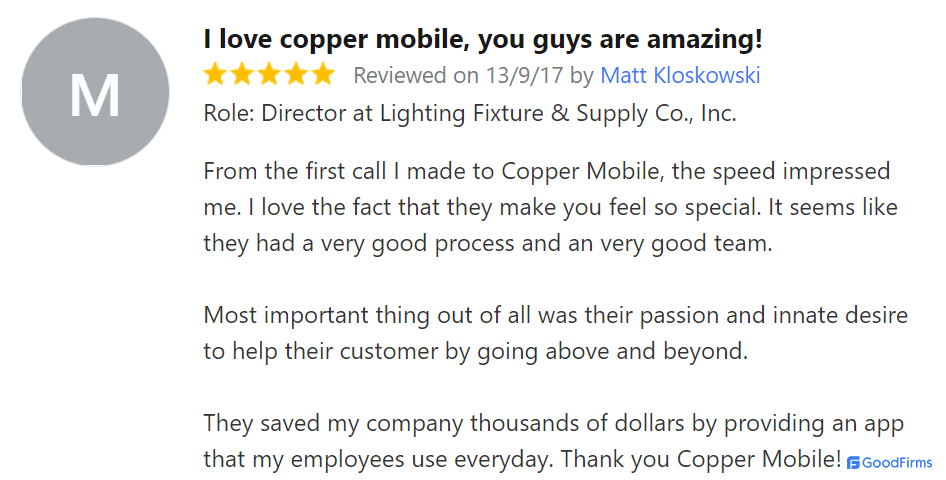 Scorecard:

App Design:
Once getting acquainted with the clients' problem, the expert artistic team strives to solve the problem by a) continually using clients' solutions and b) bouncing some ideas off with colleagues. As such, Copper Mobile has assembled a team of design gurus purpose-built to ensure clients' solutions are innovative, spontaneous, and engaging.
Designers are in charge of producing a formidable app experience that can entice and drag customers' users' attention. While developers guarantee to make it, Copper Mobile assigns a designer to clients' projects, assisting them for a smooth UI/UX.
Moreover, Copper Mobile's highly engrossed team working on different projects with such fidelity makes them stand out among peers. The convened group of designers and experts often walk the extra mile to help the clients' goal attainment.
Thus, with genuine intentions to form a long-term relationship with customers and partners, Copper Mobile has gained a place as a trusted partner amongst the top mobile app design companies in Fort Worth at GoodFirms.
QA Testing:
In a turnkey commitment, Copper Mobile acts as clients' comprehensive mobile partner. First, the expert team works with clients to strategize, design, and develop a holistic mobile solution to their business problems. Then, the testers team design, build, test, and refine the solution until it's ready for delivery and launch.
The professional testers believe that exhaustive testing is the key to a smooth rollout. The harder the testing is done, the more likely it's easier to catch any glitches or bugs before game time. So the team does not wait until the completion of development to test each feature.
Besides this, the organization tends to push their teams' potential to find solutions in duration to convert provocations into opportunities. To ensure a significant influence on the solutions and correct them beforehand, the unit offers robust Q&A assistance to its clients.
Moreover, Copper Mobile follows compact models such as the turnkey and team-extension models to produce a holistic mobile solution. In the first one, the specialists act as a comprehensive mobile partner, while in the other one, they give their service to clients on a contract basis.
Thus, with continuous support and effort to give clients robust solutions, the firm would soon acquire a leading position as one of India's top software testing companies at GoodFirms.
About GoodFirms
Washington, D.C.-based GoodFirms is a maverick B2B research and reviews firm that aligns its efforts in finding the top mobile app development, app design, and software testing companies delivering unparalleled services to its clients. GoodFirms' extensive research process ranks the companies, boosts their online reputation, and helps service seekers pick the right technology partner that meets their business needs.