WWDC 2016, all you need to know
All anticipation about the improvements/upgrade in the iPhone, iOS and other related products have been in air since the 27th WWDC event which was held on 13th June, 2016. An event which focused on software, while making no new changes to hardware, apple announced new software upgrades to apple's ongoing platforms, namely: watchOS, tvOS, OS X and iOS.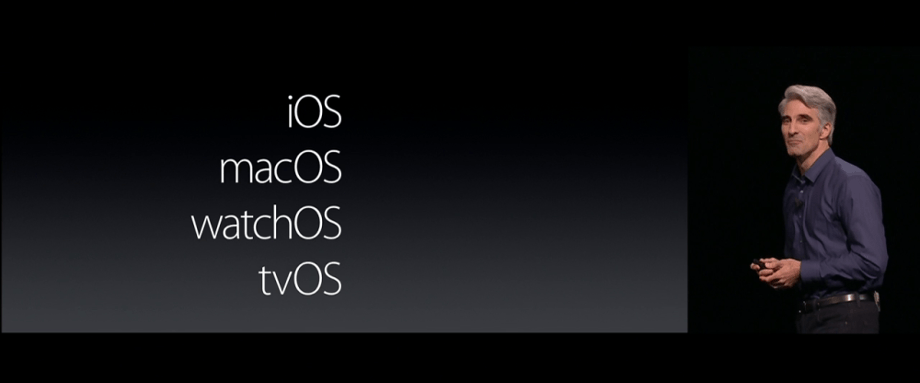 The event was a huge success as Apple declared that iOS 10 will be its biggest release ever with some of the changes happening for the very first time. The wait for iOS 10 will soon be over as it available starting 13th September, 2016, a few days from now.
Till then let's discuss the changes a little in detail-
Apple's WWDC focused more on the updates to OS's for the Mac, iPhone, Watch and TV as well as opening up services like Siri and iMessage for developers. Apart from moving Siri on desktop as well, there were also a number of other changes like new notifications, lock screen for iOS; a new command center for Apple Watch and changes to News, Music, Maps and others as well.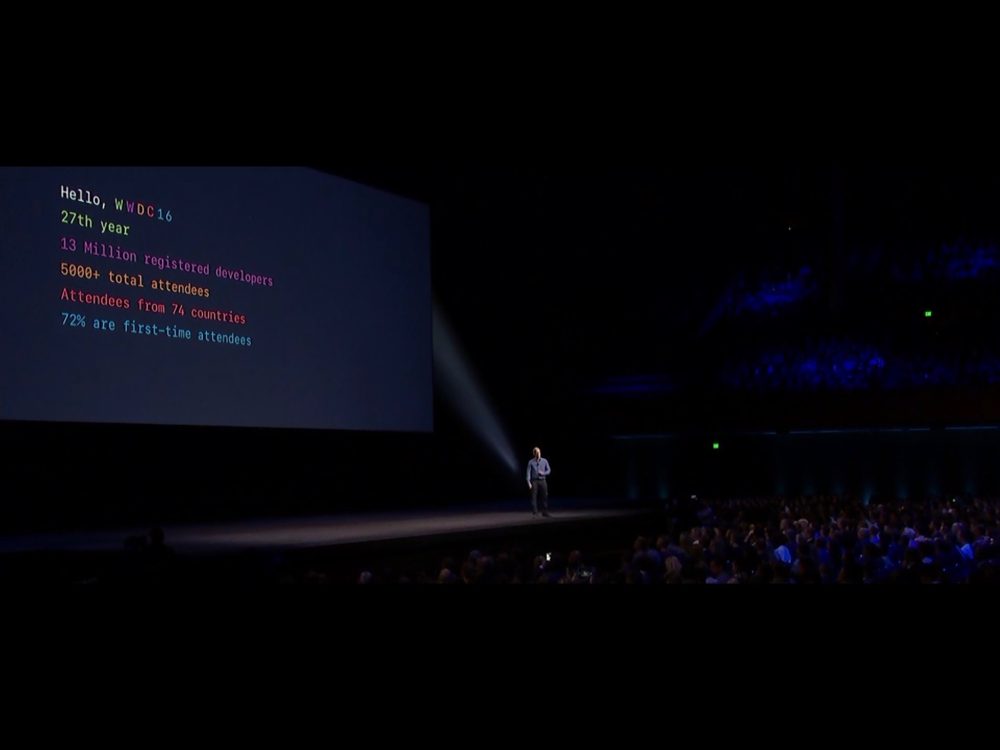 Tim Cook (CEO of Apple Inc.) started by asking the crowd to take a moment of silence to honor the victims of Orlando tragedy. Further he added how apple is diverse with 13 million registered developers who have been paid $50 billion. He also mentioned that 2 million applications on the app store have been downloaded 130 billion times. Cook then invited Kevin Lynch on stage to provide the watchOS updates.
1. watchOS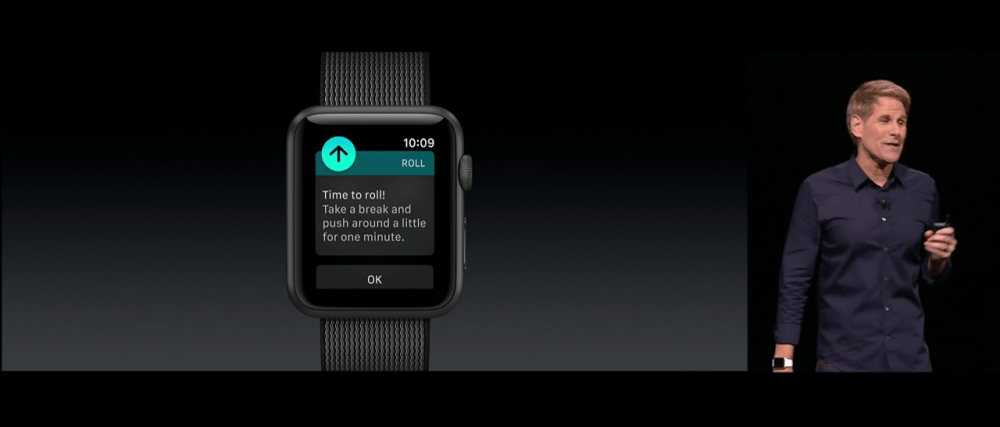 The watchOS 3 brings in a number of updates mostly focusing on the performance by allowing the apps to load seven times faster than the previous OS. The other improvements focus on User Experience as well as Health & Fitness.
The side button can now be used to access a 'dock' which will allow you to scroll through active apps. Like iPhone, watch also gets a control centre and the wearers can swipe up and switch to any mode like airplane mode or Do Not Disturb.
Some other changes include message improvements incorporating smart reply as well as an all new keyboard called Scribble which can be used to repond to messages and supports Chinese characters too.

The new OS also comes with a new SOS feature which activates when you press and hold the side button. The feature works by calling 911 and sending your location to the first responder also sharing your medical ID, which displays their existing medical information. This feature works internationally and will dial numbers based on your country.
watchOS 3 also adds new watch faces namely Minnie Mouse, Numerals and another one focused on Activity Rings showing live progress on rings. One can simply swipe now to switch the watch faces.
Apple has also put more emphasis on fitness by introducing a new activity specific watch face and activity sharing to view friends' fitness levels. Introducing a new meditation app called Breathe.
2. tvOS
Being less than a year old, the tvOS hosts 1300 video channels and 6000 apps. The library will soon expand with some few service additions this year like Dish's Sling, Fox Sports Go and Molotov, a French TV service.
Apple will be launching a new Apple TV remote app (already available on app store) which will have all the functionalities of the Apple TV's Siri remote. In addition to this, Siri will be able to search from the services wide range of movies as well as live channels and YouTube.
The single Sign-On system makes it easier for you to sign into all the network apps at once. A new method of seamless integration with which you can download an app on your phone which will automatically appear on your tvOS.
The tvOS has added support for many kits including the ReplayKit, PhotoKit, HomeKit. It now supports up-to four gaming controllers, multiplayer sessions and much more.
3. macOS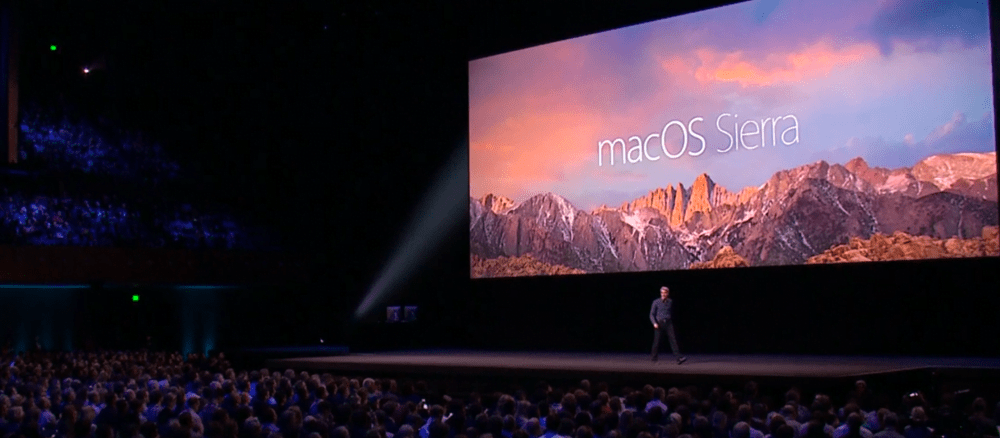 OS X is now macOS. The upcoming version being macOS Sierra.
Craig Federighi demonstrated a feature which allows you to copy and paste across all Apple devices also called as a universal clipboard. He mentioned that the updates are going to be focused more on Continuity, iCloud and other mac fundamentals.
Under continuity improvements, macOS Sierra supports Auto Unlock enabling macs to auto-unlock via Apple Watch.
iCloud holds about 10 billion documents which you can save from your desktop and access it from a different computer using iCloud drive. The update also focuses on optimizing storage on mac.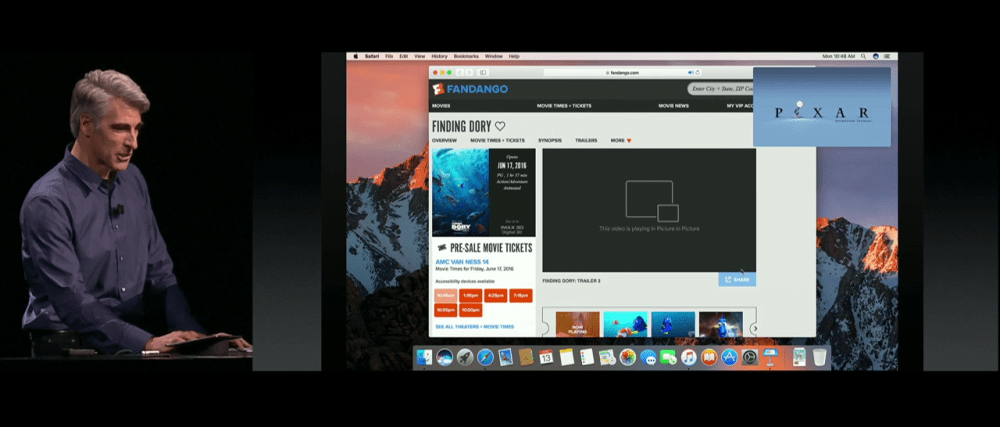 Siri, yes you read it right. Siri has finally made its debut on mac and it's pretty awesome. Users can search filtered content directly via siri. The siri search result is shown in an interactive panel which can be pinned to notification center. Users can also interact with the search results from the panel directly. Siri can also play music and do messaging on macOS. The functionalities will be almost the same like giving voice commands to find files, search the web and send messages, etc.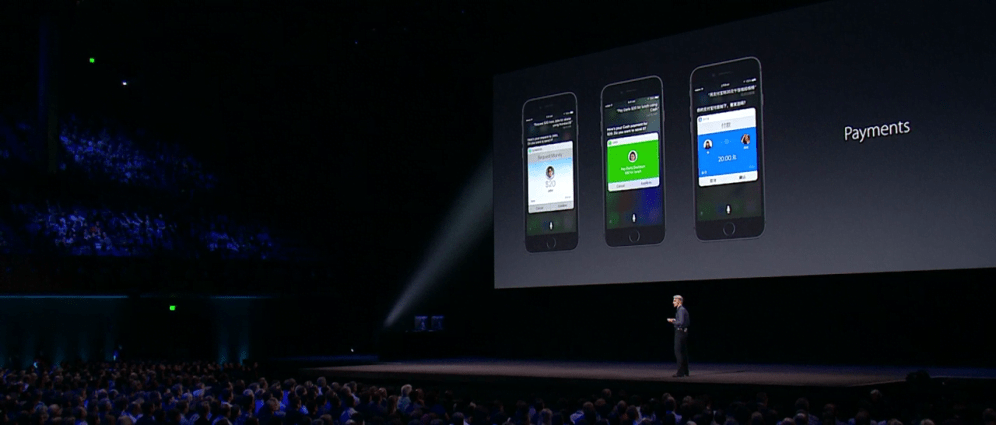 Apple pay will be now be available on web using authentication via iPhone or Apple Watch. Craig also mentioned that Apple pay is coming to Switzerland, France, and Hong Kong next.
Mutliple tab view will be available on all the third-party applications without any extra effort from developers.
Picture in Picture has enabled mac to keep running any video content on mac even while browsing across other applications. It works even if the user is on full screen mode of other application.
4. iOS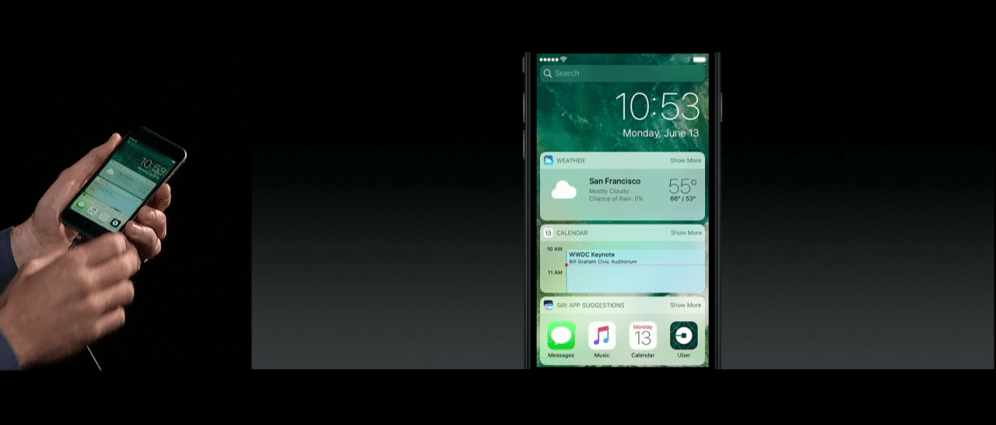 Craig carried on from macOS to iOS. The iOS gets 10 major updates with iOS 10. This is supposed to be biggest iOS update ever.
iOS 10 has a new lock screen with Raise to Wake feature, allowing users to see the screen just by raising the iPhone. The lock screen also has Rich Notifications which are interactive and support 3D touch. Swipe left for the camera and swipe right for the widgets that has been enabled on the lock screen.
The users can clear all notifications from the notification center using the 3D touch. Also, user gets preview of content within apps using 3D touch thus extending the 3D touch interactions. New Control Center with dedicated area for music and home app. Widgets also get show more option with rich content enabled.
Siri which processes 2 billion requests per week, is now open to developers to support audio or video calling, messaging, payments, photos search, workouts & ride booking.
Siri intelligence has been provided for typing too, i.e. predictions will suggest locations, contacts information, check calendar availability, lookup recent addresses & even support multilingual typing.
Photos will show photos spread on map based on location information. Advanced computer vision and deep learning has been incorporated for face recognition as well as object recognition. Photos will now have a new tab "Memories" which will provide memories based album based on location, date, object, people and topics. The album can be seen in grid view or summary view and suggests similar memory albums based on people or location. The best part is there's an option which will make a video of the photos under that particular memory. The memories video can be customized for length, music and mood and can be shared right away.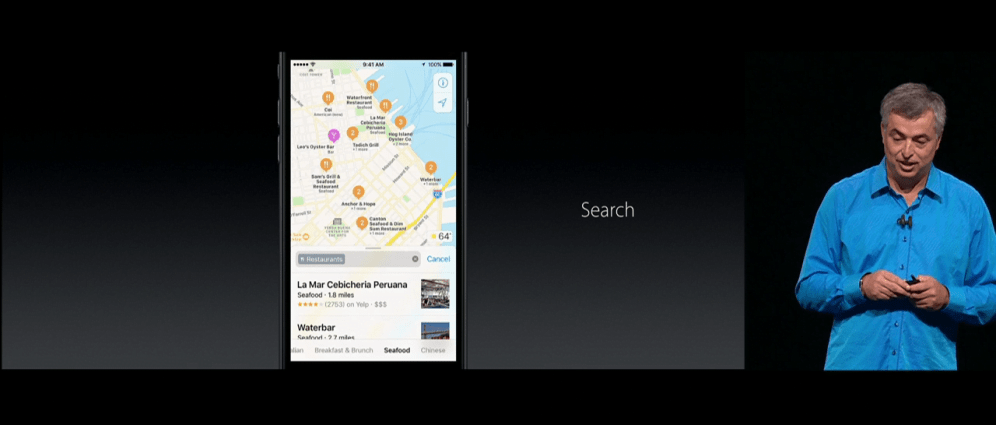 Maps gets a redesign. It now supports auto zoom-in and out on turns. Even traffic data is incorporated into maps along with quick controls. The maps extension is now open to developers. Users can directly book a cab through maps and pay for the cab via Apple Pay. The maps will be embedded in CarPlay too.
Apple music now has 15 million paid subscribers. Music gets a complete revamped UI focused on clarity and simplicity. The first tab is the Library which has customizable sections followed by recently added which you can view scrolling down. For You, the second tab is Discover Mix, Recently Played, Daily Curated Playlist and Connect feature. The third tab Browse provides Latest, top charts based on genres etc.. Radio is the fourth tab followed by Search as the fifth. Apple music support is coming to all apple devices.
News now has 60 million monthly users with 2000 publications. The new UI for news has various sections as top stories, trending, sports and even trending topic based sections. Users can subscribe for magazines and news within the app. The app will notify the users about the breaking news.
HomeKit improvements brings a standalone Home App which controls all accessories. Craig mentioned that even homebuilders are providing home kit support. Home app has a personalized background with one tap on/off control and 3D touch to control the appliances. HomeKit accessories provide rich lock screen notifications. Home controls now extended to iPad and watch too.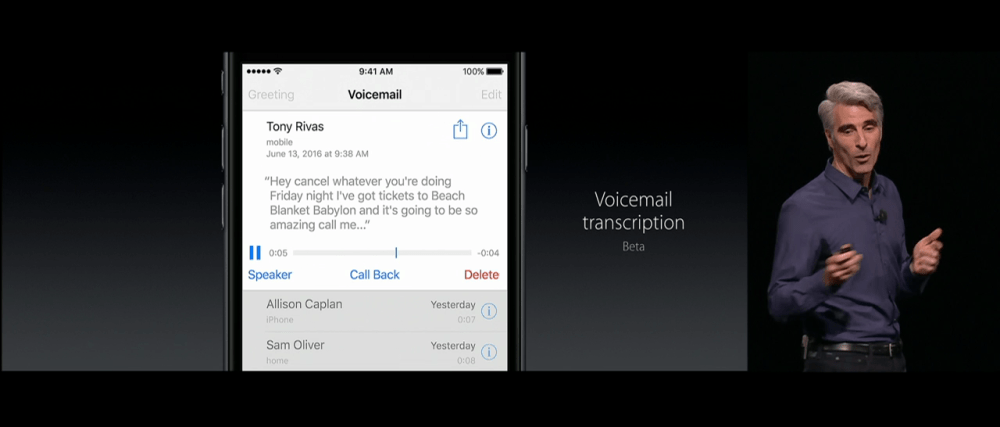 The Phone app now has voicemail transcriptions. VOIP apps can be implemented into contacts and lock screen, e.g. show caller ID while a call is incoming. Also, the VOIP call notifications will appear like the network call notifications. Users can also direct their work calls to phone.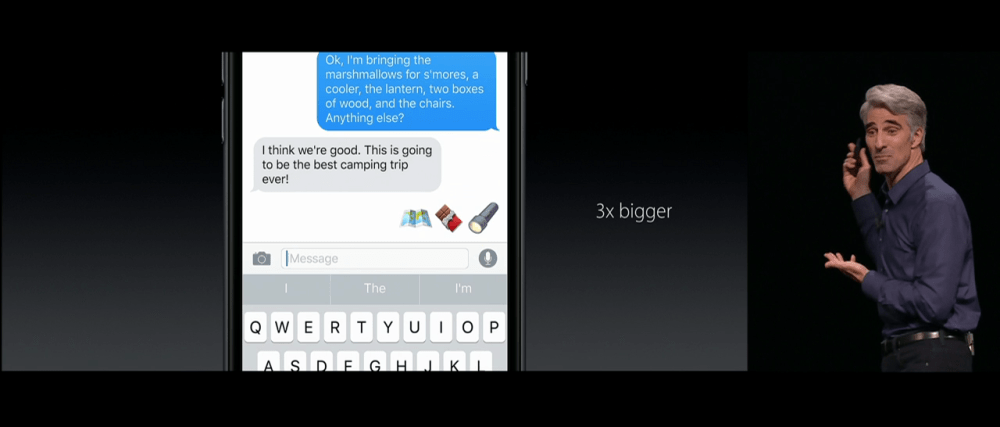 iMessage is getting a major revamp with a new interface and tons of features. Messages support rich links showing photos and video previews in transcript. Camera and attachment improvements along with 3x bigger emojis in transcription and prediction on text for possible emojis. Bubble effects, an interactive way to reply has been added with options like invisible ink. Users can also reply via handwriting and digital touch. Full screen effects has been added to messages. iMessage is also open for developers now with support for messages app accessible via messages app drawer, e.g. stickers.
Other improvements involve notes collaboration allowing multiple users to work live on a shared file. Conversation view in mail app, live-photo editing, split view support for safari on iPad. Craig mentioned how apple is incorporating differential privacy to provide user rich experience with privacy. Craig summed up by playing a video highlighting the new iOS 10 features.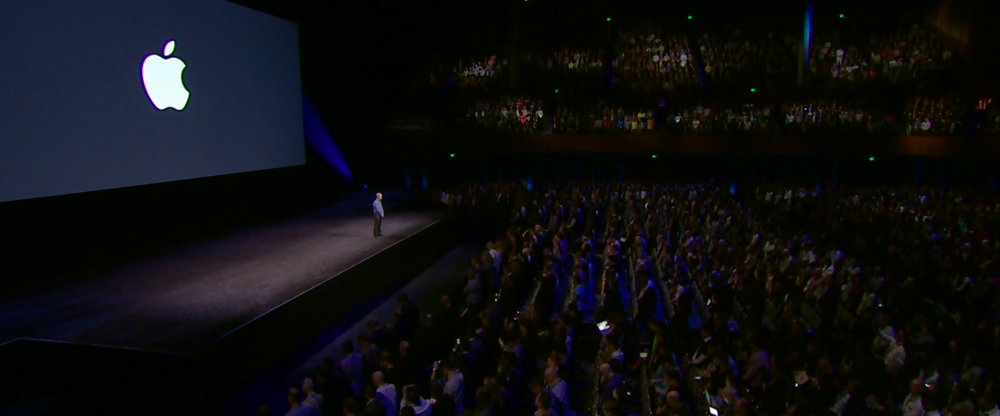 Apart from these amazing features, a new iPad app named "Swift Playgrounds" will be available this fall. The app is focused on kids to help them learn coding with swift. The app incorporates a custom coding keyboard and will be available for free.
A video was played highlighting developers and their stories around what inspires them to develop. The betas for the new operating systems were available for the developers right away, while public betas were available starting 1st July.
The only thing that remains is to see how features like Apple Pay and Siri will be enough to help other companies and how they work outside the Apple ecosystem.
It is yet to be seen how these amazing feature updates will blend in with the upcoming products.
Credits: Abhishek Goel