At Copper Digital, we take pride in leading the way in technological innovation. Our AI & ML Development Services are a testament to our dedication to helping businesses harness the power of technology.

In today's data-rich era, unlocking the full potential of artificial intelligence is essential for businesses aiming for success. Turning massive datasets into actionable insights can transform industries, disrupt traditional processes, and elevate your organization.

Our AI & ML development services go beyond just algorithms and models; they are about converting data into actionable decisions and turning aspirations into realities. We specialize in unleashing the potential of vast amounts of data, empowering our clients to make well-informed decisions, automate routine tasks, and enhance their business intelligence.
Our Artificial Intelligence Development Services
Generative AI
We're passionate about cutting-edge Generative AI using models like GPT4, GPT3, GPT 3.5, and DALL-E. These models can visually analyze content for tasks like brand identification, BI, data analysis, and more.
Automation Solutions
Our AI experts specialize in implementing technology-driven processes, using RPA to boost accuracy and speed. We automate tasks, streamline operations, and enhance efficiency to optimize businesses across industries.
AI Product Development
As a top AI solutions provider, we create innovative, scalable, and reliable custom AI products using advanced algorithms. Our services enhance efficiency, integrating seamlessly with your systems.
AI Design
We create ethical, client-focused AI design solutions similar to Canva, Prisma, and Adobe Sensei, addressing real-world challenges.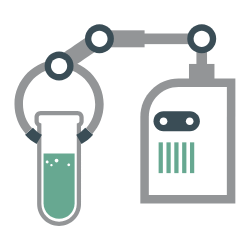 Smart AI Assistants and Chatbots
We craft custom AI Assistants & chatbots for seamless integration, enhancing client interactions and customer experiences.
AIOps
Our solutions empower organizations with continuous application performance and cost reduction, enhancing customer experiences.
Predictive Modeling
Our predictive modeling services analyze historical data using statistical and machine learning techniques to predict future outcomes, aiding in better planning and decision-making.
Fueling Business Growth Through Our AI & ML Expertise
Business benefits of investing in AI development services
Automation for Enhanced Efficiency
Opting for AI development services helps automate processes and tasks, boosting operational efficiency by reducing manual labor and streamlining workflows.
Improved Customer Insights
AI-driven analytics provide deep insights into customer behavior, allowing businesses to personalize offerings, increase customer satisfaction, and foster loyalty.
Predictive Analytics for Strategic Advantage
AI enables predictive analytics, helping businesses forecast trends, identify opportunities, and proactively adapt strategies for a competitive edge.
Cost Reduction and Resource Optimization
AI optimizes resource allocation, reduces operational costs, and enhances efficiency, achieving substantial business cost savings.
Enhanced Personalization for Customer Engagement
AI creates highly personalized customer experiences, increasing engagement, conversion rates, and revenue.
Improved Data Security and Risk Management
AI bolsters cybersecurity by identifying and mitigating threats in real-time, safeguarding sensitive data, and ensuring business continuity.
Our Comprehensive AI Development Process
Discovery & Business Analysis
Design and Prototype
Proof of Concept (PoC)
Implementation and Deployment
Monitoring & Optimization
Maintenance and Support
Discovery & Business Analysis
Market and Data Analysis:

We begin by thoroughly analyzing your business data and industry landscape to identify potential AI applications and opportunities.

Identify Challenges:

We work closely with your team to pinpoint existing challenges and pain points that AI can address, whether improving efficiency, enhancing customer experiences, or optimizing processes.

Use Case Mapping:

Based on our analysis, we map out specific use cases and define clear objectives for your AI project.

Project Roadmap:

We create a detailed roadmap outlining the development process, including milestones, timelines, and resource requirements.



Design and Prototype
Proof of Concept (PoC)
Implementation and Deployment
Monitoring & Optimization
Maintenance and Support
WHY CHOOSE COPPER DIGITAL?
Innovating AI & ML Solutions: The Copper Digital Way
Experience AI & ML brilliance with Copper Digital, your catalyst for innovation and growth.
Data-Driven Excellence
A rigorous data preparation process lies at the core of our AI development services. We understand that the quality and relevance of data are paramount in achieving AI success. Our experts meticulously curate, cleanse, and enrich data to ensure it's primed for the most accurate and effective AI algorithms.
Definitive Value Creation
Our ultimate goal is to deliver AI solutions that offer outstanding value to your business. Whether improving operational efficiency, enhancing customer experiences, or unlocking new revenue streams, our AI services are meticulously crafted to address your specific challenges and opportunities.
Agile Development Methodology
We follow an agile development approach emphasizing flexibility and collaboration. This methodology allows us to adapt to changing project requirements, ensuring we stay aligned with your evolving business goals. With incremental updates and regular feedback loops, we keep you informed and involved throughout the development journey.
Scalability for Large User Bases
We understand that AI solutions must be capable of scaling seamlessly to accommodate growing user bases. Whether you anticipate a surge in user demand or plan to expand your services, our AI systems are designed to handle increased workloads without compromising performance or user experience.
Our Projects that Reciprocated
Innovation and Impact
AI-Based Data Model for Accurate Forecasting & Efficient Planning
Replacing manual forecasting processes with a well-built data-driven AI-based predictive model improved accurate sales forecasting by over 98%, offering a better learning ecosystem and detailed analytics.
Workforce Management Efficiency Improved
Reduction in Operational Costs
Improved Sales Forecasting Accuracy
Frequently Asked Questions