Based on o BDO's 2021 Healthcare Digital Transformation Survey, 78% of health care organizations have incorporated cloud computing, 20% plan on investing in the new age technologies. Moreover, according to Deloitte, 42% of U.S. consumers, cited that they used tools to measure health improvement goals and fitness in 2020. One such strongly emerging approach for enhancing the healthcare app user journey is Gamification!
Recording the daily numbers of steps, keeping scores on the points you have earned from exercising, or even maintaining activity records are gaining utmost popularity. Indeed, all kinds of apps are being developed to record such numbers. Compared to the slightly monotonous, dull, and boring traditional health management methods, many companies encourage patients to take greater initiatives about being healthier by using a "gaming mechanism." This mechanism enables them to participate in their treatment and health management consciously and enthusiastically.
Humans are naturally attracted to interesting things, and they learn from lively activities; this applies to children in kindergartens and adults. The reason why games are so attractive is that they are designed to match natural human behaviors. They have several characteristics that are very suitable for people's psychological needs.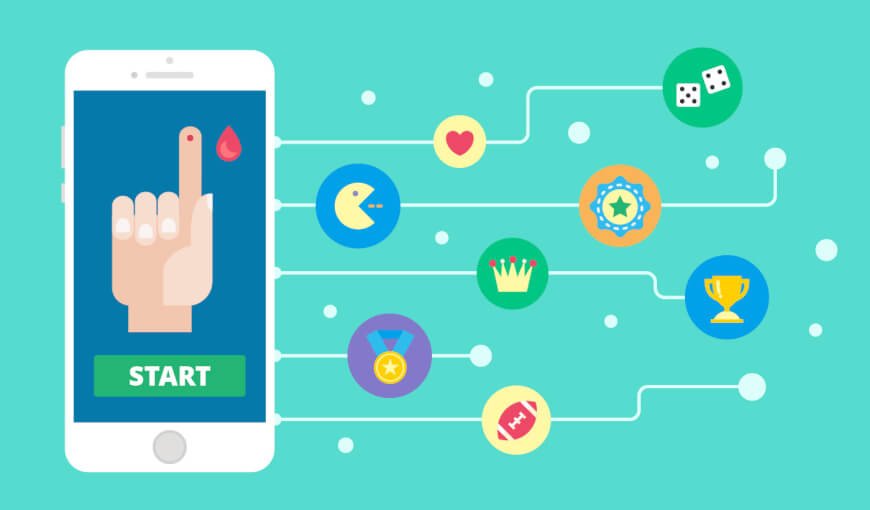 According to Maslow's hierarchy of needs, gaming meets the third, fourth, and fifth levels of social needs (interaction in online games makes people feel involved in team participation), self-esteem (sense of achievement after passing grades), and self-fulfillment. Hence, this blog covers everything you should know about gamification in healthcare, the rising scope, and use cases of the same.
Scope of Global Healthcare Gamification Market Report
Gamification, or the strategy for adding a game to an assignment for the user so that there is increased engagement and activity in the process. Health gamification implies incorporating gaming thoughts and game elements into applications to upgrade therapeutic outcomes. Healthcare gamification produces conduct changes by finishing game-like difficulties and encouraging individuals to develop their health. At each level, the user gets achievement awards, diamonds, tokens, or other virtual presents to give clients a feeling of achievement.
Gamification shows itself in three different ways through most medical care and wellbeing-related applications: bars are utilized to track progress. Imparting current advancement and performance to companions is an extraordinary method to monitor their progress. Healthcare gamification instills a winning attitude, empowering clients.
Gamification in healthcare offers extended propelled applications for independent medicines, wellness, physical therapy, and mental wellbeing. During the COVID-19 pandemic, AR games emerged to be a stronger way out to support physical and mental health. These games can help by offering virtual sociability, transient consistency, prolonged exercise, and cognitive design to isolated or upset groups. Besides that, several players and professionals are working together to battle COVID-19.
Global Healthcare Gamification Market:
The market is segmented based on the application type, and the end-users as follows:
– By Application:
Fitness Management
Medication Management
Medical Training
Physical Therapy
Others
– By End-user:
Clinics
Hospitals
Research
Individual use
Some Instances of the Trends Setters of Gamification in Healthcare
a . Disrupting traditional Medical Devices
Currently, multiple devices like Apple Watch, MI fitness bands, and other fitness equipment are used for recording your day-to-day activity, like your location, calorie consumption, exercise timing, playing music, measuring heartbeats, counting steps, etc. Considering the ever-growing demand, the newly released fourth Apple Watch added an ECG electrocardiogram and a fall detection function.
Using the dedicated app, users only need to put their fingers on the digital crown of their watch to form a complete circuit of their body. When the heart rate sensor behind the watch works, it completes the measurement in 30 seconds and enables users to determine whether their heartbeat is normal or if they have signs of an irregulated heartbeat.
b. Fall detection for older generation
Another interesting trend used by a couple of brands in their apps is fall detection. This function can be automatically turned on for users over 65 years old or manually turned on for users under 65 years old. The function allows background monitoring at any time. In short, this function has two scenarios:
Fall – Not getting up – Alarm to Emergency Contacts
Fall – Getup within 60 seconds – No alarm
c. Mango Health Medication Management app
A US company called Mango Health launched a mobile app to encourage patients to take their medications on time. Users can pre-set the time for taking their medication, and the application will automatically remind them at these times. It also provides information about the medications and warns about drug interactions and side effects.
In all, there are certain key takeaways that you should take note of related to gamification in healthcare. Number one, customer acquisition increases with the introduction of gamification during the time the customers are familiarizing themselves with the products or services of a company. About 70% of companies use gamification. Moreover, 88% of employees are happier because of gamification in the workplace. Catering to the current demand, our app developers ensure to build an ideal app for your healthcare organization. Contact us for more information or a free consultation session today!