' I love the honesty, humility, and integrity of my leadership team and CEO"
Featured Review
According to Comparably's 5th Annual List 2022, Copper Mobile won the best leadership among many companies embracing the leaders who are driving positive culture change across companies around the globe.
Comparably's Best Leadership Company 2022 Awards
Comparably Awards 2022 are determined and finalized from the answers, reviews, and ratings provided by anonymous employees over 12 months, i.e., from June 2021 – June 2022.
Employees' questions were divided into almost 20 categories, from leadership questions to work culture, opportunities, work-life balance, and benefits of working in the company. The comprehensive data was thus compiled from millions of ratings across 70,000 companies, large and small.
Let's discuss how digital transformation can accelerate growth for your business
Nomination Methodology
Comparably's 5th annual Best Leadership Teams is derived from employees who anonymously rated their CEOs, executive leaders, and direct managers on Comparably.com over a 12-month period (June 24, 2021, through June 24, 2022).
The final data set was compiled from 15 million ratings across 70,000 companies, large and small.
To qualify, Large companies (more than 500 employees) must have met a minimum of 75 employee participants, and Small/Mid-Size companies (500 or less employees) must have met a minimum of 25 employee participants.
For statistical significance, additional weight was given to companies with more participation from their employee base relative to their company size.
No fees or costs were associated with participating, nor was nomination required.
What Are the Top Companies with the Best Leadership?
According to the rankings, these are the top companies with the best leadership: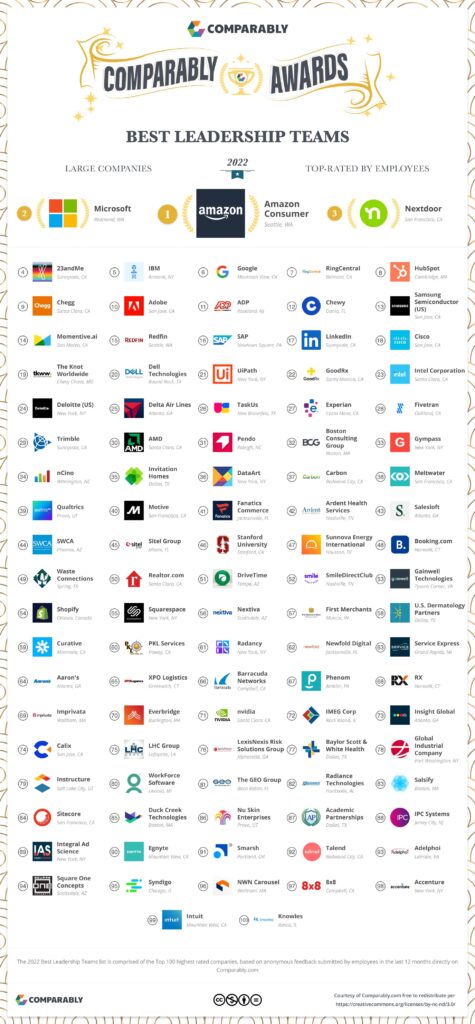 Also Read: COPPERMOBILE GETS RECOGNIZED AS THE BEST PLACES TO WORK IN DALLAS 2022!
85% of Copper Mobile employees think that it truly is a great company that nurtures, cares, and believes!
What employees have to say about Copper Mobile according to Comparably:
"Good working environment, Management is easily approachable, flexible timings, work life balance, employee centric, no toxicity."
"It has been almost 9 months and there was never a day when I felt that I have made the wrong decision. The learning here is unmatchable."
"Best organization to learn and grow , I started my career with Copper and feeling excited to learn and grow more."
"Got a great exposure and opportunity to learn new technology."
"The experience has been amazing with everyday new challenges at work place which allows me to showcase my talent and utilize my skills to the fullest."
About Copper Mobile
Copper Digital (formerly known as Copper Mobile) is an award-winning Digital Transformation Leader, revamping Enterprises across verticals successfully with emerging Technology and innovative solutions for 11+ years. From being adept in mobile and web solutions to changing the face of businesses with emerging Technology like AI/ML, IoT, Wearables, AR/VR/XR, Big Data, Blockchain, etc. Since 2010, the company has created success stories with our competence across several verticals such as Finance, Healthcare, Supply Chain, Manufacturing, Automotives, E-commerce, Media, Telecommunications, Energy, and others.
With 500+ clients globally ranging from Startups to Fortune 500 companies, Copper Mobile has successfully delivered 900+ business solutions for companies like Sirius XM, Verizon, Cisco, Jaguar, Honest, GreenDot, Amazon, Hearst, Aon, Deloitte, Westinghouse, Visa, Future Group, US Army, Texas Instruments, etc.
Located in the heart of Dallas, Texas, we continue to bring a technology-driven paradigm shift in geographies such as North America, EMEA, and APAC. The multiple awards and recognitions we continue to score every year, such as becoming a INC 5000 company as America's Fastest-Growing Private Companies, Good firm's Top Mobile App Development Companies in Dallas, Clutch's Top Design, Mobile App, and Web Solutions awards, and many others are a testament to the amazing Team, Culture, and highly quality innovative solutions we continue to deliver responsibly to our Customers globally.
For more information, you can visit our website https://www.copperdigital.com/
Review Copper Mobile: Here
About Comparably
Comparably is a leading workplace culture and corporate brand reputation platform with over 15 million anonymous employee ratings on 70,000 companies. With the most comprehensive data on large and SMB organizations in nearly 20 different workplace categories – based on gender, ethnicity, age, experience, industry, location, education – it is one of the most used SaaS platforms for employer branding and a trusted third party site for workplace culture and compensation.