Being part of an ever-evolving business era equipped with the most advanced tools and technologies, we are witnessing the most significant transition of software development from a traditional, manually coded digital solution to low code, no code software development.
A modern modular software development approach – low code development, no code development utilizes an intuitive and graphical interface, making application development easy and accessible without writing code line-by-line.
Considering the rising popularity of one of the top enterprise technology trends – low code, no code development, in this blog, we will discuss low code development and look into the intricacies of low code, no-code platforms.
Ready to explore? Let's Begin!
Low Code No Code Development – An Overview
Low-code/no-code development platforms are primarily visual software development environments that eliminate tedious line-by-line code writing and enable seamless drag-and-drop application components and connect them to build a robust software solution or mobile app.
Let's discuss how digital transformation can accelerate growth for your business

In simpler terms, low-code, no-code development can be described as a modern way of designing and developing software applications, reducing or eliminating code writing, and encouraging visual development interfaces (GUI) to process the simple logic and embedded functionalities to offer augmented and simplified experience.
Low-code vs. no-code: A Comparison
Low Code and No Code are modular approaches to software development visual interfaces and pre-configured templates.
The significant difference between the two is the code-writing requirements. When choosing low-code development, knowing the nuances of software development is imperative for building complex software products. However, the need to be well-versed in software development and coding nullifies with no-code development.
Top 5 Business Benefits of Low Code No Code Development
The kind of democratization that has been brought to the enterprise software development landscape by low code no code development has undoubtedly revolutionized the business landscape.

From bringing in automation and increasing productivity to re-using code and reducing time to market, there are numerous business benefits that low code no code development proffers to enterprises.
Also, Read – HOW TO USE LOW-CODE TERMINOLOGY TO SELL CUSTOMIZED APPS TO YOUR EXECUTIVES
Further, to elaborate a few, here are the top business benefits of leveraging low code no code development:
Anyone Can Code –
One of the most significant benefits of leveraging low code, no code development is the ability to use intuitive UI templates for rapidly building fully functional, robust software applications without writing longer lines of code.
This ability to build software without code certainly empowers almost every developer to build software efficiently, irrespective of their experience level.
Enhance Business Agility –
The evolving working environment and IT leaders' challenges often affect operational efficiencies and customer experiences, thus making business agility a priority.
And therein, leveraging low code no code development can be one of the most effective steps towards achieving agility.
Low code no code development primarily helps enhance productivity and enables faster enterprise applications' development, deployment, and management by automating the software development process without compromising performance and quality.
Reduced Cost and Time –
Traditional software development requires business leaders to hire an expert or partner with a mobile software development company.
Whereas, with low code development, the need to hire software development services is eliminated, thus ultimately saving costs and time while doubling the productivity and efficiency of delivering top-notch software solutions with unparalleled customer experience.
Faster Prototyping
Another significant benefit of low code no code development is the ability to build, deploy, test, and fix software prototypes faster and better.
Low code no code platforms equip users with GUI libraries and pre-built templates and aren't rooted in legacy code and rigid data models, thus leading to seamless development, deployment, and testing of software solutions. However, when it comes to prototyping and testing, having these on-the-go pre-determined solutions makes the entire process even more efficient and less likely to fail.
Scalability
When discussing the business benefits of low code, no code development, how can we not talk about scalability?
As discussed above, low code, no code development platforms ease the entire software development process and help the software product's seamless deployment, testing, and maintenance.
This ability to build, test and deploy software applications faster means increased productivity and continuous delivery of smart business solutions that enhance business revenue, impact, and value.
Top Low Code No Code Platforms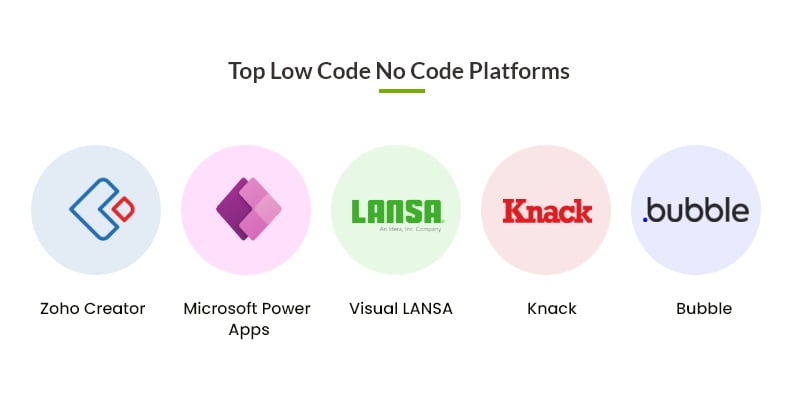 Top 5 Low code No Code Trends Impacting the IT Industry
Before we conclude this article, let's look at current trends related to low-code and no-code development and its influence on the software development industry.
Low entry threshold for application development
As read above, we know that the modern Low-code and no-code platforms are evolving the entire mobile app and software development landscape.

Empowering developers to build robust software applications seamlessly without prior programming experience primarily blurs the barrier between experienced and inexperienced developers.
Thus equipping developers with a modular approach to developing application software solutions using pre-built UI templates without writing lines of code.
Rapid Growth in Microservice Development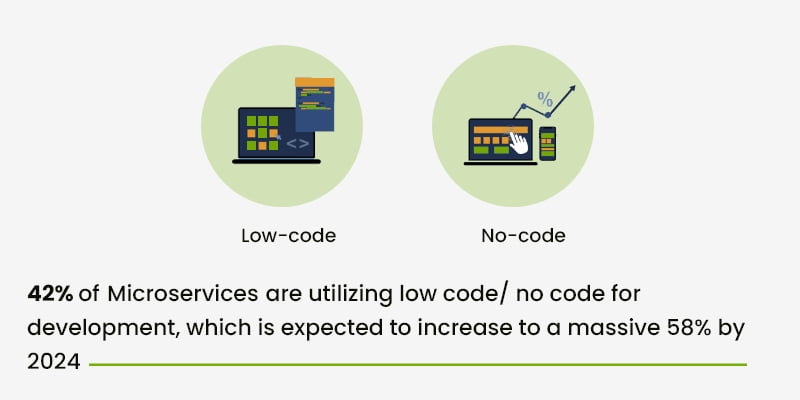 Low-code, no-code platforms accelerate the development rate and enable strategic reconfiguration of several APIs and monolithic applications into modern microservices with low-risk and high-impact functions. Thus, increasing the development pace of microservice applications.
Also, Read – WHAT'S BEST FOR BUSINESS?: MICROSERVICES VS. MONOLITHIC ARCHITECTURE
Best Choice for IoT software
IoT applications are primarily complex and often meant to process comparatively more extensive amounts of data.
And since low code, no code development leads to effectively converting extensive data into content-aware visuals without writing complex code, building and delivering high-performance mobile applications becomes easier.
Thus, leading IoT businesses to move towards low code, no code development focused on robust and rapid experience.
Also, Read – HOW THE CONVERGENCE OF IOT IS DRIVING INDUSTRY 4.0

Low Code No Code Will Boost More AI Products
With the global AI market value expected to reach $15.7 trillion by 2030, the dominance of AI solutions is impossible to ignore.
With the rapidly increasing adoption of low-code no-code platforms, businesses have become empowered with a robust development environment that has significantly made AI less complex and more accessible, leading to increased utilization of AI technologies for business benefit.
Also, Read – 7 AI TRENDS AND PREDICTIONS THAT WILL SHAPE 2022
A Boost to the eCommerce Market
Low code, no code platforms have become increasingly popular for cost-effectively democratizing e-commerce stores' development.
The modular approach of low code, no code development eliminates the need to write repetitive code and supports flawless application workflow and seamless data integration, leading to enhanced application portability and flexibility to keep up with the rapidly innovating business and technological world.
Also, Read – ALL ABOUT E-COMMERCE BUSINESS APP DEVELOPMENT – A COMPREHENSIVE GUIDE
Is Low-Code No-Code the Future of Application Development?
The answer to the above question is indeed a YES!
The era of low code, no code development, has just begun, with no signs of slowing down.
Software and apps rule the world today. Industries worldwide are hopping on the digital transformation bandwagon with the ever-advancing technologies.
Businesses to succeed and get ahead of the competition by delivering the most innovative digital solutions that cater to customers' needs and enhance customer acquisition, retention, revenue, and impact.
In the end, to deliver performant solutions, businesses must pace up, leverage modern low code, no code technologies, and consistently offer mobile app development solutions built with meticulous focus on details, data, customer-centricity, exponential ROI, and strategic success.
Further, for business leaders looking for an experienced mobile application software development company – Copper Mobile's software development experts can help you put forward your first step towards low code development of your envisioned mobile software solution. Get in touch now!